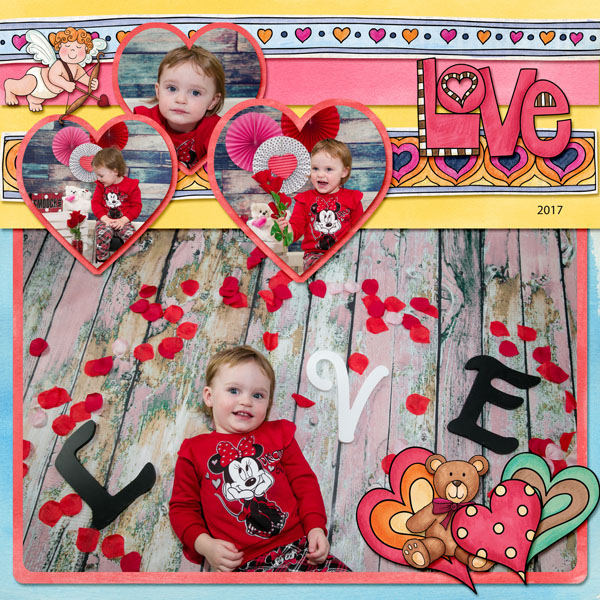 Monthly Kit Layout
10 Beautiful Valentine's Day Scrapbook Layouts
With Valentine's Day just around the corner, we knew we just had to share some beautiful scrapbooking inspiration. While some people may not agree with the so-called "commercialization" of Valentine's Day, we at ScrapbookingStore.com really enjoy it! The appeal of Valentine's day is the spirit of love and celebration of relationships, and we believe the following 10 beautiful Valentine's Day scrapbook layouts are the perfect portrayal of this holiday!
1. We love the mixed media look of this layout. The juxtaposition of the pink and beige/grey colors really draw you in.
[source]
2. Love the clean chaos of this page! All of the elements are concentrated inside the heart, but the white space makes it look beautifully simplistic.
[source]
3. How cute is this page featuring these beautiful sisters?
[source]
4. The heart gradient is so adorable! Great idea.
[source]
5. Simple, yet delicately delightful!
[source]
6. Love the vintage look of this layout, by one of our vendors' designers!
[source]
7. Love doesn't have to be between two people! Love can also be unconditional between a human and an animal. This layout is gorgeous and vintage, which we love.

8. So adorable! Love the hearts.
[sour​ce]
9. How adorable!! Love this!
[source]
10. Love the patterns on this page!
[source]
We hope you enjoyed this collection of Valentine's Day scrapbook layouts! Even if you are not a fan of Valentine's Day, you can still use these scrapbook layouts as inspiration for your next scrapbook project.
If you liked these ideas you can find more ideas by "Liking" our Facebook page. Also, be sure to check out our Pinterest and Instagram. Keep crafting!
Love,
The Scrapbooking Store Team
PS: We would love for you to join our Monthly Scrapbook Club for as low as $14 per month. Click here if you'd like us to mail you a new 12 x 12 kit each month. January's kit is beautiful, so don't miss out!
PPS: Let us know in the comments below what you plan on crafting during for Valentine's Day!
GET OUR MONTHLY KITS DELIVERED TO YOUR DOOR!