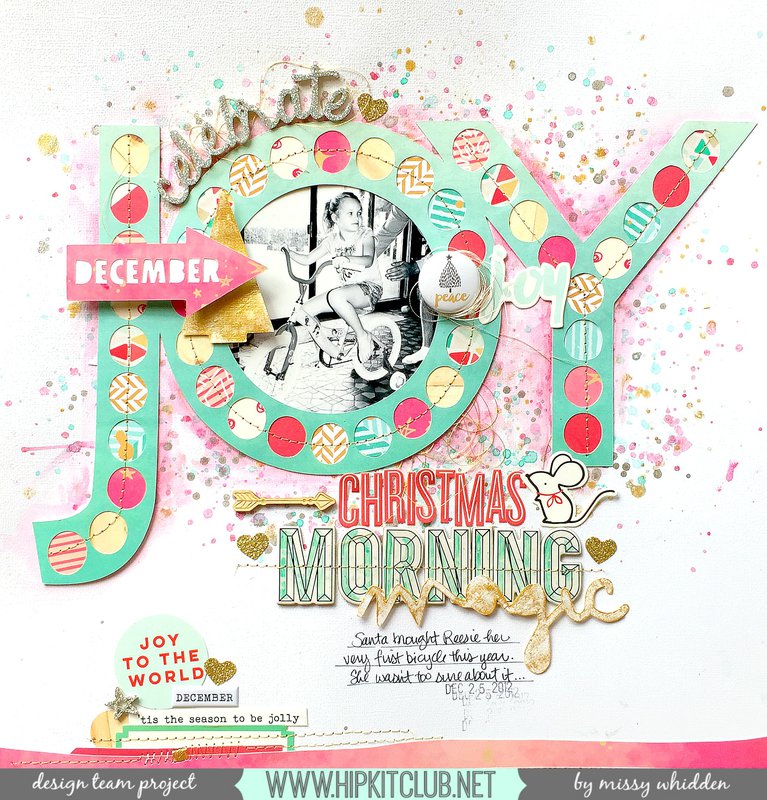 Monthly Kit Layout
10 Beautiful Christmas Scrapbook Layout Ideas 2016
Christmas is just around the corner and we know you are anticipating documenting your memories for this special occasion! To get your creative juices flowing, we're giving you 10 Christmas scrapbook layout ideas you can use for inspiration. Purchase your own holiday paper or use paper from our scrapbook kits!
1. Although the scrapbooking layout below is not specific to Christmas, it is still a great Winter layout that you could make your own!
[source]
2. This gold themed layout is sophisticated and elegant, the perfect combination for a quiet Christmas at home.
3. This layout is simple, yet utilizes white space wonderfully!
4. Christmas doesn't always have to mean red and green. The blue and pink colors work just as well for this most joyous occasion!
5. Okay, first of all, how cute is this adorable baby? Second of all, we absolutely love the stamping on this page with the faded stars.
6. Oh hey Santa! An extremely simple, yet super cute Christmas inspired scrapbooking layout.
7. This design features various patterns and is super bright and colorful!
8. Oh, the joys of opening present on Christmas morning!
9. We love this super cute Christmas photo booth layout!
10. Last but not least, this intricate, yet absolutely beautiful design is such an inspiration!
No matter what you decide to craft this holiday season, remember that the holidays are about spending quality time with your beautiful family and friends. Let those special to you know how much they mean through documenting your times together via scrapbooking, card making and crafting.
If you liked these Christmas scrapbook layout ideas you can find more ideas by "Liking" our Facebook page. Also, be sure to check out our Pinterest and Instagram. Keep crafting!
Happy Holidays and Merry Christmas to all!
Love,
The Scrapbooking Store Team
PS: Don't forget we have a holiday special going on where you can join our Monthly Scrapbook Club for as low as $14 per month. Click here if you'd like us to mail you a new 12 x 12 kit each month. December's kit, of course, has a nice Wintery theme to it.
PPS: Let us know in the comments below what you plan on crafting during the holidays! We'd love to hear from you in the comments section. Thanks!
​

Don't forget to visit our online store! We're adding new items all the time and Club Members get 10% off. Visit our blog for more craft and scrapbook layout ideas using our scrapbooking kit.
Join our exclusive Facebook Community for Club Members. It will grant you access to amazing layouts and content made by our design team, fun monthly contests, FREE Facebook Live tutorials (Jan.22nd) and you'll get to meet other crafters!
Haven't subscribed yet? Now's your chance, be sure to sign up today!
GET OUR MONTHLY KITS DELIVERED TO YOUR DOOR!