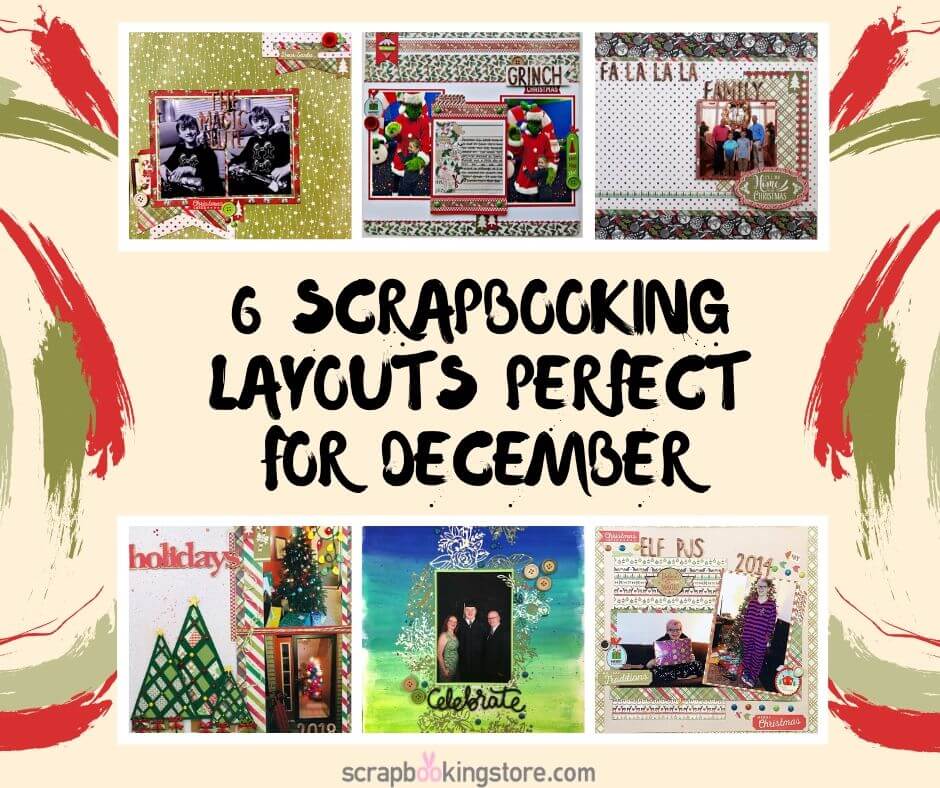 Monthly Kit Layout
6 Scrapbooking Layouts Perfect for December
​Tis the season ​to be scrapping! With December finally here and Christmas around the corner, our Design Team is excited to share their wonderful scrapbooking layouts. All were made using our joyful December Kit, the beautiful Rejoice Collection by Authentique. Enjoy!
1. Holidays by
Melissa Bierlein
​

For some reason, Melissa always avoids scrapbooking layouts for Christmas. Her goal is to always make an album with one double page layout for each year, ​to capture the beautiful moments she spent with her husband. Melissa is planning on putting this layout on the left side of a double-page for 2018's Christmas and plans to do a pocket page on the right.
She started her ​layout with spritzed dies on the white cardstock base with Tim Holtz distress oxide spray. The trees and presents were done on the Cricut. If you don't have a Cricut you could always fussy cut the trees and use stickers for the presents or anything else you would like to use and add!
​The trees have four layers! One layer is patterned paper from the kit. ​They are 8" / 6" / 4" tall. She embellished ​them with pearl dots. The stars are part of the cut file and she used Wink a Stella glitter pen to make them shine (so cute!). The presents are three layers plus the bows; all the patterned paper she used is from the December kit.
As for the right side of the layout, Melissa layered patterned paper strips around ​her cute photos. She cut and trimmed ​the paper until she ​got the look she wanted. Next, she separated the photos with a strip of red cardstock, tied twine around it and used a Tim Holtz tiny attacher to staple the ends down randomly.
The right side is popped up with foam tape and ​Melissa inserted a journaling card behind the top photo. This was originally going to be hidden journaling, however, the title ended up being too long for it to pull out. She liked the red ​pattern showing so​ she didn't make any changes to hide it. ​She also added a couple of banner stickers from the kit to the left of the top photo.
The Christmas lights are also a Cricut cut file.​ On the bottom right photo, she added '2018' from the Thickers that are part of the ​December upgrades.
Title: Melissa always loves it when she finds something in her stash that works perfectly on a layout. The distressed 'holidays' wood title she has had for probably 15 years. It works ​so well with these papers!
​

Check more of Melissa's scrapbooking layouts and crafts on her Facebook page!
2. Family Christmas by
Samantha Taylor
​

It's not too oftenthat Sam and her family get all dressed up, but this time she took the chance and got a nice photo of them. Last Christmas Eve, they had just that opportunity: they got all dressed up and went out to dinner with her parents.
She immediately knew when she got this month's kit that she wanted to scrap their ​beautiful Christmas photo. The vintage feel of the kit works wonderfully with ​these kinds of photos.
The kit is full of classic reds and greens but also has a pop of black running through it that gives the kit a fresh feel. Sam loves that this month's upgrades include Thickers. These are especially fun, they look like wood and coordinate perfectly with the kit!
Get to see more of Sam's awesome scrapbooking layouts on her blog!
3. Elf Pajamas by
Rachel Raynolds
​

Rachel used two photos for her first layout with the December kit, choosing to work with three of the gorgeous patterned papers and a piece of Twig card stock (Bazzill) from her stash. She started by matting her vertical 4x6 photo with a piece of patterned paper (Paper Six) and layering it over her other photo at an angle.
Then, she placed both photos on the B side of the same paper trimming the paper to slightly taller than the horizontal 4x6 photo, and trimming the paper down to about 10 inches in length. At this point, Rachel realized she wanted to mat her entire layout on a more delicate piece of plaid paper that she had picked out​ earlier.
Next, she trimmed the Twig card stock (Bazzill) down to 11x11 and then gutted the patterned paper (a great way to still be able to use the pretty paper you love!). Rachel noticed she needed a vertical piece of patterned paper, and decided ​that a horizontal pattern stripe​ would work. After gluing all the paper in a place, she was ready to embellish!
Using a mix of the stickers from the December collection (Authentique) ​as well as the stickers (Sticko) and buttons (American Crafts) from the upgrades, she had a blast bringing her layout to life. ​Rachel then embellished along the lines she created with the glitter brads (American Crafts) also included in the upgrades. ​She also used one of the stickers from the main kit, outlined in a black pen as a focus element under her title which she made using the Cedar Thickers (American Crafts). She finished her layout off with some Gold Color Shine (Heidi Swapp) from her stash.
Now, you may notice that there is no journaling on this page. This is very rare for Rachel, but this particular story of new pajamas brought by the Elves on Christmas Eve morning is one that happens every year and one she has scrapped (of previous years) many times before. She wishes everyone a delightful holiday season!
Grab your materials and follow Rachel along as she crafts this beautiful layout:
​Watch easy and fantastic layouts from Rachel on her Youtube channel.
4. Celebrate Scrapbooking Layouts by
Sara Mishler
​

Making a non-holiday layout with a very themed kit can be tricky but not at all impossible! Here are a few ideas Sara used to create a graduation layout using the December kit!
Sara started her layout by eliminating ​both the heavily red papers ​and the heavily green papers and added in an alternate color. She chose blue to coordinate with her photo but you could also go red and pair it with pink or orange. (it's up to you and to the photo you're using!)
Next, she used a simple watercolor background. It's a great way to add some extra color without needing to dig through your stash. Try using your favorite paints or sprays to customize your background- use the color you've chosen from the kit along with the coordinating color you've chosen to make your layout look seamless!
To keep very themed paper hidden- try an intricate die cut shape or even layering punched shapes together so you will get the color but lose the theme.
This month's kit has lots of plaids that when layered together say warm and cozy! Hope that you enjoy stretching your creative muscles with this kit!
Check more of Sara's creative scrapbooking layouts on her Youtube channel!
​

5. The Magic Flute by
Meggy Blethen
​

When Meggy was going through the papers, she immediately knew her first layout would use the green background with the white stars. It was one of her favorite papers. She decided to use a couple of photos of her son on Christmas day 2018 when he opened up his flute. He was so excited!
Meggy wanted this layout to bring attention to the photos. For ​this reason she printed the photos in B&W so they would stand out off of the gorgeous reds and greens of the papers.
Then, ​Meggy decided to put the title in the middle of the two photos so it wouldn't blend in on the busy background paper. The color of the photos helps the wood grain alpha title stand out.
Watch more of Meggy's gorgeous layouts on her Youtube channel!
​

6. Grinch Christmas by
Marci Bensing
​

Happy December! How COULD it be the end of the year already?!!! ​To create the adorable layout below, Marci used a cute photo from ​last year.
Here​'s how Marci starts all of her layouts: she sets up her"base" and surrounds herself with what she might like to use as she goes on. (Note: yes, she rounded the corners of the background paper)
Next, she continued ​adding elements to the base but not yet embellishing, although her journaling piece in itself has been embellished and popped up. ​She also added twine which she tends to use on about 90% of her page - she just loves it!
Marci used all elements of the December collection: the Thickers letters (Grinch), the brads (in the corners of the journaling piece), buttons and Sticko stickers on the sides of the photos as well as at the top left of this page.
Get to see more of Marci's beautiful layouts and crafts on her blog!
Don't forget to visit our online store for amazing new items. Make sure to subscribe to us now because our Club Members get 10% off.
Join our exclusive Facebook Community reserved ​ for our Club Members. It will grant you access to amazing layouts and content made by our design team, fun monthly contests, FREE Facebook Live tutorials (​Dec 18th) and you'll get to meet other crafters!
Haven't subscribed yet? Now's your chance, be sure to sign up today!
GET OUR MONTHLY KITS DELIVERED TO YOUR DOOR!