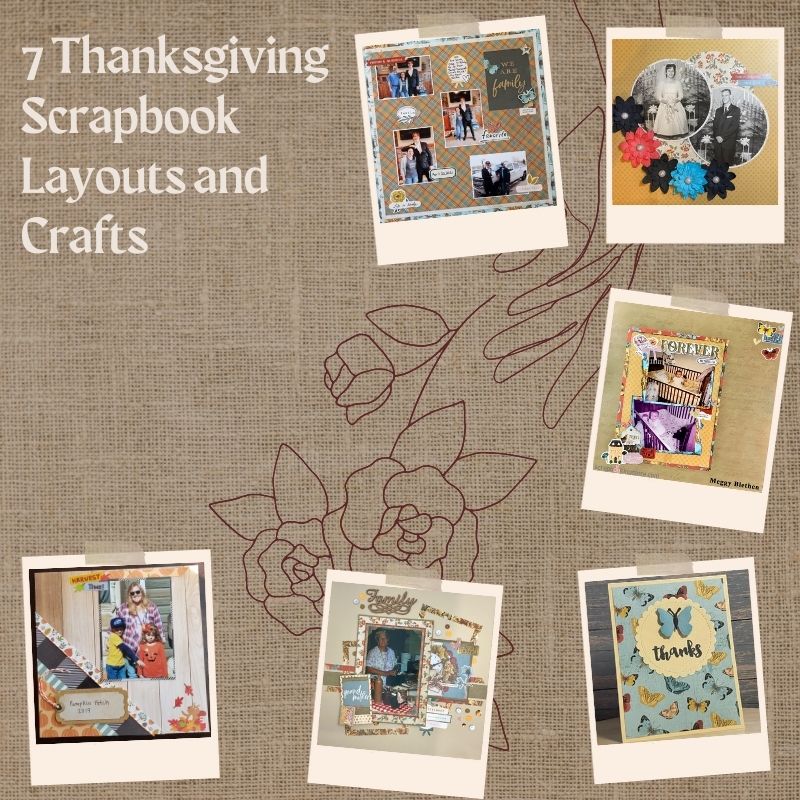 Cards
7 Thanksgiving Scrapbook Layouts and Crafts
This Thanksgiving! Get inspired with our meaningful thanksgiving scrapbook layouts and crafts from our awesome Design Team members. These crafts were made from our gorgeous November 2021 collection, Simple Vintage Ancestry by Simple Stories.
Let's start with one of our newest designer - Lori!
1. Parents on Wedding Day Layout by

Lori Carson
Lori selected a background paper that she liked against the black and white photos. Then, she used her Martha Stewart circle cutter and trimmed the pictures of her mom and dad to 5 1/4". Next, she cut three 5 1/2" circles from other patterned paper. Two of them she used as layers for the photos and the small flower patterned circle was then cut in half. She attached the photos to the layers with her ATG and then placed the cut circles behind them.

Also, she put together the flowers from Eyelet Outlet, choosing colors that were in the flower patterned paper. The pearl brads at the center of each flower are also from Eyelet Outlet. She selected the two stickers from the kit, again in coordinating colors, and placed them in the upper right.
2. Thanks Butterfly Cards by

Lori Carson
Lori adored the blue butterfly patterned paper, so she cut it into 4 pieces measuring 5 1/4" x 4". Then, she took some solid off white card stock from her stash that had a linen look and feel to it to use as layers and for the scallop circle. She die cut a butterfly (she have had the die for so long, she doesn't know where it came from) from some blue cardstock and the body section from black cardstock.
On the edge of the wings, Lori lightly hit it with some Gina K Designs Ocean Mist ink and then popped it up using foam squares. Lastly, she stamped the thanks using Memento Tuxedo Black ink and a Pink & Main stamp. Don't forget to watch more of Lori's thanksgiving scrapbook layouts in her YouTube channel.
3. Forever Memories by
Megan Blethen

Meggy is so excited to shared todays layout because she recently went home to visit her mom and she let her go through her old photos from when she was a kid. This months collection went so well with a couple of photos of her smiling in her crib as a baby. She just had to pull out the supplies and get to work!! Here is how she made her layout.
She picked a 12x12 background paper (2x2 Elements) and cut two photos to about 3x5. She matted the photos on a background paper - Life Stories and teared the right edge of the bottom photo. Then, she glued the photos down to paper and picked her second patterned paper - the Family Tree and cut it to 8.75x6.5 inches. Also, she glued the photos onto this paper.
Meggy picked a third patterned paper - Our Heritage and cut it to 9.25x7. She gutted the inside of this paper to be able to use more of it later on (this one is optional). Then, she glued the photo and matted it down to the last paper and then glued the whole photo matted onto the bottom left of the background.
Next, she embellished around the bottom left of photo, top right of the background and the bottom right of the top photo. She made the title cluster above the top photo and added some of the Maggie Holmes stickers from the upgrade kit. You can journal and finish off with any other embellishments you'd like to include.

Make sure to watch Meggy on her Youtube channel and get to watch more thanksgiving scrapbook layouts.
4. Family Scrapbook Layout by
Melissa Bierlein
Melissa's family layout showcasing her Grandmother! There are a lot of layers on this one!

As for the background, she chose a cream colored cardstock for her base from her stash. She cut two photo frames from Cricut Design space and layered them behind the photo area. These were cut from patterned paper in the kit. Also, she layered three strips of paper weaving them in and out of the frames.
For the photo area, she layered two different patterned papers and cardstock from her stash. Next, she popped the photo up with foam tape under two layers. She added a decorated journaling square to the right of the photo from the kit layered on patterned paper from the kit and inked the edges.
Melissa added a wooden photo frame from her stash to the bottom left of the photo. She used the Grandmother square layered on patterned paper with inked edges inside the photo frame. She added lots of layered stickers from both the sticker sheet and the upgrades. Next, she added sequence in some of the open spaces.
As for the title, wooden Family title to the top from her stash. Melissa, absolutely LOVE anything from Simple Storage Vintage lines. Don't forget to check Melissa's blog to see more thanksgiving scrapbook layouts.
5. Prom Scrapbooking Layout by
Sam Taylor
If you have a lot of masculine photos, November's kit is perfect for that. Sam thought this kit would be great for photos they took with their nephew all dressed up for his Jr. prom this last Spring. It's a little fancy and a little masculine. She started with a 12" x 12" base of the blue floral print.
On top of that, she layered a 11 1/2" x 11 1/2" piece of cream blueprint paper. Next, she layered an 11" x 11" piece of plaid paper. Sam added 4 small photos, they are a mix of landscape and portrait orientation. Then, she added a journaling card. Finally, she added lots of stickers and embellishments from both the included sticker sheet and the optional embellishment upgrade.
6. Anniversary Scrapbooking Layout by
Sam Taylor
Sam loves getting the kit every month. Sometimes, she opens a kit and thinks, "this is so me," and sometimes the papers are way outside her "normal". These outside her normal kits always end up being the most fun. She loves challenging herself to step outside her comfort zone and use her brain in a different way. November's kit is great for scrapping heritage photos, masculine photos, and any family themed photo.

Every year she and her husband take photos together on their anniversary and she scraps it. Those anniversary layouts live in their own special album. This layout is for their 15th anniversary that they celebrated back in 2019. Sam started with a 12" base of the brown distressed paper. She layered on a 12" x 6" piece of floral paper. Then, she added border strips, a 1" x 12" strip of blue butterfly and a 1/4" x 12" strip of red floral.
Next, she added her photos - they are about 3 1/2" x 2 3/4". She used stickers from the included sticker sheet to add the location in Germany to each photo. Finally, Sam added 2 journaling tags and some embellishments to finish off the layout. Get to see more thanksgiving scrapbook layouts on Sam's blog now!


7. Grandfather Scrapbooking Layout by

Marci Bensing
Marci chose 3 photos from Halloween 2020 and she have laid out all of the elements in the November kit, the top paper being the background paper she chose. She cut a solid strip of cardstock and then arranged the 3 photos. This establishes her "BASE" and from there she went all around and embellished it!
Starting in the upper left/lower right, Marci have typed journaling, inked the edges and cut into strips. Then, she used twine which is addicted to! LOL! and bordered the cardstock piece. She moved around the photos utilizing all elements of the kit to layer embellishments around the photos.
Some she have overlapped and "popped" for dimension and added interest. Also, she typed "Pop Pop and Talan" and made flags using toothpicks! Enjoy more easy thanksgiving scrapbook layouts on Marci's blog.
Enjoy creating memories with November kit. These projects will get you inspired! Visit our blog for more thanksgiving scrapbook layouts and crafts using our monthly kits!
Join our exclusive Facebook Community for Club Members. It will grant you access to amazing layouts and content made by our design team, fun monthly contests, and FREE Facebook Live (Nov. 17th) tutorials to meet other crafters!
Haven't subscribed yet? Now's your chance, be sure to sign up today!
GET OUR MONTHLY KITS DELIVERED TO YOUR DOOR!