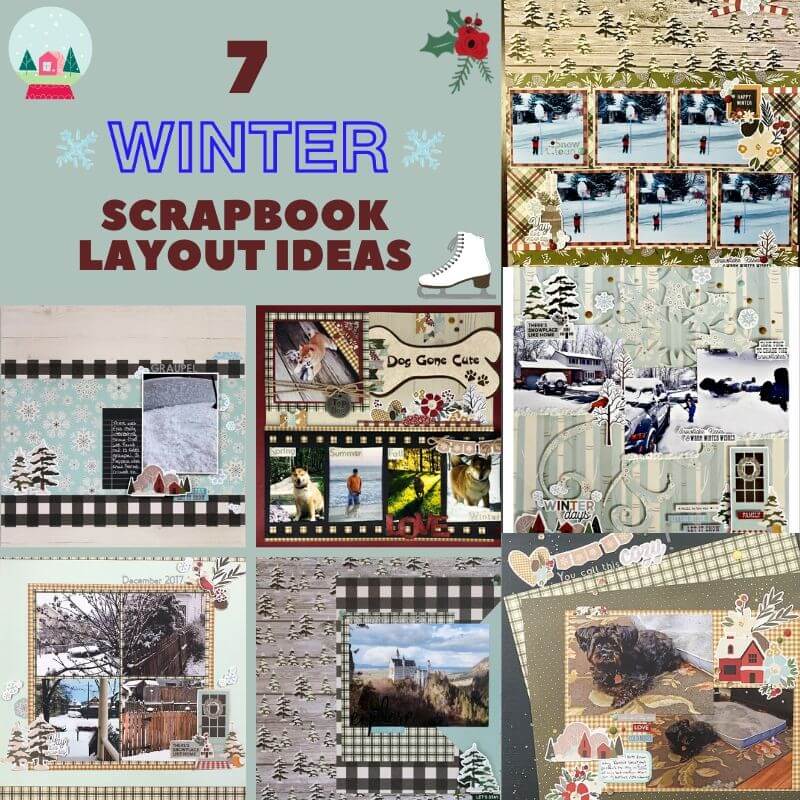 Monthly Kit Layout
7 Winter Scrapbook Layout Ideas
Snowfall and winter give us more reasons to scrap! We're excited to ​share with you some wonderful scrapbook layout ideas from our Design Team members. They used our January 2020 Kit​ (the Winter Farmhouse collection by Simple Stories​) to capture some beautiful moments.
1. Winter Days by
Marci Bensing
​

It sure ​gets cold in New Jersey! So the JANUARY WINTER COLLECTION ​really came in handy right ​for Marci​. When ​she saw the Frosty Mornings paper, she knew it was perfect for her grandsons' 1st snowfall in their new home. ​To start off the layout, Marci put out what she ​would initially use on her page. Then she ​selected her photos and sized them.
​As she developed "the base" of her page, Marci moved the photos around until she found the perfect spot for them. She wanted to use a large die-cut so she chose a flourished snowflake and had it cut ​on the Silhouette Cameo. She then went on to pop up the die cut before embellishing the page. ​
The photos were placed in the center of the layout. If you look closely you'll see that Marci used snowflake past from her stash to bring the photos to life. Next came the embellishments: the winter days sticker, the trees next to the photos, the snowflakes and the enamel dots are all part of our beautiful January upgrades!
The ​finished layout shows how she went around the page ​as she added and enhanced her embellishing. The cute little houses in the bottom left corner as well as the cozy tags such as "family", "let it snow" and "let's go outside" are all included in the base kit! The only thing she ​added that was not ​part of this collection was ​the snowflake paste under each photo for effect and dimension.
Get to see more of scrapbook layout ideas on Marci's blog!
2. Snow Clean by
Meggy Blethen
Meggy is so excited to ​share with us​ the layout she made using the ​cozy January kit! For this ​particular one, she found ​pictures of her middle son when he was about 3 trying to clean the snow off of the stop sign. She loves these photos because ​they show how determined he was about things being right and the way they should be at such a young age.
She wanted the photos to be a grid style and in the order they were taken. Meggy's goal was to create the look of layers. In order to do that and not use up so much of her pretty papers, she cut strips instead of using the full sheet.
She ​LOVES the ephemera pack that is part of the Upgrades and definitely had to use up some of those pieces. ​She also loves using tags & journalling cards to explain what ​the layout is all about and cherish the beautiful moments in the photos.
Meggy wanted to add journaling to the layout but felt the best way to include it was to add a hidden tag to the back of the layout. That way it didn't take away from the design she was going for.
We hope you love this month's kit as much as Meggy does! Check more awesome scrapbook layout ideas on Meggy's blog and Youtube channel!
3. Dog Gone Cute Layout by
Melissa Bierlein

This layout is of Melissa's dog, Tekka. They lost him a couple of years ago at the ripe old age of 16.5. He definitely lives on in their hearts. This layout was not all winter-themed but it shows how versatile this month's kit is and the papers she used ​go very well with the photos!
For the base Melissa used ​a sheet 12X12" red cardstock from her stash​. She cut the wood grain paper down to 11"X11" and layered it on top. The puppy photo on the upper left came off of another scrapbook page! She had it scanned and printed. It had a flaw in the upper right corner so she used some diagonal paper strips on it to cover that up along with some enamel dots. Next she layered the photo on the same red as the background and then on the green check paper from the kit. She then tied heavy twine around the photo and attached the 'Top Dog' tag.
​Melissa framed her photo banner with paper strips behind it. They were cut using a Stampin' UP punch. ​ Then she used smaller strips to embellish the rest of her page.​
The Dog Gone Cute bone title has been in Melissa's stash for a very long time! She loves using random things that she has had for years. She cut a 6"X11" checked paper from the kit and popped it off the page with foam dots. Then, she cut twice a filmstrip from Cricut Design Space ​and layered them on top of each other. The black cardstock came from her stash.
Melissa used pictures from every season to back the cut file and​ glued it down to the checked paper. Next, she used the stickers from the upgrades to spell out 'Spring, Summer, Fall and Winter' on the same wood grain paper ​as the background. She added the 'LOVE' chipboard that is colored with ink and a red Wink of Stella glitter pen. ​The Winter photo was embellished with the banner die cuts from the add-ons and then layered with twine.
Finally, ​Melissa layered lots of stickers and die-cuts from the kit and upgrades behind the checked paper. She used a 4"X6" cut out from the kit for hidden journaling. Then she used stickers for the pull out tab and added enamel dots, a sticker and some die-cuts to decorate the journaling tag. ​Last but not least, she added her journaling printed on a ​transparent sheet and had it attached ​to the cut-out. ​She also added some additional enamel dots on the upper right of the layout.
Journaling reads: We brought this sweet boy home on August 15, 2000. He immediately stole our hearts. Whatever the season we had a reason to be outside with our sweet boy, TEKKA. We had him for 16.5 years together and still miss him every day.
​

Check more awesome layouts and crafts on Melissa's Facebook page!
4. You call this Cozy by
Rachel Raynolds
Rachel is really excited to explore all the cozy aspects of this winter collection​. She decided to start with some black card stock to make the other elements pop on the page. She then layered two pieces of the patterned paper (Snowed In, Falling Snow) at different angles, while choosing a third (Winter Days) brighter paper to make a bold mat around her two 4x6 horizontal photos.
Once she got all her papers glued in place, she started embellishing using both the sticker sheet from the main kit and the die cuts from the embellishment upgrade. Creating three embellishment clusters she mixed the floral embellishments in with the ones featuring hearts and homes, which reminded her of what the photo was about.
Rachel also used the alphas from the upgrades for most of her title, along with one sticker from the sticker sheet in the main kit. She placed the title on the black card stock to make the silver glitter pop! She wanted to tell this silly story about how the new addition to the house, Archie, has a tendency to sleep in front of his bed rather than on it!
Rachel added just a few more items to the layout to finish it off. Some enamel dots from the embellishment upgrade (and ​some from her stash), a journaling label (Pretty Little Studio), some sequins (Close to my Heart), and gold and silver mist (Heidi Swapp). She hopes everyone is having a wonderful January!
Watch more fantastic tutorials on Rachel's Youtube channel and get inspired with great scrapbook layout ideas!
5. Graupel Layout by
Samantha Taylor
​

Sam had a photo of some interesting snow (they later found out is called graupel) they came across when traveling in the Bavarian Alps. After looking through January's kit, Sam knew she wanted to use the snowflake paper to scrap her snow photo.
There are 2 sheets of snowflake paper in the kit. One piece is a bit more of a tone on tone neutrals, but she chose to use the second piece which has a gorgeous pop of black on the snowflakes. To accent that pop of black, she also used the black buffalo plaid paper.
​To embellish her layout she used a mix of stickers included in the standard kit and die cuts from the Upgrades.
6. Castle Scrapbooking Layout
Sam's second layout uses a ​larger photo (5"x7"). She started with the fun pine tree print and then layered on some coordinating papers. Sam told us that she had a hard time figuring out her embellishments for this layout so she left it on her desk for a few days. When ​she looked at it again with a fresh set of eyes she decided to focus on layering up some stickers, die cuts, and enamel dots in 3 clusters on her layout.
Adorably clean and simple...just as Sam's style of scrapbooking! Get to inspired with more of Sam's scrapbook layout ideas on her blog!
7. Yay! It's a Snow Day by
Sara Mishler
​

Sara created a grid layout for her project. She used photos of some of the big snowstorms storms they got at their house and decided to document those. She started her layout by choosing her papers that will go along with her photos. She used some of the larger ephemera pieces to set off the photos from around their house.
Finally, she used stickers from the sticker sheet and Upgrades. ​The layout came together quickly ​and ​​paints a cohesive, striking ​image. Watch more of Sara's awesome layouts and crafts on her Youtube channel!
This month's kit gives you a great variety to work with no matter what type of project you are working on. Hope you'll take the time to treat yourself to a quiet afternoon of creating this winter. It's the perfect remedy for a cold day!
Don't forget to visit our online store! We're adding new items all the time and Club Members get 10% off. Visit our blog for more craft and scrapbook layout ideas using our scrapbooking kit.
Join our exclusive Facebook Community for Club Members. It will grant you access to amazing layouts and content made by our design team, fun monthly contests, FREE Facebook Live tutorials (Jan.22nd) and you'll get to meet other crafters!
Haven't subscribed yet? Now's your chance, be sure to sign up today!
GET OUR MONTHLY KITS DELIVERED TO YOUR DOOR!