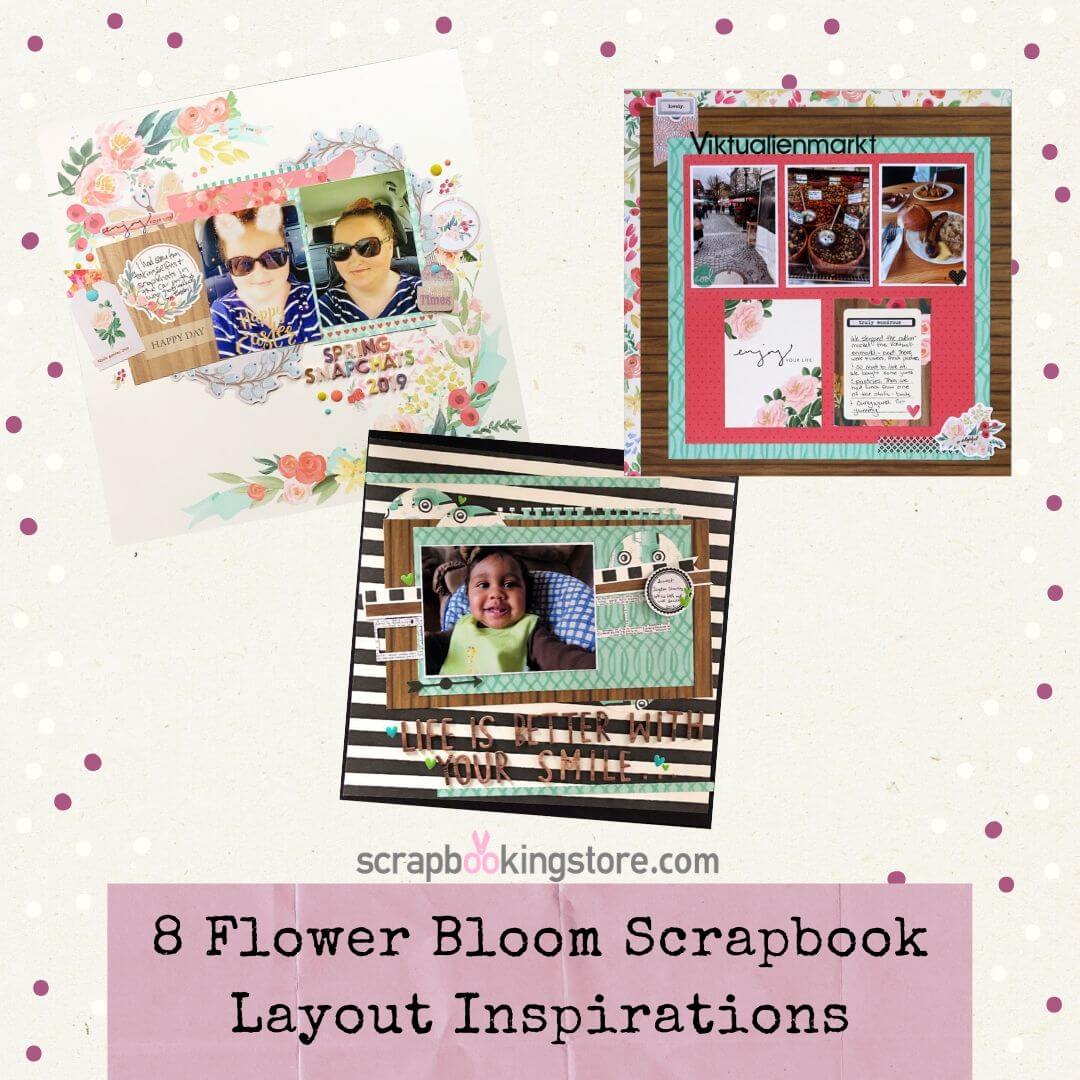 Monthly Kit Layout
8 Flower Bloom Scrapbook Layout Inspirations
This month's Flower Market collection by Echo Park is so versatile that it's really easy to stretch this kit well beyond ​the month of love! Take a look at some ​delightful and ​beautiful scrapbook layouts ​that our Design Team created to keep us inspired.
1. Spring Snapshots by
Rachel Raynolds
Rachel is ​so very excited to "spring" into memories of warmer seasons with all the wonderful florals and soft colors in the Flower Market ​collection. For her first layout with ​the February Kit she chose to use the Border Strips paper as her background. This lovely piece of paper made her heart skip a beat ​when she first went through the kit (we can't blame her!) She used a stencil from her stash (unbranded) and some Distress Oxide Ink (Picked Raspberry) to add a little interest to the background​.
She then layered two 3x4 photos over several papers (2x2 Squares, Multi Journaling Cards, Flower Baskets) ​along with die cuts and stickers from both the main kit as well as the embellishments upgrade. She loved the mix of die cuts, washi strips, and traditional stickers and all the different textures they added to the layout. Check out the intricate details below:
Rachel finished off the layout with some Thickers (American Crafts,) enamel dots (various companies,) mists by Shimmerz Paints (Jeni B Bleu, Sweetheart) and Heidi (Gold Color Shine) from her stash. She just loves how wonderful this fun layout turned out - and to think it all started witha couple of silly Snapchat photos.
Watch Rachel's process video on her Youtube channel and get to see more scrapbook layout inspirations.
2. Flowers Bloom: Wedding Layout by
Melissa Bierlein
Melissa's made this layout for her niece wedding, Megan. She's very close to her and truly is the daughter she never had. With that being said, Melissa definitely turned February's kit into a love collection! This layout will actually be a gift to her niece. She didn't think it needed a title since the picture says it all. Megan found her Prince Charming and their happiness just radiates out of the photo.
Melissa's started the layout by using the Carta Bella floral printed background paper as a base and added a burlap (burlap elements are not part of the kit) doily in the center of the paper. The hearts on the top of the photo are from the washi tape embellishment from our upgrades. The photo is matted on vellum paper to add some elegance to it and adhered the matted photo on top of the burlap doily.
At the bottom of the layout she used the banner pieces from the Bo Bunny embellishment kit included in the Upgrades and added fringe ribbon from her stash on top. Next, she added the enjoy your life sticker from the sticker sheet in the main kit..
Now for the fun layering of the flowers! She started laying out the flowers from the embellishment pack in the upper right and lower left corners. Secured some flat and some are popped with foam dots. Then, she added burlap flowers and pink/blue paper flowers from her stash. The glitter brads in the center of the paper flowers are from December's kit.
For the lower left part of this layout, she used a metal plack from her stash stating love. On the right of the photo, Melissa used a tag from the Upgrades with a glitter clip at the top.
Note: All burlap pieces were purchased at Hobby Lobby. The paper flowers are from Kaiser.
Check more of Melissa's lovely scrapbook layout inspirations on her Instagram!
3. You Rock Layout by
Becky Bacchus
​In this layout, Becky documented an everyday photo of her grandson. With a paper pack with so many florals, she wanted to show that there were elements suitable for a masculine layout as well.
Becky choose a paper that went well with the colors in his shirt, the wood grain and also the black and white gingham patterned papers. She then added 4 layers of patterned paper to mat the photo and bordered the top and bottom of the beautiful red/pink patterned paper with the wood grain paper from the kit. ​She also used some of the washi strips along with a border strip to begin her embellishment clusters.
Next, she added in some die cuts from the Upgrades Bo Bunny die cut pack. Becky used 3 of the 2x3 squares from the cut a part sheet in the paper pack as well to the right side of her photo and she added a title using puffy stickers from her stash along with some black puffy leaves to pull it all together. To finish the layout, she added gold splatters and sprinkled a few puffy hearts all around. She loves how this layout turned out! (and so do we)

4. Life Is Better With Your Smile
Becky is sharing this monochromatic boy scrapbooking layout using the February kit​. It goes to show ​how versatile the papers ​in this collection really are. In the photo she captured her grandson is showing off his 4 teeth and his cute little smile ​Becky followed a sketch with a slanted design for ​so it all came together ​quickly. All the patterned paper used ​is from the main kit. The only elements she used from her stash were the Alphas to create a long Title, some enamel hearts and 3 die cut pieces.
Also, Becky used her circle punch to create half circle elements out of the patterned paper and a notebook punch to one of the paper's edge that added some extra interest to the layout . She loves how this layout came together and how the colors all worked out so well.
To see the full process for this layout be sure to subscribe to Becky's Youtube channel.
5. Lost Tooth Layout by
Marci Bensing
Marci ​has worked her whole life in the dental field so when her niece recently lost her very first tooth ​while at a sleepover, she was so excited!!! The February collection worked beautifully for her​ idea.
She always starts a layout with a variety of things she might use on the page and set herself up to create the "background". ​Below you can see ​how she chose her background paper and photos. ​Next, she figured out the arrangement for her photos, placed them and begin the embellishment portion. ​Then she die cut another photo and an additional heart to create a frame around the ​it. She placed another partial sheet of paper under the photos which she matted with black cardstock and placed some washi tape below. (so cute!)
Marci worked around her background creation and ​started embellishing. The Lost Tooth and smile were cut on her Silhouette Cameo and the cascading leaves were die cut on her Sizzix. Everything else came from the February collection! Note: She cut out the "remember to" piece and rounded the edges and created hidden journaling and tucking it under the pink patterned paper in the upper left on this page. (what a creative idea!)
Get to see more of Marci's amazing and interesting scrapbook layout inspirations on her blog!
6. Hello 2020 Layout by
Meggy Blethen
Meggy did some hidden journaling ​on her layout this time around. She had so much fun using this month's kit to make a 2020 Crafty Goals layout. She used a picture of her and added some patterned paper mats as well as some fun foam to the back to give it more dimension. Then, she popped up the flowers on the top right cluster above the photo as well.
The background paper she used for the layout was perfect to house the photo and clusters in the bottom right corner with the floral frame. Then, ​up in the top left corner where she added the cut file title. Next, she added a couple of flowers to the title from the ephemera pack in the upgrade kit and that really was the finishing touch.
Since this was her Crafty Goals layout, she did want to add some hidden journaling on the back of it. She decided to use the big journaling tag element that also came in the ephemera pack​. ​Next, she wrote out each of her goals on it and she super loved how it turned out.
Meggy will have a process video up on her YouTube channel later this month so make sure you are subscribed to her channel and get notified when it goes live!
7. Outdoor Market Layout by
Samantha Taylor
The February kit is such a lovely one. The colors are soft but not washed out and the accompanying stickers are just perfect. Since the collection itself is called Flower Market, Sam thought it would be fun to use the kit to scrap some outdoor market photos.
Whenever they travel, they love to find the local markets and explore. They find them always so colorful and have the best food! Sam used a mixture of photos and journaling cards to create a grid look on this layout. For embellishments, she used a mix of the stickers from the included sticker sheet, washi strips from the upgrade kit, ​as well as ephemera​.
8. Grandparents Photo Layout
This summer all of the grand kids were together. Which is rare as Sam's parents live in Wisconsin, her sister and niece live in California, and they live in Iowa. So they had to take some grandparent/grand kids photos.
February's kit is perfect for scrapping some of those sweet photos.
Sam started with the idea of using the piece of patterned paper that white with groups of flowers in two opposite corners. She thought this piece of paper was just so gorgeous, but totally outside her normal wheelhouse.
Next, she added layering scraps of brighter patterned paper in the center of the layout and then added her photo to the top of it. She built out the floral corners with clusters of embellishments from the included sticker sheet, washi and a layered tag from the Upgrades.
With these adorable layout from Sam, you'll want to visit blog to see more scrapbook layout inspirations!
These are just a handful of February scrapbook layout inspirations that showcase how versatile this month's kit really is. Remember to Upgrade, the embellishments are too cute to resist!
New to scrapbooking? No problem! The Scrapbooking Store is always here to inspire you and allow your creativity to flow. Visit our blog here to see more amazing scrapbook layout inspirations that our Design Team compiled to spark new ideas and get you started on your projects. There's quite a scrapbook collection waiting for you!
Don't forget to join our Members Facebook Group so you can gain access to all our layout ideas, contests, and events coming up, including our Facebook Live Crop on the 3rd Wednesday of the month (Feb.19th).
Join us now and get monthly kits delivered right at your doorstep. Click below
GET OUR MONTHLY KITS DELIVERED TO YOUR DOOR!