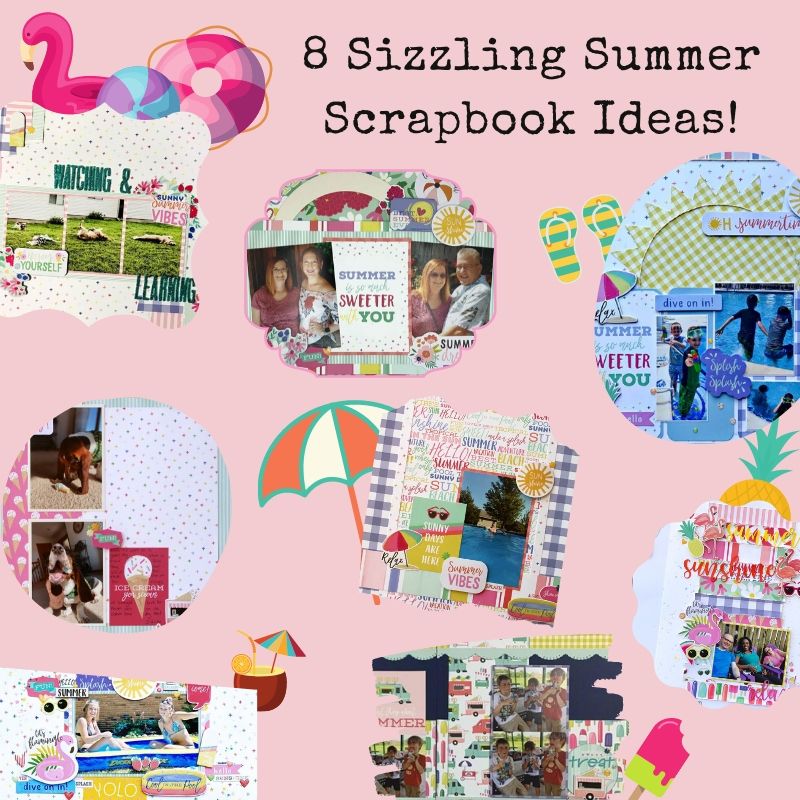 Monthly Kit Layout
8 Sizzling Summer Scrapbook Ideas!
We're mid way through summer if you can believe it! Even if we still have to practice social distancing it won't stop us from celebrating summer as much as possible. So take a look at these layout ideas by our wonderful Design Team. We hope they'll inspire you to get busy crafting!
Let's start with awesome designer Shannon.

1. Cool In The Pool by
Shannon Allor

Shannon loved working with this bright summery kit! She started with a fantastic pattern of rainbow-colored plus signs. Next, she triple matted her photo to make sure that it stood out against the other elements.
Shannon combined a mix of die cuts, chipboard and enamels from the upgraded kit to ensure that there was plenty of texture and dimension!
Watch Shannon make this layout on her Youtube channel!
2. Summer Fun Layout by
Samantha Taylor
When Sam saw the July collection, she fell in love with it and was super excited to get started. Sam knew she just had to scrap a pool photo using this collection. It is the quintessential summer kit and swimming in their new backyard pool has become the activity that defines summer for them this year.
Sam started with the summer word paper as the base for this layout. It's one of her favorite papers in the kit and she knew it would be easy to embellish. Next, she added the purple gingham as the background to highlight the summer word paper and a few strips from the Fun In The Sun paper that is also included in the kit.
She loved the border strips that were included in the kit and decided to use one by placing it in the lower part of her photo.
For embellishments, Sam cut journaling tags and used the cardstock stickers from the main kit. From the upgraded embellishments, she used the die cuts (some of them have glitter!), chipboard shapes (adds some great dimension), and the shaped enamels – Sam's favorite part of the upgrades!
3. Dog Ice Cream Layout by Sam
Don't let this kit fool you, it's not just for summer photos! Sam saw the cute ice cream paper and ice cream truck embellishments in the kit and knew she had just the perfect photo. They got their dog an ice cream cone dog treat from a local dog boutique and Sam had some silly photos of him enjoying it.
There are a lot of great embellishment options in this kit and Sam took advantage of all of them. From the base kit, she used the journaling cards and cardstock stickers. Also, she used all three items from the upgraded embellishments: the chipboard stickers, the die cuts, and the shaped enamels.
Looking for more summer scrapbook ideas? Check out Sam's blog now!
4. Sweet Treat Double-Page Layout by
Lisa Brooks
Eating ice cream on a hot summer day is one of the best things about summer. Lisa loves the papers this month. The Best Summer Ever collection from Echo Park had the perfect paper for these sweet treats enjoyed by her boys.
Lisa paired the collection with a navy cardstock to help with the amount of pink that was in this layout. She decided to make a double page layout so she could showcase the lovely photos. She used some green paper stripes as a banner and under the photos. Finally, she used many of the upgraded embellishments.
Watch more fun and easy summer scrapbook ideas on Lisa's Youtube channel!
5. Summertime Layout by
Marci Bensing
The warmth of summer is upon New Jersey, where Marci is! Since they are just starting to open up and get out of their houses, Marci decided to spend time scrapping memories with her grandsons from last summer at their community pool.
Marci started by collecting the photos she wanted to use as well as laying out the kit and choosing a background paper for the base page. Next, she cut the photos down. Also, she knew she wanted to use her Silhouette Cameo to create a large die cut image (the sun).
With her basic "base" complete, she moved all around her page balancing and enhancing with embellishments. She used some Pop Dots to create texture and dimension. then, she used all aspects of the July collection on this layout and added some twine to finish it off because she uses twine on almost all her projects!
For more fun summer scrapbook ideas, visit Marci's blog now!
6. Summer Dream by
Melissa Bierlein
Melissa started her layout by using a circle chipboard piece from her stash. She cut it in half so the two parts show above and below the photo area. Then, she put the title ' SUMMER' above the chipboard piece in a curved angle. The title is from the sticker sheet in the main kit.
Next, she layered the photos and the journaling square on top of the green striped paper. The multi-colored striped paper shown at the top and bottom is from the sheet of paper in the kit that has strips of journaling and papers on it. It was approximately two inches, so she cut it in half lengthwise and used a piece at the top and bottom of the photo area. The photo area is popped up with foam tape since the chipboard is so thick below it.
The journaling card 'Summer is so much sweeter with you' is backed by the checked paper in the kit. Melissa clustered some die cuts and chipboard elements from the add ons in three different places on the layout and then added the epoxy dots on a few of the die cuts and chipboard.
Everything is from the kit except the circle chipboard piece from her stash. Get to see more of Melissa's summer scrapbook layouts on her Instagram!
7. Summer Sunshine by
Sara Mishler - Sara Scraps
For Sara's layout, she wanted to use all the patterns in the July kit! She knew the Lets Flamingle die cut went with her photo perfectly and since she's going for flamingos, she used as many as she can!
Sara distressed and creased her paper strips for lots of fun texture. She then colored some summer cut files with ink for a perfect match to the collection!
A sprinkling of the enamel shape upgrades was the perfect finishing touch! Watch more fun and easy summer scrapbook ideas on Sara's Youtube channel!
8. Watching and Learning: Summer Vibes by
Meggy Blethen
Megan has created a fun summery layout about her oldest pup learning something new from her younger pup. She loves scrapping about her dogs and this kit was perfect to create the summer and outdoor vibe she wanted.
One of Megan's favorite things to do right now is to tear one edge of her papers to create a little texture on her layouts.
For this layout, she tore all the edges of every paper she used. She would like to challenge you to create a layout with this month's kit using torn edges. Get to see more of Megan's summer layouts on her Youtube channel!
We love how these summer scrapbook ideas turned out as they are simple yet adorable and so easy to follow!

Don't forget to visit our online store! We're adding new items all the time and Club Members get 10% off. Visit our blog for more craft and layout inspirations using our scrapbooking kit.
Join our exclusive Facebook Community for Club Members. It will grant you access to amazing layouts and content made by our design team, fun monthly contests, FREE Facebook Live tutorials (July 22nd) and you'll get to meet other crafters!
Haven't subscribed yet? Now's your chance, be sure to sign up today!
GET OUR MONTHLY KITS DELIVERED TO YOUR DOOR!