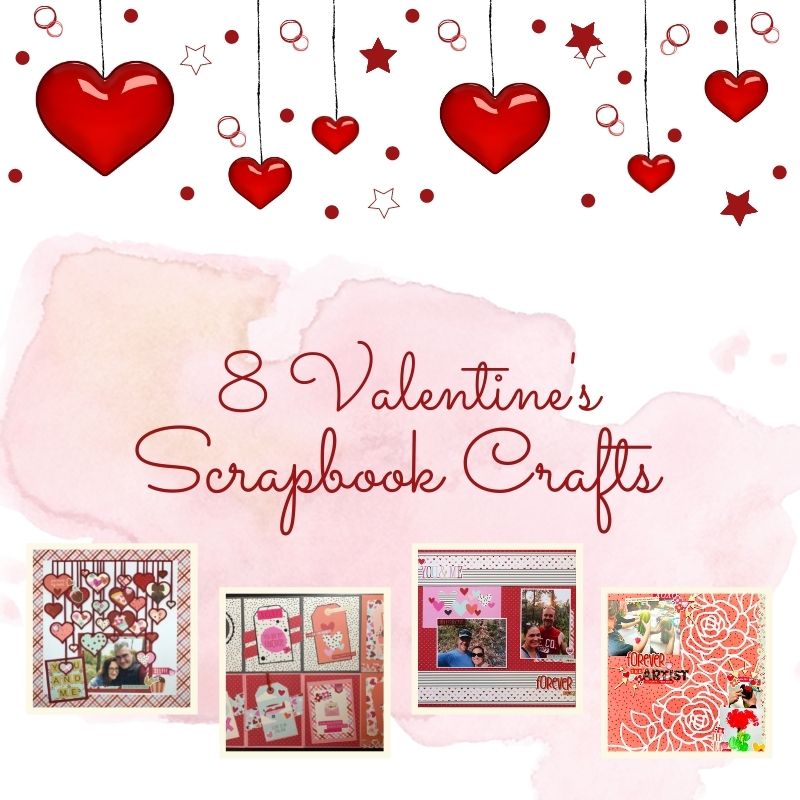 Cards
8 Valentines Scrapbook Crafts
Add some hugs and kisses to your Valentine's Day projects with these valentines scrapbook crafts from our awesome Design Team members. These crafts were made from our lovely February 2022 collection, Sweet Talk by Simple Stories.
1. Hey cutie! You are my Favorite Layout by
Marci Bensing
Marci always lays out everything from the kit to inspire her and to grab the ones she wants to use easily. She has chosen the striped background paper and used a coordinating dot paper and used a scalloped border punch. Next, she punched circles on the "sweet thing" paper and placed a piece of black cardstock behind them. Then, she adhered it to the top of the background paper.

She matted her grandsons' school photos with black cardstock and adhered them to the middle of the layout. She placed one tag from the cut-a-part tag paper in the middle below the photos. Then, she placed another tag to the left and then to the right.
Marci made twine bows (her love of twine!) and then placed heart brads from the kit in the middle of each bow. This gives her a nice "base" so she can now complete her layout by embellishing around the page!
At the page top, she adhered loosely with sporadic liquid glue the 3 twines. She cut out "Hey cutie" from one of the cut-a-parts and used pop dots under it and then she tucked the koala bear for a bit of dimension. Next, she double die cut hearts (2 colors), tucked them under the photos and used letters from her stash to describe each school grade. In that same area, she put each boy's name, a heart brad and a Heidi Swapp word from the upgrades. Simple and fun to follow! Don't forget to check out more of Marci's Valentines scrapbook crafts and layouts in her blog now.
2. Forever The Artist by
Megan Blethen

Meggy has a 12x12 layout to share with you using the February kit. She started out with picking her background paper and a cut file from her stash. Also, she pulled out a red tile sticker and an American Crafts Thicker she got in a past Scrapbooking Store kit called 1st Ave.

She glued down the cut file to the background, she used 'Will You Be Mine?'. Then, she use a frame cut file from Cut to You. Next, she picked out 4 photos, 3 of them cut to 3x4 and 1 cut to 2x2. She glued down 2 3x4 photos at the top left of the page, the other two put in the bottom right and glued on top of each other.
Meggy used the scalloped border sticker from the kit sticker sheet and put it on the right side of the layout. She added the title under the photos in the top left corner and added some stickers and ephemera to the cluster. Next, she added another cluster in the top right corner of the photos above the title. She also added a cluster of stickers and embellishments at the top of the photo on the bottom right of the layout.
Finally, added stickers and embellishments to the left of the bottom right photo to create her last cluster. Voila! The layout is finished! Make sure to watch Meggy on her Youtube channel and get to watch more scrapbook layouts.
3. Love Scrapbooking Layout by
Samantha Taylor

Are you feeling the love this month? This month's kit is perfect for scrapping all those selfies you take with the people you love. This layout features a selfie of Sam's boys and her hanging out in a hotel pool. She started her layout with one of the red heart paper in the kit. She added a large rectangle of red and pink dot paper.
Next, she layered it on a 3/4" strip of blue and red dot paper and a 1/2" strip of multi-color heart paper. Then, she added a horizontal piece of black and white striped paper. Next, came her photo. She added some journaling tags cut from the patterned paper sheets. Finally, she added sticker embellishments from the included sticker sheet.


4. Puppy Scrapbooking Layout by
Samantha Taylor
It's not just people who is on Sam's heart. She thought the theme of February's kit would be perfect for scrapping a few photos of her basset hound from when he was a puppy.
Sam started with a base of plaid paper. She layered a 6" x 12" strip of heart patterned paper about 2" from the top. Then, the 3 photos went on top of the strip of paper. Next, she added the "You have my heart" 4" x 6" journaling tag to the bottom of the layout. Finally, she embellished with stickers from the included sticker sheet and embellishments from the upgraded embellishment kit. Easy to follow!

Here are some other layouts she did with the February kit, posted in her blog. Get to see more Valentines scrapbook crafts and layouts on Sam's blog now!
5. The Best Men Scrapbook by

Lori Carson
Lori's brother got married in Dublin, Ireland back in 1996. He couldn't decide between his two best friends, both named Mike, so he had two best men. Here they are with their wives. Lori used papers that looked similar for this two page layout and the contrasting paper for a mat layer. She printed the text on white cardstock and then cut the dotted hearts using a die from The Stamps of Life. She finished off each edge with some ribbon from her stash and journaled on one of the cut a-part tags.
6. Mom and Son Besties Layout by

Lori Carson
Lori adored this picture of her cousin and her son. He was just about two in this picture and he is now almost 26. She took two sheets of the paper and cut them into 1/2 inch strips and then wove them together for the background. Then, she matted the picture with red and black cardstock, layered the tag on black cardstock and added a ribbon. She finished off with embellishments from the add-ons using 3 of heart brads in the top left and word sticker from Heidi Swapp (mounted on white cardstock).
7. Cards by

Lori Carson
Valentine's Day is a big one for cards, so Lori decided to use some of the cut a-part tags and 3 x 4 images to make some. She cut paper and tags for 8 A2 size (4 1/4" x 5 1/2") cards. Then, she used up the remaining brads and a few word stickers as well as sentiments from the sticker sheet in the paper pack.
Don't forget to watch more of Lori's Valentines scrapbook crafts on her YouTube channel.
8. You and Me Layout by

Melissa Bierlein
Melissa used the pretty plaid from the kit as the base for the layout! Normally, Melissa would have cut the white a bit larger however, she did not want to cover the majority of the plaid. She settled on cutting the shimmery white cardstock to 10" X10". Shimmery white cardstock is from her stash.

Cut file is by her favorite Paige Evans and it is called 'Dangling Hearts'. She cut with red cardstock from her stash. For the smaller hearts, she used the front page of the kit that shows all the papers on it. This saves on the 'real' paper and worked perfectly. The larger hearts she used the 2"X2" square papers to back those. Perfect size!!!
For the photo area, Melissa backed the photo with two different patterned papers. Then, embellished the right lower corner with stickers and upgrades from the kit. For the title: simply used a journaling square from the kit, cut it down a bit and backed with the same red cardstock used in the cut file. Then, she embellished throughout with both the sticker sheet and upgrades from the kit. Don't forget to check Melissa's blog to see more Valentines scrapbook crafts and layouts.


Enjoy creating your February projects with these awesome guides. Visit our blog for more scrapbook layouts and crafts using our monthly kits!


Join our exclusive Facebook Community for Club Members. It will grant you access to amazing layouts and content made by our design team, fun monthly contests, and FREE Facebook Live (Feb 16th) tutorials to meet other crafters!
Haven't subscribed yet? Now's your chance, be sure to sign up today!
GET OUR MONTHLY KITS DELIVERED TO YOUR DOOR!