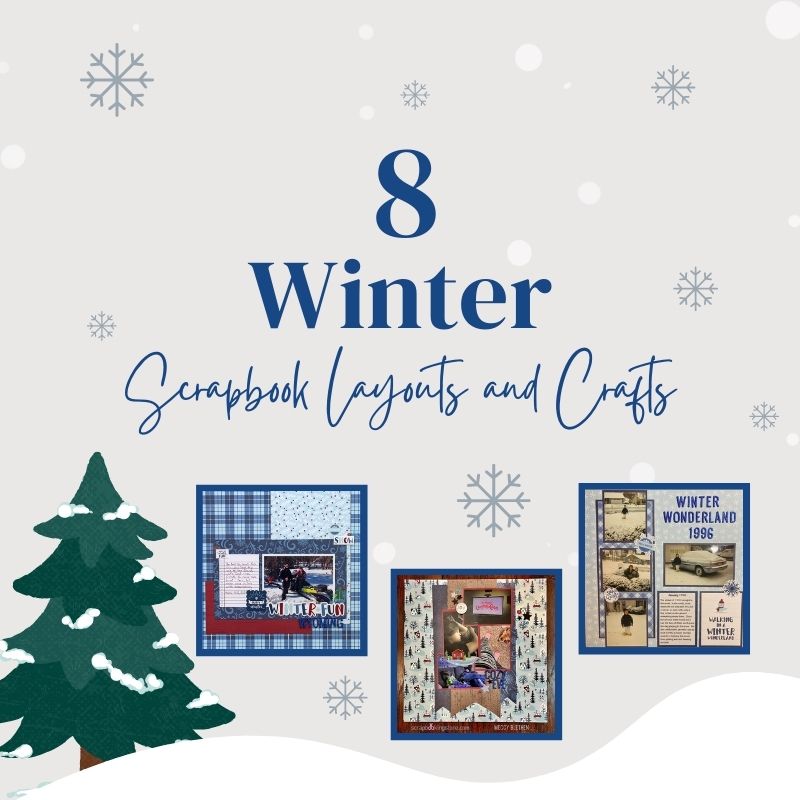 Cards
8 Winterful Scrapbook Layouts and Crafts
Freeze the day and have the best layouts using our winter-themed kits! Here are fun winter scrapbook layouts from our awesome Design Team members. These crafts were made from our gorgeous January 2022 collection, My Favorite Winter by Echo Park.
1. Snow Much Fun Layout by
Marci Bensing
Marci has chosen her photos and laid the January kit out ready to go!
She has arranged the way she'd like her photos to be displayed. Next, she chose one of the patterned papers and dies cut the large flourished snowflake. She likes to use the cover sheet at times, and she cut a border piece and punched the edge for a little added interest and adhered it to the bottom of the layout.
Then, she used pop dots on the center of the snowflake piece to add dimension. She used the blue alphas to create a title-SNOW MUCH FUN, using a snowflake sticker for the "o". She happened to have a piece of ribbon in her stash that said winter so she adhered it across the bottom border piece. Also, she used a white spray on the page to create the winter snow feel. She used a sticker of the snowmen sticker sheet and placed it at the bottom middle of the first 2 smaller photos.
To complete this layout, Marci sporadically placed the snowflake stickers from that separate snowman sticker sheet and tucked some of them. She added twine that she uses on 90% of her pages because she loves it!-so she added it under the winter ribbon on the bottom. Next, she added another sticker "Winter, Snow, Brrrr, etc, using pop dots between two of the small photos for balance.
This completed the layout of her grandson earlier in 2021 when Marci braved the cold snowy day with him! They had the best time! Don't forget to check out more of Marci's winter scrapbook layouts in her blog now.
2. Cozy Eve by
Megan Blethen

Meggy was so excited to crack open this kit and make her first layout of 2022 with it! She absolutely LOVEs snow layouts. Unfortunately, she didn't have any snow pictures so she decided to go a different route with this month's layout. She focused on the home and cozy papers, embellishments and title.
Meggy picked her background (3x4 Journaling Cards) and picked four photos at 3x4 inches and matted them with a slight edge Winter Floral page. Next, she picked three other patterned papers, cut one to 4.25x11.5, another one to 1.5x10.25, third one to 1.25x10.75 - used Snowman Fun, Winter chill, Blue Winter papers.

She cut out a triangle at bottom of the three papers to make a flag and glued it down to the layout. Also, she glued down the photo mats and added embellishments. The only one from the kit is one of the house in the snow and the snowflakes. The others are from her stash.
She added a title with the upgrade alpha and she is done!! Make sure to watch Meggy on her Youtube channel and get to watch more winter scrapbook layouts.
3. Sledding Scrapbooking Layout by
Samantha Taylor
January's kit is great for all sorts of winter fun. Sam had snowmobilers in her family, so she always have sledding photos to scrap.
Sam started with a base of blue gingham paper. She layered a piece of 11 1/4" x 11 1/4" piece of wood snowflake paper on top of that. Next, she added a piece of 8 1/4" x 10 3/4" piece of light blue snowflake paper. The last large piece of paper layered on is an 8" x 10 1/2" piece of white and blue snowflake paper.
Also, she used a small strip of blue paper as a journaling tag. She used the alphas from the upgraded embellishment kit to add the title "Black Hills". Finally, she used stickers from the main kit and from the upgraded embellishment kit to the layout.
4. Winter Fun Layout by
Samantha Taylor

Blue is one of Sam's favorite colors and this kit is packed full of gorgeous blue papers. She forced herself to use at least one red paper on this layout because life is all about balance but if you're a blue lover like her, you'll love January's kit.
Sam started her layout by getting the blue papers in the kit. She added a photo on the right of her husband and son snowboarding together. Then, she added journaling on the left. Next, she added embellishments from the sticker sheet and added a title using the alpha stickers from the upgrades. Easy to follow! Get to see more winter scrapbook layouts on Sam's blog now!
5. Milk Jug Igloo Scrapbook by

Lori Carson
Going back through her early scrapbook albums, Lori decided it might be time for an update. She wanted to change from her original 8.5 x 11 to 12 x 12 for starters. Then, she also wanted to update the look. So January's Winter theme was perfect for this Milk Jug Igloo layout from March of 2000. She used various papers to cut the shapes, printed her journaling, and used some ribbon from her stash. From the add-ons, she used the Heidi Swapp letters for the title and added some Sticko stickers for embellishments.
6. Fall/Winter Photo 1998 Layout by

Lori Carson
Again with another updated layout, but Lori didn't snap a before picture. Again, she used some solid cardstock and ribbon from her stash, but then arranged various pieces of patterned paper which coordinated beautifully with the colors in the photo to create the layout. The journaling tag is layered on cardstock and then tucked in behind the circle cut from the patterned paper.
7. Winter Wonderland 1996 Layout by

Lori Carson
One more updated layout, but without the before picture. Lori used the Heidi Swapp letters again for the title - Notice the 6 in 1996 is actually an O that she cut to make work because there was only 1 of each number. So since she wanted the 9s to look the same, Lori used a 9 and a 6 (turned upside down), then created a 6 but cut the O and turned part of it in when she stuck it down. Also, she used a 3 x 4 cut a-part, layered the photos and arranged them on the patterned paper. She finished off with some snowflake stickers from the paper kit.
8. Cards by

Lori Carson
Of course, Lori had to make some cards. Worked out nicely as she needed a few thank you cards following the holidays. She used a little bit of everything from the kit and add-ons. Again, she had to alter some of the letters to get what she needed - in the two Thanks - the N is actually an M that had the right part cut off and then adjusted to look like an N. The other thanks (layered on cardstock) is a die cut from Honey Bee Stamps called thanks honey cut.
Lori loves that layered look and the stitching detail on the outline. Lastly, she used stickers and cut a-parts from the kit as well. Don't forget to watch more of Lori's winter scrapbook layouts on her YouTube channel.


Enjoy creating your January projects with these awesome guides. Visit our blog for more scrapbook layouts and crafts using our monthly kits!