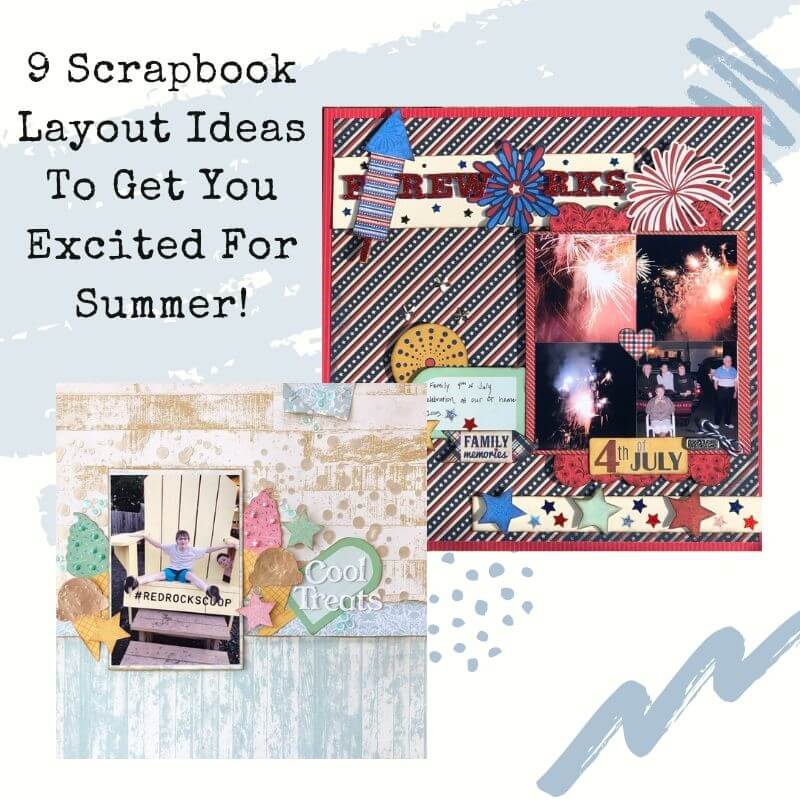 Crafting
9 Scrapbook Layout Ideas To Get You Excited For Summer!
This month's collection incorporates everything you need for the perfect layout celebrating summer, warm weather, and the 4th of July. We loved seeing all of the scrapbook layout ideas from our Design Team members using the June Kit and hope you'll try some of these out!
1. Fire Station Tour Scrapbook Layout by
Meggy Blethen
​

Meggy had a ton of photos from a Fire Station tour when her older two boys were little. She decided to pick out 3 photos of the tour where you could see all the kids and the surroundings.
Meggy started her layout by choosing her background paper. She backed her photos with a lighter paper to highlight them. Also, she cut strips from papers that would compliment her photos and the title.
Finally, she added her embellishments from the Upgrades this month and for her title she used the thickers from the Upgrades as well! Make sure to subscribe to Meggy's YouTube channel and see how this awesome layout was made from beginning to end.
2. Fireworks Scrapbook Layout Ideas by
Melissa Bierlein
​

The base Melissa used is a 12 X 12" sheet of red striped cardstock that was included in the kit. The second layer is the diagonal stripe patterned paper trimmed to 11.5 X 11.5".
Title: Melissa used a cream piece of cardstock from her stash for the base of the title. Then, she spelled out 'FIREWORKS' using the Celebrating Freedom Thickers from the upgrades. She substituted the I and the O with die cuts that were also from the upgrades. Also, she added a sticker to the center of the O from the sticker sheet in the main kit and sparkle from the Thickers upgrades to the bottom of the rocket. The cream needed something so Melissa added enamel stars and dots from Stampin UP from her stash.
Photo: The base is from the die-cut pack that is part of the upgrades. Melissa used a 6X6" patterned paper from the kit over that to glue the pictures on. Also, she used a heart sticker from the main kit at the center of the photo's and clustered some die cuts and stickers around the photo area along with a journaling block. She added a metal 'God Bless America' charm and twine from her stash. Next, she added three metal concho stars above the die-cut cluster from her stash.
Bottom Border: She used a thin strip of cream cardstock from her stash and decorated with die-cut stars and star stickers both from the upgrades.
Please note that many of the die cuts and stickers have their edges inked with Early Espresso from Stampin UP! Get to see more of Melissa's adorable scrapbook ideas on her Instagram!
3. Remembering 9-11 by
Marci Bensing
​

Red, White & Blue! Marci loves the June collection filled with beautiful papers and embellishments! She immediately thought of photos she had printed of her grandsons outside their new home last year commemorating September 11th. Their parents have explained how important this day is as they were born long after 2001. So, they put on patriotic shirts and posed for a photo. This collection worked beautifully along with the photos.
Marci starts all her layouts compiling the "BASE" first; these are the photos and the background papers. She lays them and reviews all the parts of a collection.
Now to expand on that base, she chose 5 pieces of the patterned paper and cut each 2 inches in height and shortened the length to go about three quarters across the page. Then she adhered them to the background paper and also adhered to the photos.
Next, she went around the page in a circular direction laying and adhering embellishments. Marci used a part of everything included in this collection. Some of the items were "popped" using pop dots. She added the red/blue star paper down the left side and cut the different size stars on her silhouette cameo. Next, she inked the edges of the stars (white ink) to make them standout, adhering some of them flat and some "popped".
For the finishing touches such as the title, she used the Bo Bunny Thickers included in our Upgrades for the "Remembering 9-11" title. Note that Marci used the "dots" from the periods, question marks and exclamation marks from the Thickers to make a trail for the butterfly - brilliant! Finally, she also added a little white ink "distressing" stamp around the edges of the red paper.
Check more of Marci's layouts and crafts on her Instagram!
4. My Tweet Girl by
Shannon Allor
​

Shannon was so excited when she saw the June kit and Upgrades! She couldn't wait to pull out the stars and the ice cream cone die cuts to create a layout featuring her daughter eating ice cream!
Shannon chose papers based on what would compliment her photos. She backed them up with white paper for it to stand out more. Next, she embellished her page with ice cream die-cuts, stars and Nuvo drops. Don't forget to subscribe on Shannon's YouTube channel and get to see more scrapbook layout ideas!
6. Cool Treats Scrapbook Layout by Sara Mishler
Sara chose to use the amazing woodgrain papers to give her layout a fun summery feel. She altered the Bo Bunny die cuts with some Nuvo drops to give the ice cream some dimension and make them look good enough to eat! Next, she added brown ink to the edges of her torn paper which gives her memories of one of their favorite ice cream stops when Sara and her family are on vacation!
Sara added a little peek-a-boo tear at the top, some sequins from her stash and a bright white title to complete the light, weathered, summer look she was going for! Get to watch how Sara made this summer layout on her YouTube channel and see more scrapbook layout inspirations!
7. Fireworks on the Lake 2 Page by
Samantha Taylor
​

Sam loves a good plaid paper and the plaid included in this month's kit is so gorgeous. Since there are 2 sheets of it, Sam decided it was the perfect opportunity to create a 2-page layout. She kept the layout cohesive by matting all the photos with the same red paper from the kit.
Sam always feels 2-page layouts are busier to look at, so she kept the embellishments a bit on the simple side with a few clusters.
The embellishment clusters are a mix of all 3 upgrades from this month's kit and the sticker sheet from the base kit.
8. Papa's Fireworks Show Scrapbooking Layout
Sam's dad puts on a great little fireworks show from their place before they head out onto the lake to see the big 4th of July fireworks show.
June's kit is a lovely mix of patriotic and nautical which makes it perfect for a layout about fireworks on the lake. Add with some of those fantastic sparkly Thicker stickers, you've got a super fun layout.
June's kit features papers from 2 different Authentique collections. The collections have a patriotic and nautical feel. The base kit includes 12 patterned papers and a full-size matching sticker sheet.
For the embellishments on this layout, Sam used stickers from the base kit and die cuts and foil stars from the upgrade kit.
Make sure to check Sam's blog for lots of scrapbook layout ideas !
These are just some of the projects our designers shared with us this month. More scrapbook layout inspirations and ideas coming all throughout the month!
Don't forget to visit our online store! We're adding new items all the time and Club Members get 10% off. Visit our blog for more craft and layout inspirations using our scrapbooking kit.
Join our exclusive Facebook Community for Club Members. It will grant you access to amazing layouts and content made by our design team, fun monthly contests, FREE Facebook Live tutorials (June 17th) and you'll get to meet other crafters!
Haven't subscribed yet? Now's your chance, be sure to sign up today!
GET OUR MONTHLY KITS DELIVERED TO YOUR DOOR!