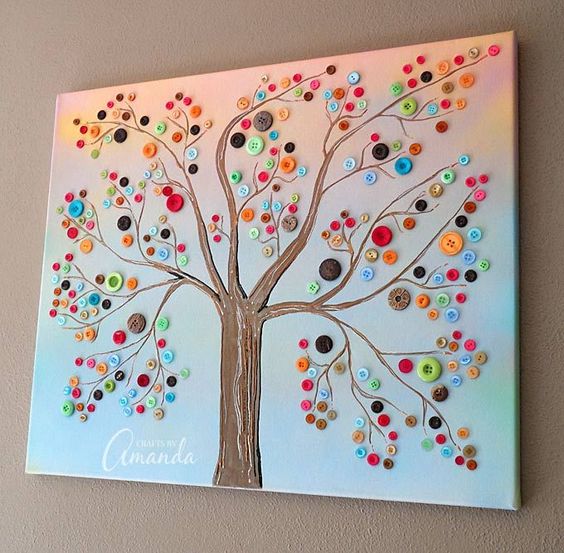 Crafting
Beautiful Button Canvas Art Tree
Firstt, I hope everyone has been enjoying their summer so far. I must say that summer means relaxation but it also means times for crafting and organizing (if possible after crafting). Today's inspiration is a beautiful button canvas art and is perfect for this time of the year.
So this beautiful inspiration come from creative crafter & blogger Amanda Formaro who has a real passion for the crafting creatively. Also, there were so many thing forms of inspiration I discovered on Crafts by Amanda but this one was just spoke to me - A vibrant button tree.
The buttons, the colors, the simplicity, and world of crafting all jumped out to me at once. Do you see it? The details of the buttons alongside the beautifully created tree is just spectacular. I knew that I had to create a piece like this for my craft room. It's the perfect piece of art to inspire motivation and also leads to a sense of peace. Who doesn't need peace, motivation and inspiration when crafting!
Here's what you need to get started*:
canvas
brown metallic paint
paintbrush
TONs of buttons (different materials, colors)
dimension paints
metallic paints
* follow the original link for detailed supplies list
Amanda paint's the entire canvas first using different spray paint to create a sunset look. She then drew out and filled in her tree. Tall, flourishing, and with plenty room of growth -- for tons and tons of buttons! Finishing off with touches of dimensional metallic paint to create depth and detail.
Amanda starts place her buttons working from the largest ones first, towards the inside of branches and the out, with the smaller, tinier buttons for the outer branches, edges. E6000 is the adhesive that was used but I think a nifty hot glue or tacky glue will do the trick! I absolutely love that your can make this tree very custom to how you feel, the decor in your craft room or what your eyes find most appealing. It's YOUR tree, own it's creation.
The colors, buttons, layers of dimensions and details are just beautiful. This project may take a little time to make however the journey of creating it and enjoying the process seems priceless. It's truly the perfect craft project for the summer to not only relax but also put those endless buttons to use creatively.