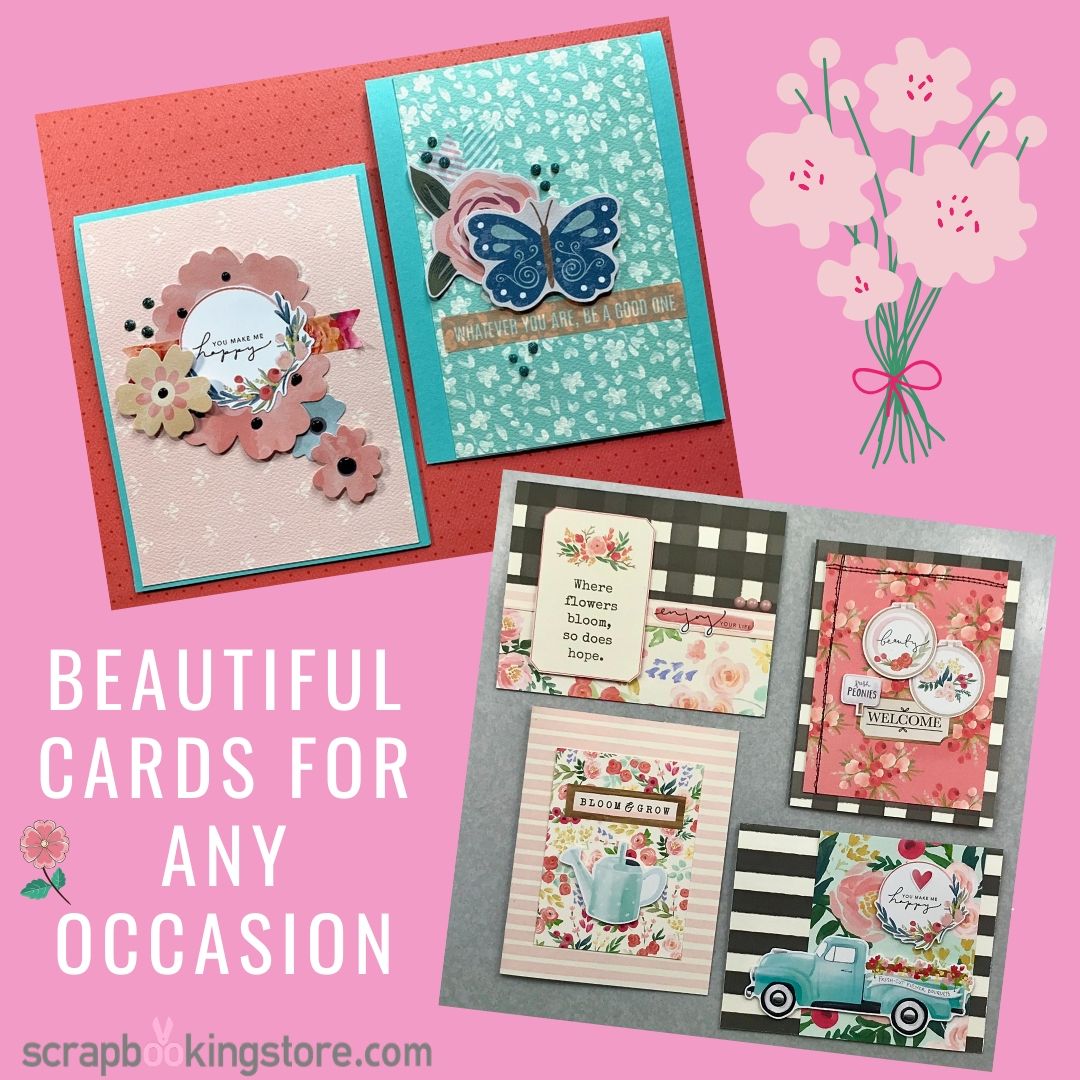 Cards
Beautiful Cards for Any Occasion
The month of love may soon be over but that's no reason for us to stop showing our appreciation towards others. Love, gratitude and compassion should reflect in our crafts throughout the year. Our amazing Design Team members, Rachel and Shannon shared with us a series of cards that will inspire us throughout the year.
The first set of cards for any occasion we'd like to show you are from awesome designer Rachel Raynolds.
Rachel decided that the February 2020 main kit and embellishment upgrades ​are perfect for some spring themed cards! How could they not be? The cards below can be sent out as they are or be made a gift.
To make these sweet spring cards, Rachel delved a bit into her stash as well. All of her card bases are made with three pieces of card stock (Stampin' Up.) The other items from her stash that she used on all of her cards were some Distress Oxide Ink (Picked Raspberry, Broken China} and Nuvo Drops (White Blizzard, Aquatic Mist, Ebony Black.)
The two cards with the aqua card base make use of the die cuts and washi tape strips in ​our embellishment upgrade as well as some of the ​tone patterned paper from the main kit.
For the cards with the coral card bases, Rachel pulled ​out a couple of extra things from her stash. For the first one, a doily was layered with patterned paper, washi strips, and one of the 2x2 patterned paper squares.​For the second ​card she used a Martha Stewart heart punch (Heart Confetti) on another one of the 2x2 pattern paper squares to create a fun montage with one of the large stickers from the main kit. She also added a sentiment using a stamp from Lawn Fawn (Sophie's Sentiments.)
And finally for the cards with the pink card bases, Rachel layered patterned paper underneath either a 2x2 square or a 3x4 card, this time keeping the embellishments to a minimum to let the beautiful patterns from the collection shine!
Enjoy interesting & very handy craft tutorials on Rachel's Youtube channel.
The next set of cards that we're so delighted to share with you today were made by our very talented designer​ Shannon Allor. She's our latest Design Team member and we're very happy to have her on board.
The moment that Shannon saw the February kit she just knew that it's perfect for crafting lovely gift cards for any occasion. The colors are richly saturated and the sentiments are perfect for cards! (we agree!) So Shannon created a set of eight beautiful cards with easy to use sentiments that she could send out to her mother and her friends.

Using some card sketch inspiration from PageMaps, she worked her way through the sketches and created a variety of sweet cards that double as a thoughtful handmade gift.
Shannon started by choosing cards based ​on patterned papers that were a bit subdued. The hardest part was cutting into these gorgeous papers! All of her bases are 4 1/4" x 5 5". Next, she tried to find papers with a little more color while making sure that her patterns were varied. Using a collection makes this process so much easier because the designers did all of the work for us!
Finally, Shannon loved popping up the gorgeous sentiments and icons that were part of the full 12 x 12 sized sticker sheet. It gave the cards a bit of depth and dimension. She only had to add a bit of sewing, a couple of enamel dots and a bit of black and white twine to finish off her adorable gift card collection.

To watch how these sweet cards were made and to see more cards for any occasion from Shannon, visit her YouTube channel now!
Don't forget to visit our online store! We're adding new items all the time and Club Members get 10% off. Visit our blog for more craft and layout inspirations using our scrapbooking kit.
Join our exclusive Facebook Community for Club Members. It will grant you access to amazing layouts and content made by our design team, fun monthly contests, FREE Facebook Live tutorials and you'll get to meet other crafters!
Haven't subscribed yet? Now's your chance, be sure to sign up today!
GET OUR MONTHLY KITS DELIVERED TO YOUR DOOR!