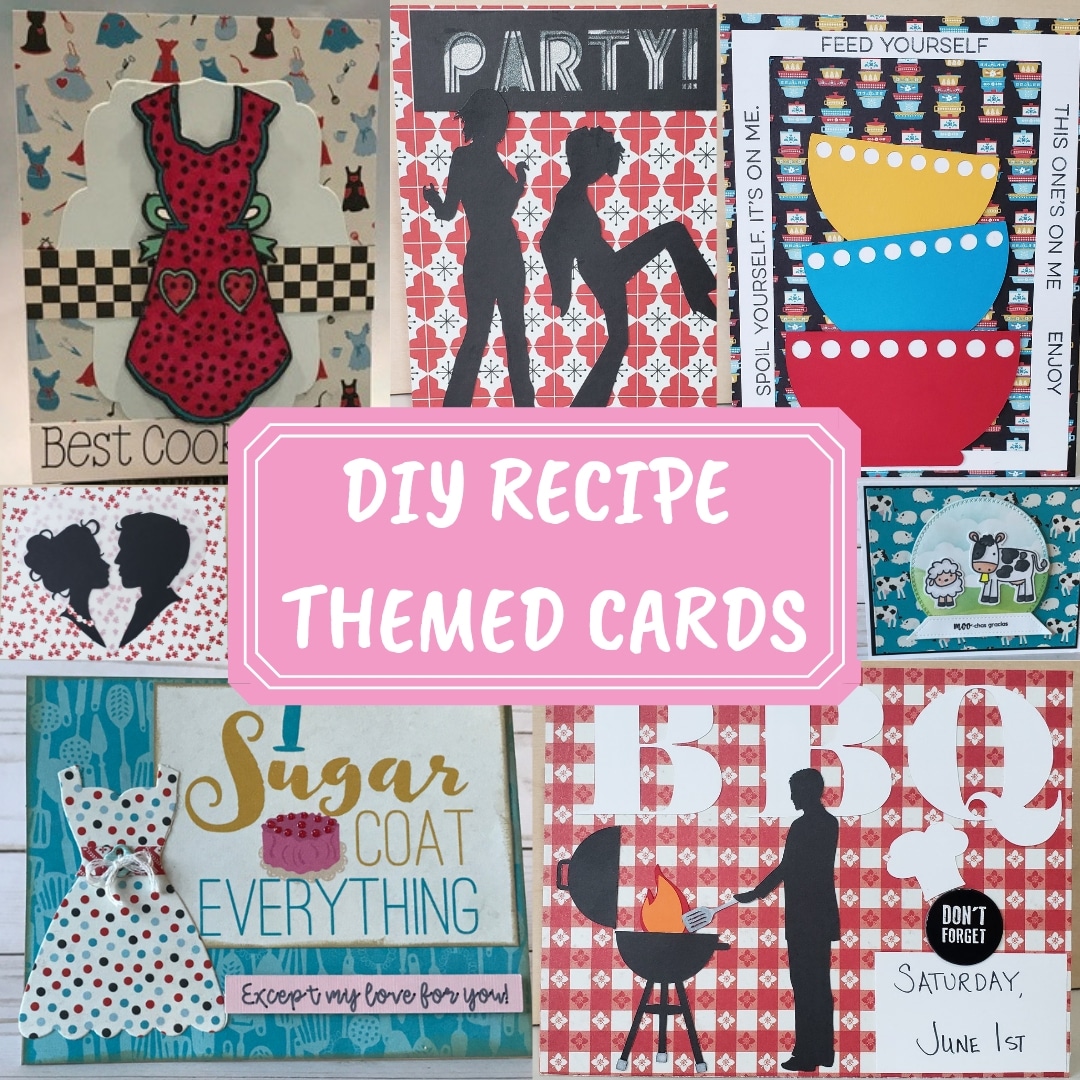 Cards
DIY RECIPE THEMED CARDS
Hey crafters! ScrapbookingStore is here again to share some cheerful and wonderful cards using our April 2019 monthly kit. The kit is a unique collection called Ingredient by Authentique. It's a farm, ingredients, kitchen collection; perfect for baking, cooking and dining memories!
The projects for our talented Design team are coming in, and in particular we wanted to share some colorful and sweet recipe-themed cards that DT members Terra and Cindy made using the contents of the kit. We hope these eye-catching cards create timeless inspirations for your future projects!
DIY Recipe Themed Cards
First up are Terra's fun cards with instructions on how to make them.
1. The Gift Card
Terra cut a 4 1/4" x 5 1/2" rectangle from the super cute food storage container patterned paper. She added a white frame that had been laying around on her desk. Then, she machine cut 3 bowls from the Silhouette store. Lastly, she finished the card with a gift card sayings from My Favorite Things stamp company.
2. BBQ Reminder Card
The red checkered paper reminded Terra of a summer cookout so she gave it a BBQ theme. She used machine cut items from the Silhouette design store. Then, she added a small square for the date of the event. Also, she used the "Don't Forget' accessory sticker included in her kit upgrades.
3. Multipurpose Card
It can be used as Valentine's card, an Anniversary card, a save the date card or even an "I love you" card. Terra cut a 5 1/2" x 4 1/4" rectangle from the red flower paper in the April kit. She machine cut a couple cut file that she downloaded the Silhouette design store and cut a heart from vellum paper so the pattern would show through. She adores the red flowers, so she used the same patterned paper for the woman's necklace to really make it pop on the black background.
4. Party Card
This card has so much versatility. It can be used as a birthday card, a ladies night out card, a congratulations card, etc. Terra machine cut the two figures from the Silhouette design store, along with the font on the banner. She put the sparkle/glitter paper behind the glitter to make the words stand out. We are loving the 70's vibe this card is giving us!
5. Birthday Reminder Card
Terra tends to forget about birthdays, so she made this card as a funny explanation as to why she could not remember - it wasn't on her list! She machine cut the female figure and letters in the speech bubble from the Silhouette design store. Then, she used a die cut for the speech bubble. For the inside of the card, she printed the sentiment from her computer onto regular card stock and then die cut it in the shape of a rectangle. Lastly, she put another die cut that is a red rectangle with the same size behind the saying in the opposite direction.
6. Join The Club Card
For this Join the Club card, Terra imagined this to be for a personal club invite (book club, wine club, cooking club, etc.) or congratulations for an engagement "joining the wives club". She cut a 4.25" x 5.5" rectangle out of the "ladies in aprons" patterned paper. Then, she cut a frame using die cuts from a matching blue sheet of card stock. She used machine cut silhouettes from the Silhouette store and finished off the card with the upgraded speech bubbles.
Aren't these cards gorgeous? Terra never fails to share fantastic crafts!
These next cards features die cut shapes and bright patterned papers. Just like the colorful cards above, Cindy's adorable cards are ready to capture us!
7. Anniversary Card
Using this months card kit, Cindy created an Anniversary card to give to her husband. She selected the blue background paper and inked the edges using brown ink. Then cut a dress using a die from a coordinating pattern, as well as the belt. Afterward, she used one of the add on button pieces and added a bow with embroidery floss. To add some glitter, she utilized some ink of Stella and selected the words from the tear apart cards. Finally, she wrote the extra sentiment with her Cricut! This adorable paper inspired her to go hog wild with this card!
8. Cow Card
This Cow card was created with the precious blue background paper. She created this thank you card using a few barnyard stamps. The message was stamped and attached to the card with foam tape.
9. Mint Card
Another fabulous card is this Mint card, it was made using two pieces of the coordinating pattern papers. She loves the colors and thought the "mixer" sticker included in the kit inspired a "baking" themed card. Lastly, she stamped and cut the chefs hat and applied it to the letters she cut to add interest.
10. Tag Card
This Tag card was made using one of the nostalgic cut aparts included in the April kit. Cindy added two strips of the patterned paper and rounded the corners. Then, she tied some Baker twine around it and the bowl. Finally, she stamped the wooden spoon on to the background base and affixed the tag.
11. Rooster Card
This card is a bit snarky but it will bring a chuckle to the recipient! To make this card, Cindy used a die to cut the adorable background paper to size to fit the base (4.25x5.5). She used her Cricut to cut the chicken and attached it to the red printed paper. Essentially, she stamped the snarky phrase to a white paper that was cut into a small size and attached it with foam tape. So cute!
12. Apron Card
For the "apron" paper, Cindy ran with the theme creating "The best cook ever card". The check paper strip really pulls your eye in creating a card which any hostess would love to receive!
We're smitten with these DIY cards that Terra and Cindy created this month. They are a perfect pop of color and patterned papers which gives us inspiration for. Visit Terra Merriweather's Instagram and Cindy DeVries'' Instagram to see more amazing craft projects!
Thank you for joining us today! We hope you get inspired by these beautiful craft ideas and make your own sweet cards. To see more projects and layouts, visit our blog or follow us on our Instagram, Facebook and Pinterest accounts- and leave comments!
If you want to receive the April kit collection while it's still available, just click below!
GET OUR MONTHLY KITS DELIVERED TO YOUR DOOR!