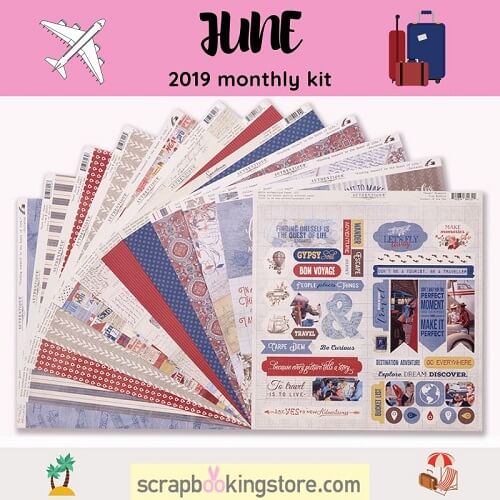 Kit of the Month
June is here and summer is about to begin! This means it's time for you to spend time in the sun, have fun and travel! Inside this month's kit you'll find the Quest Collection by Authentique. These papers are super fun and versatile, perfect for documenting your summer vacation or any other fun event. What a great way to spark your creative genius.
Apart from the inspiring cardstock pages and patterned double-sided papers you'll also get a fun travel themed 12" x 12" die cut sheet which features expressions like "go everywhere", "carpe diem", and "To travel is to Live".
Check out the YouTube video below to see the whole kit reveal!
BTW- don't forget to subscribe to our YouTube channel to see layout ideas, future kit reveals, and tutorials.
Upgraded Customers
For those customers who opted for the upgraded kits, we've got some fantastic things for you this month:
Studio Calico Atlantic Sequins
American Crafts Pearl & Lace Burlap Flowers, 3 pieces
*Studio Calico Atlantic Sticker Sheet or Map Star Stickers
*Pink Paislee Outfitters Canvas Banners, 5 pieces or Jolee's Boutique Dimensional Travel Icons, 16 pieces
*The Atlantic Sticker Sheet & Canvas Banners may be substituted with other items given supply limitations. All items are of equal quality and carefully selected to match the kit.
If you have​n't upgraded yet, we can help! Please email us and we'll get you set up: info@scrapbookingstore.com. It's seriously the best deal around!
Don't forget to check out our online store! We're adding new items all the time and our Club Members get 10% off and free shipping: https://www.scrapbookingstore.com/shop
Also, ​remember to join our Facebook Community just for Club Members. ​See what others are talking about, feel free to ask questions and to share your projects! If not, just drop by to get your daily dose of inspiration.
Haven't subscribed yet? Now's your chance, be sure to sign up today!
GET OUR MONTHLY KITS DELIVERED TO YOUR DOOR!