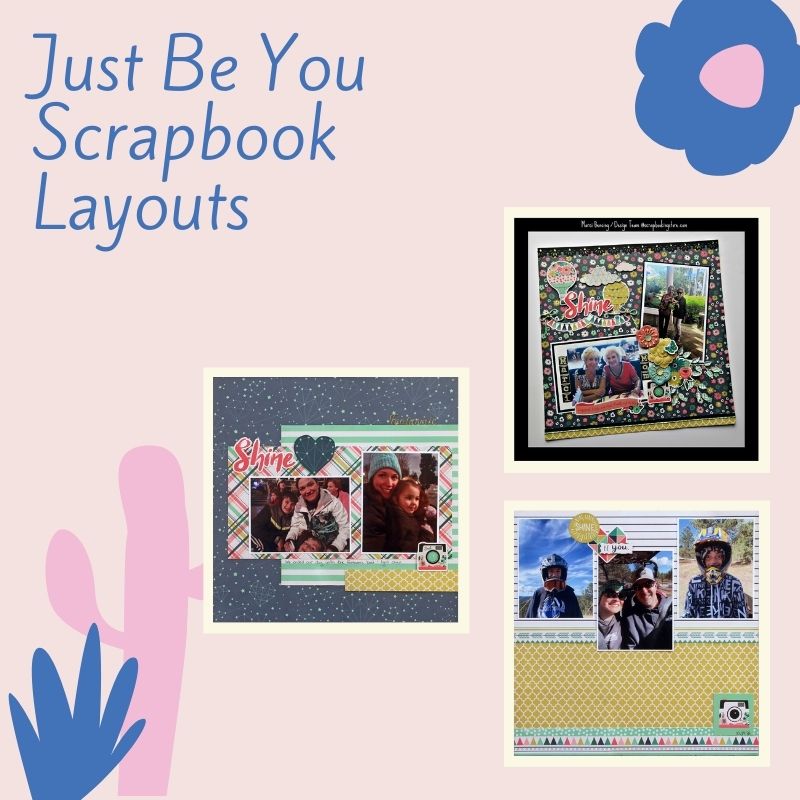 Cards
Just Be You Scrapbook Layouts
YOU can highlight your favorite moments or send an encouraging message to a friend with our lovely March 2022 collection, Just Be You by Echo Park. Add some dreamcatchers and hot air balloons to your beautiful paper crafting projects with these gorgeous scrapbook crafts from our awesome Design Team members.
Shine: Marci & Mom Layout by
Marci Bensing
Marci chose her background paper and photos. She singled matted them with cardstock. Everything she used is laid out when she starts creating her layout and she has decided to use the February sketch!
She has double matted her photos to add pop against a busy background paper. You can see part of the sketch to the left and that she will be using the word SHINE as her title. On the upper left, Marci created a a title area, with the 2 hot air balloon stickers and scalloped banner and the word SHINE.
Marci chose 3 flowers adjoining the 2 photos and on the final photo below, she will complete the embellishing! In the title area, she popped up both clouds using pop dots to add dimension. She added twine bows (as she LOVES TWINE SO MUCH!) to the scalloped banner, placing a gem in the center of each bow. Next, she added a sticker banner below the lower photo. Also, she enhanced the flower area with stickers from the sticker sheet and die cut leaf vines from one of the paper sheets.
At the bottom of the layout, she created a border topped off with twine. At the top of the layout, Marci also created another border using a border punch and adding gems. Don't forget to check out more of Marci's just be you scrapbook layouts in her blog now.
Be You Scrapbooking Layout by
Samantha Taylor
This kit is just begging for photos of blue skies and wide open spaces, so Sam used it to scrap some photos of her and her family riding in the Black Hills. She started with a base of black and white striped paper. On top of that, she layered 5 1/2" x 12" pieces of yellow patterned paper.
From the multi strip paper, Sam added a 1" x 12" decorative border to the bottom and a 1/2" x 12" decorative strip over the join between the black stripe paper and yellow patterned paper. Next, she added her 3 photos (3 1/2" x 5" photos). Finally, she embellished her layout with stickers from the included sticker sheet.
Shine Scrapbooking Layout by
Samantha Taylor
Sam saw the constellation paper in this kit and knew it would be perfect for a nighttime layout. She started with the constellation paper as her base. Next, she added a 7" x 9" piece of the aqua striped paper. On top of that, she layered a 5 1/2" x 9" piece of the plaid paper (this paper really helps tie all the colors in the layout together).
Also, Sam added a small strip of yellow patterned paper. This was a leftover strip from another layout and a great way to use up some scraps. She added 2 photos (3 1/2" x 5") and journaled directly onto the layout under the photos. Finally, Sam added some stickers from the included sticker sheet and the "Fantasmic" title with the gold alphas from the upgraded embellishments.
Get to see more just be you scrapbook layouts on Sam's blog now!
Enjoy creating your Marci projects with these awesome guides. Visit our blog for more scrapbook layouts and crafts using our monthly kits!


Join our exclusive Facebook Community for Club Members. It will grant you access to amazing layouts and content made by our design team, fun monthly contests, and FREE Facebook Live (March 16th) tutorials to meet other crafters!
Haven't subscribed yet? Now's your chance, be sure to sign up today!
GET OUR MONTHLY KITS DELIVERED TO YOUR DOOR!