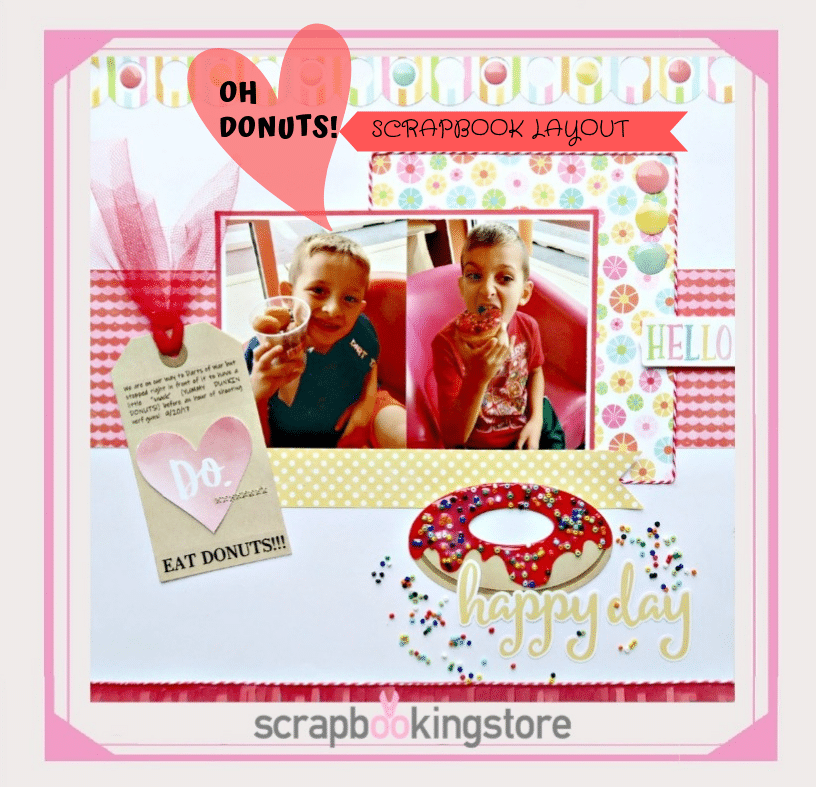 paper crafts
Oh, Donuts! Scrapbook Layout
Marci Bensing is the newest member of our ScrapbookingStore.com Design Team. She created this adorable Dunkin' Donuts themed scrapbook layout using our March Scrapbooking papers and embellishments. Check out her instructions and photos. Let us know your thoughts on this craft by commenting below!
Supplies used (mostly from the kit):
A Step-by-step guide on how to do this amazing layout.
Marci takes her time time arranging the main components of the layout until she is satisfied. Then she adheres them to the page with her ATG tape runner.
After coming up with the main general pieces for this scrapbook page layout, she then lets the page evolve, creating it with no further plan.
At the bottom of this page, Marci fringed some red cardstock and topped it with red/white twine. The donut is her favorite part for this craft. She created it with a Silhouette Cameo, topped the icing with Glossy Accents and spritzed the sprinkles (beads!) on top allowing some to fall off onto the page. Then, she used the title "Happy Day" from the kit to top it all off.
This is the layout's top border. Marci, our designer, used a scallop circle punch and the Project Life enamel dots for our March Kit in every other hole, alternating colors.
Lastly, she used the Amy tangerine Tags from the kit and added some notes using Clear Computer Grafix sticker sheets and a full of texture tag topper material. Don't you just love the little details in this craft and their placement?
This is unconventional for Marci to do a boy page with these colors but we really adore the way it turned out!
We love the creativity made of this layout from Design Team member Marci using our March monthly kit. To see more of her creations check out her blog.
We hope this gets you inspired and serves as a starting point for your beautiful creations!