Scrapbook Layout
LAYOUT INSPIRATION FOR JANUARY 2018 SCRAPBOOKING SUBSCRIPTION CLUB
January is here and this month's scrapbooking subscription is full of fresh floral and trendy designs. This collection includes rosy pinks, bold blacks, lush greens and patterns of beautiful floral throughout. Trust us, this scrapbooking kit is stunning!
This month's scrapbooking kit includes romantic shades of pinks, purples and stunning floral patterns. The pages include details of intricate floral prints along with bold stripe patterns that are so versatile. Subscribe now and you'll be able to receive this beautiful kit! Most of all, don't forget to watch the unboxing video here.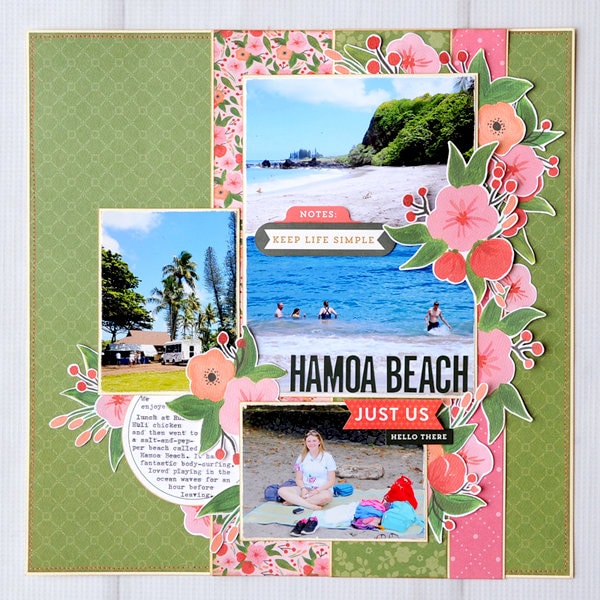 This gorgeous layout comes with Jana E, found on scrapbook.com. It's the perfect layout to showcase how romantic and feminine designs can be versatile. The designer is so creative in using layers and colors to create this beautiful layout. Here's how to achieve this look:
First, use the "Lily Meadow Spray" paper for the background.
Next, using both sides of the "Petunia Patch Garland" and "Rose Garden Wreath"  papers cut a 2.5 x 12, 2.5 x 12, and 1 x 12 strip for layerings. Now, measure out about 1 inch from the right side of the page and place these strips as soon.
Next, use the "Petunia Patch Bundle" paper and cuts out the floral designs as die-cuts for layer along the photos.
Lastly, use the embellishments from the alpha sticker page including the "Just us" and "hello there" under your TITLE ( you can use the same alphas to create this).
We just love this layout! It's the perfect inspiration to get you thinking outside the box this month if you don't want to create something too romantic and floral. You will find that all of our monthly scrapbooking subscription kits include a theme yet are very versatile and you can use them many different ways!
GET OUR MONTHLY KITS DELIVERED TO YOUR DOOR!