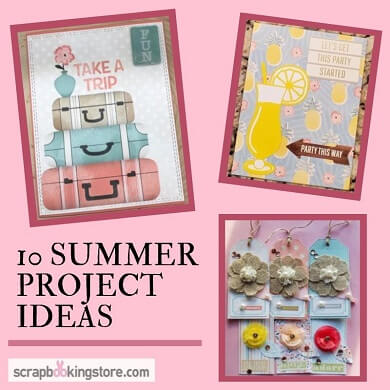 Cards
10 Summer Project Ideas
​Summer is the perfect time to go on adventures, meet new friends and to enjoy fun experiences you don't want to forget. To help you remember some of your favorite sunny moments, we suggest making scrapbook projects to preserve those memories for years to come.
Today, our amazing design team members share with us some gorgeous cards they made to remember this beautiful summer. Hope they get you inspired!
The first set of cards are from
Lisa Riley
.
1. Flower Tags
Lisa loved the papers in this month's kit! She began these cards by cutting two larger tags and two smaller ones. Then, she selected her flowers from the Bo Bunny ephemera. She cut a variety of additional flower, circle and leaf shapes using a Sizzix machine. She also cut out some shapes from a text-patterned sheet of paper for balance against the softer main colors.
Note: You can also hand-cut them or use punches.
Then, she layered the flower shapes and circles in a stack that she liked and adhered it using pop dots to add dimension. She added a leaf and a sequin leaf at the top of the flower. She also chose to use a sequin for the middle of the flower. The tickets are from a sheet of Teresa Collins paper, but you can use any tickets you want! Lastly, she used a word sticker on each ticket, tied the larger tickets with colored cord and the smaller two with baker's twine.
2. Tag Sets
​Do you have leftovers from your past kits? Lisa does! So she thought it was time to pull those out and put them to good use! When cutting shapes for her first tag set, Lisa made sure to cut some extra for the next set. She used the burlap flowers on the larger tags and tissue paper flowers on the smaller tags. ​She also used tickets on the larger tags with stickers from the set in July's kit. Then, she used pearls as accents to match the pearls on the burlap flowers.
​Some shiny sequins and jute on the top were also added. Lastly, she used layered leaves and a word sticker for the smaller tags with sequins to add sparkle! Get to see more of Lisa's awesome paper crafting projects on her Facebook page ScrappingFancy.
The next set of beautiful cards are from Cindy DeVries.
3. Lemon Card

Card one was made using the lemon die cuts. Cindy layered them on a piece of the dotted background which she die cut to fit a yellow card base. She stamped the trail and popped up the bee with foam tape. She then stamped the sentiment onto the same background paper and also popped that up. It's a cheerful card that you can send to a friend who might need a little "pick me up"!
4. Feel Better Soon

​This card was so easy and fun to make that Cindy even decorated the inside of it! She took the die cut and layered on top of black paper. Then, she stenciled the background using a sun ray stencil. For the inside of the card, she stenciled the sunshine and stamped feel better soon over the top.
5. Flamingo Card

​For her third card, Cindy cut the 12x12 paper to fit an A2 card base. She used a die to punch the edge around the piece. Then, she added some more hearts matching the color ink to the flamingo. She also stamped the verse and layered it on some salmon paper to match the base and the flamingo! A little glossy accent to give some shine to the beak and hearts make this card super simple but also very ​adorable!
6. Folded Card

​The fourth card is Cindy's favorite this month. She die cut this step fold card using the salmon paper. Then, cut the pieces to fit using the adorable flamingo paper. She also die cut the happy birthday and glued it to the base.
​Next, she stamped and die cut the flamingo and layered it onto three pieces of cardstock to make it sturdy! Lastly, she glued it to the front left of the card along with the "to my friend" sentiment. Cindy's got a few summer birthdays coming up and she plans on giving this cute card to a lucky friend. We're sure it will make an impression!
7. Escape To Paradise

This card was created using the "watercolor " blue card stock as the background. Cindy cut the palm trees using a die along with the hammock. She stamped some grass in brown ink and used distressed oculi for the palm trees. Then, she fussy cut the "escape to paradise " from the patterned paper and stuck it in place using foam adhesive to give the card dimension. ​Who doesn't want to escape to paradise when seeing such a serene scene?
8. Take a Trip

​The "Take a Trip" card was easily made cutting the suitcases from the large sheet of paper included in the July 2019 kit with a stitched rectangle die. Cindy layered it over a coral colored A2 card base. Next, she used the fun die cut which was in the kit, applied glossy accents and glued it in place with foam tape. A very quick and simple card but one that will make the lucky recipient smile. It's a beautiful fit for someone planning a vacation!
9. Be You

​A fun card for a matching summer vacation! This card was made using the polka dot background paper (super cute!). Cindy inked the edges adding dimension to the base. Then, she cut the pretty palm tree paper into an oval shape using a die. She freehand cut the sand dunes and also inked the edges using a tan ink. ​Then, die cut the hula girl and centered her over the scene.
Lastly, she used one of the "be you" die cuts included in the kit, glued it down and applied a few little flowers to its corner. To make them pop, she added glossy accents. Check out more of Cindy's wonderful cards on her Instagram!
10. Party Card by
Terra Merriweather
For this refreshing card, Terra used the pineapple and flower patterned paper. She cut it into a 4.25x5.5 block and adhered to a card base. Next, Terra machine cut the Tropical Cocktail file by Hero Arts twice - once for the glass and a second time with only the outline so it could fill in the blank pieces. She finished the card by using two of the Jen Hadfield Home+Made stickers.
Check out more of Terra's beautiful crafts and layouts on her Instagram!
Your projects are like time capsules. Whatever ​projects or layouts you choose to do, it's best to have a good sense of tale or story you want to tell ​for the memories you want to keep.
Don't forget to join our Facebook Community just for Club Members. Join in on the conversation, ask questions, share your projects or just have a look and get inspired!
And, if you haven't had a chance yet to grab this kit full of beautiful Summer scrapbook paper - click the button below and sign up today!
GET OUR MONTHLY KITS DELIVERED TO YOUR DOOR!