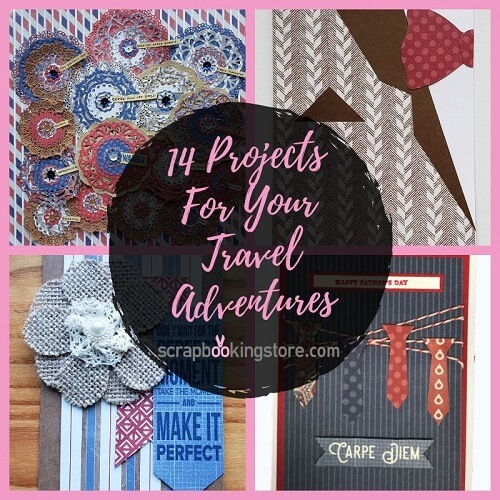 Cards
14 projects for your travel adventures
Welcome back!
We're back to share the amazing projects our community made using our June 2019 Kit called "Quest" collection by Authentique. Isn't scrapbooking and paper crafting the best way to preserve and cherish these fun adventure memories?
​Below you will find some beautiful projects that our Design Team put together. We hope they inspire you to create your very own!
1. Scrabble Racks by Lisa Riley
Lisa loves making altered Scrabble racks and she thinks that our June kit is perfect for it! Scrabble racks are readily available both on Etsy and Ebay. She painted them in blue and red chalk paint. She then selected four marvelous punch-outs from the Authentique sheet in our kit.
​To complement them, she added the Tim Holtz chipboard quotes as well as sequins from June's upgrades.
In order to add more dimension and make the entire board more compelling she also cut a strip from her favorite piece of paper in the kit to tuck behind all the elements. Pretty creative, right?
2. Layered Doily Flowers
The design of this month's papers was so beautifully intricate that Lisa could only think of making layered doily flowers out of them! So she used some paper ones she had and them cut them using her Sizzix machine.
To add more layers she cut some smaller flowers as well. She glued all the layers together and finished the flowers off with word stickers and cute punch-out quotes. For the final touch, Lisa added the sequins included in the June kit upgrades. Get to see more of Lisa's variety of crafts and cards on her fun Facebook Page!
Next up are Terra Merriweather's stunning cards!
3. Father's Day Card
Terra made two beautiful Father's Day cards. So sweet!
For her first one she used a Silhouette cut file (Father's Day Bow Tie Card by Sweet Afton) and sized it to fit an A2 white card base. She then used the "Quest Three" paper for the card jacket, along with brown card stock for the lapel and handkerchief. The bow tie was made with the polka dotted side of the "Tricycle Red" paper.
4. Father's Day Card Number Two
The second Father's Day card that Terra made was a Sailboat inspired one. She used the striped side of the "Denim" paper and cut it to 5.5"W x 4.25"L. She then used the Sailboat Sunset by Sophie Gallo cut file from the Silhouette store. She also cut the boat out of white card stock and used markers to color both the boat and the water. She then glued a 5.25"W x 1.5"H rectangle to the lower half of the card and used a 1" square punch to create three identical squares from the nautical side of the "Finding oneself is the Quest of life" paper. She finished the card off by die cutting the word DAD from white card stock and colored it with blue markers.
5. Enjoy the Journey
Terra trimmed the "Enjoy the journey" panel down to 4 6/16"W x 3 11/16"H and glued it to the right side of an A2 card base (opening from the bottom). She also used the three hexagons from the "Quest" elements page and pasted them to the left side of the card. She finished the card by adding Bon Voyage to the bottom right and Adventure to the left - both from the "Quest" elements page.
6. Explore Card
​For this exciting card she cut a 5.5"W x 4.25"H block from the map side of the "Finding oneself is the Quest of life" paper and glued it to an A2 card base (the opening from the bottom). She then machine cut "EXPLORE" by Megan Hardy Designs from the Silhouette store from white card stock. She centered the word "explore" and added a couple of the pinpoints from the "Quest" elements page.
7. Don't Wait For Card
As for the "Don't Wait" card, Terra cut a 2 11/16"W x 4 7/8"H strip from the "Quest Five" paper and added it to a kraft note card (3 1/2"W x 4 7/8"H). She alternated a couple of banners from the Quest Elements page on the lower right side. She then finished the card by embellishing it with a burlap flower on the upper left corner.
8. Thanks, 3D Flower Card
​The "Thanks 3D Flower" card made by Terra is the perfect gift to express your gratitude.
​Terra glued a part of the Quest Five paper to an A2 card base. She then cut out the word THANKS and placed it at the bottom of the card. To give it more dimension, she cut the word THANKS twice more from a linen colored card stock, but only applied one of them at this stage.
Next she put together two stunning 3D flowers by Lori Whitlock from the Silhouette store. The flowers were positioned above the word THANKS. Last but certainly not least she pasted the last set of THANKS on top of the first to ensure that the lovely word doesn't get lost in the beauty of the flowers. Get to see more of Terra's ​projects and layouts on her Instagram!
These last fabulous cards are from Cindy DeVries!
9. Make it Perfect Card
For this card Cindy cut the background compass paper to 4.25 x5.5 inches and mounted it to an A2 card base. She then inked the edges of the three images which were included in the kit and glued them in place using foam tape. To their right she layered the sentiment banner with the blue polka dot paper and made sure it stuck! A beautiful card in simplicity, one that any friend would appreciate.
10. Nautical Card
Cindy absolutely loves making Nautical inspired cards so below you'll find another one she made using our June 2019 kit. She cut the beautiful compass paper to a 4x5.25" size and glued it to an A2 card base. She also stamped a lighthouse directly to it and glued it to a stitched die cut placed it in the center of the background. She then die cut the rope and pasted it on the top of the sentiment which was included in this month's kit. She plans on sending this card to a young man who will be joining the coast guard soon!
11. Anniversary Card
To make this "Anniversary Card", Cindy punched out the sentiment image included in the kit and applied glossy accents to the red heart, helping it pop out! She cut a piece of the blue striped paper to fit an A2 size card base. She also cut the map paper to 2.75" and wrapped butchers twine around it three times, adding the anchor element. Lastly, she placed it on top of the striped background. You can tell that Cindy just loves this nautical themed paper!
12. "Carpe Diem" Father's Day Card
This Father's Day Card was inspired by the great variety of papers included in this months kit. Using a white card based, Cindy layered a red card stock behind the striped card stocks which was included in this months kit. She wrapped bakers twine several times around the base creating a place to "hang" the ties! She cut paper into tie shapes and stuck them to the twine using glue dots. The Carpe Diem sentiment were included in the kit and she glued it in place. Cindy also stamped, embossed and backed the Happy Fathers Day sentiment and layered it onto red card stock and glued it well! A lot of dads would enjoy receiving a card like this!
13. Make Memories Card
For this card, Cindy cut the printed card stock using an edge die. She then cut a blue strip using the same die and applied it to the bottom edge. She layered it onto a burgundy card base. She also die cut the bird and branches and glued them slightly off center. On the bottom of the card she placed the "make "memories" die cut supplied in this month's kit. This paper is so beautiful, it's almost vintage!
14. 40th Birthday Card
Cindy cut the red striped paper 5x10 and scored it. She then placed a strip of the polka dot paper diagonally from corner to corner adding a shadow piece under it. She cut the center scallop using a die and a white shadow under it to help it pop out. Next, she die cut the 40 and glued it down. She put some foam tape under the white layer and placed it over the center.
​Lastly, she die cut the words happy birthday three times layering them to add some dimension. This monochromatic card is simply perfect for anyone turning 40! Check out more of Cindy's gorgeous ​projects on her Instagram!
​It's much more rewarding to make travel and Father's Day cards from scratch. This not only adds more meaning to your adventures, but it also shows your loved ones how much you care about them.Make sure to visit our blog for more paper crafts and scrapbooking inspiration!
​The Scrapbooking Store sure has a lot to offer right now. Check it out here and join us to get creative monthly kits right at your doorstep! And don't forget to upgrade.
GET OUR MONTHLY KITS DELIVERED TO YOUR DOOR!