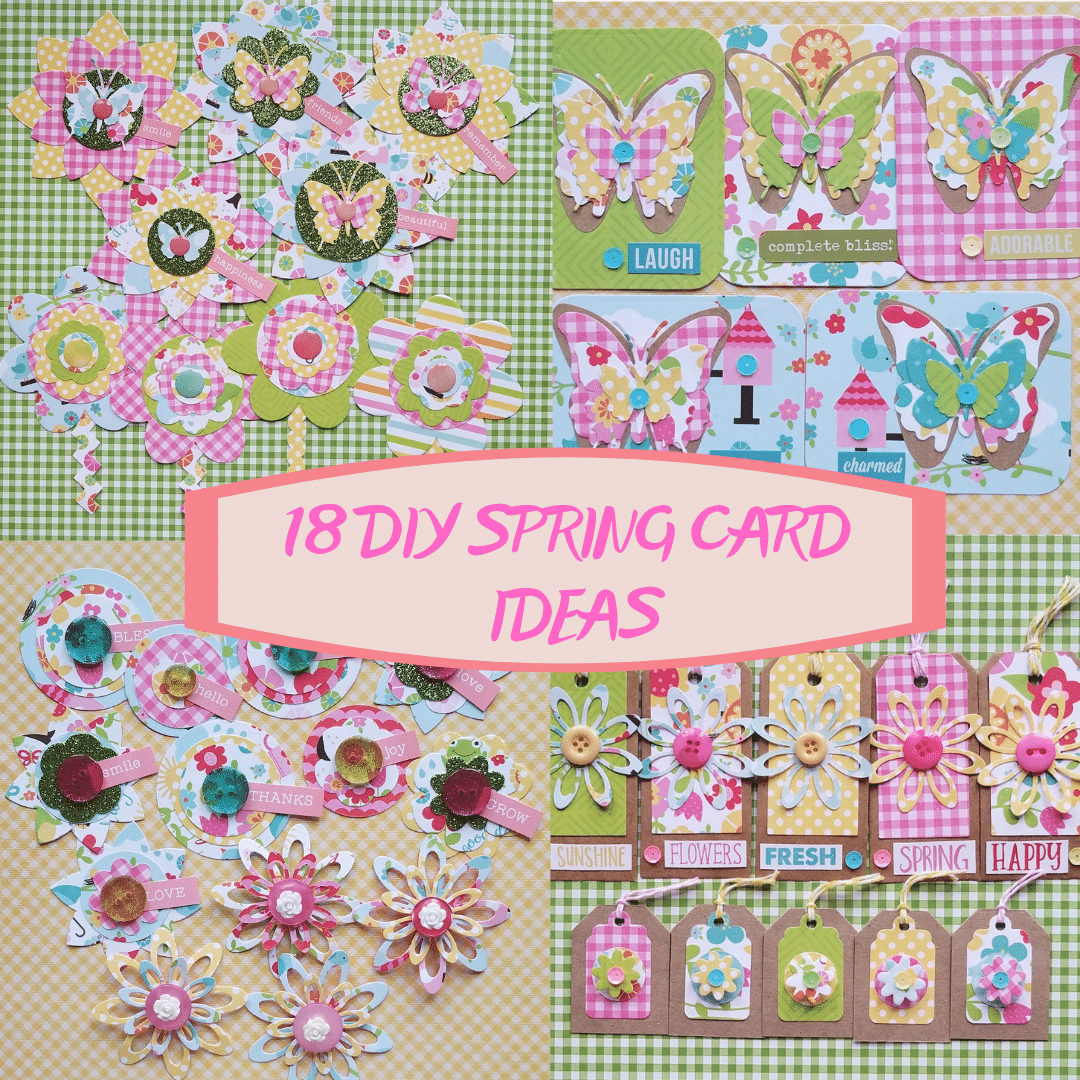 Cards
18 DIY Spring Card Ideas
Be still my heart! We have a GREAT collection of Spring butterfly journals, cards, flower sets, ornaments and tag sets for your project inspirations. All made from our March 2019 monthly kit! So bring it on SPRING, we're ready for you!
First up are Design Team member Lisa Riley's amazing paper crafts along with instructions on how to make these beauties.
1. EMBELLISHED JOURNAL CARDS
Lisa LOVES to make journal cards and this beautiful pack of Echo Park paper in the March kit has pieces that are perfect for it. Whether you cut, punch or die cut some flowers, butterflies and stems for your cards- it's all up to you to explore.
Start this craft by choosing what papers you want. Lisa chose coordinating papers from the paper pack and some green glitter paper for some fun! She also used buttons, sequins, and stickers from the sticker sheet in the Echo Park paper pack. These are great way to use your page layouts to make cards or use in your journal!
2. SCRAPBOOK FLOWER SET
Look how cute these flower sets are! They are perfect for scrapbooking layouts or any other craft creations. Lisa loves this bright and happy Echo Park paper, so she wanted to make bright happy flowers! Select your papers and cut or punch flowers, circles, butterflies and stems. Next, layer up your flowers. Layer until you achieve what you want! Mix and match as many layers as you like until you are pleased!
Next, she added in some shapes from glittered green paper and used word stickers as leaves. Once she had all the flowers layered, she used the enamel dots included in the March kit for the final embellishments. If you want to include any stems, attach them last.
3. SCRAPBOOK FLOWERS SET 2
Whenever Lisa has wonderful packages of lovely paper, she spends time just cutting and punching all kinds of shapes. With that done, it's easy and fun to be creative! Since she had plenty of shapes left, she made more flowers that are great to have on hand to add to future projects, cards or even gift packages!
To make this, Lisa laid out all her pre-cut shapes according to size, which she recommends for selecting your layers. Lisa then added word stickers, glittered buttons and resin flowers. But the fun of this is using what you like! So use your paper to the fullest potential!
4. BUTTERFLY JOURNAL CARDS
Lisa couldn't pass up a chance to make more journal cards and chose more beautiful papers from the Echo Park paper pack! There is an endless supply of great stuff in there! She cut simple rectangles and rounded the corners. Then cut or punched graduated sizes of butterflies from coordinating paper in her paper pack.
She used Kraft paper for the bottom butterfly to make sure it stood out from the card. Then layered up the butterflies until she was satisfied! Finally, she added sequins and word stickers to finish them up! These journal cards are perfect for your scrapbook layouts or any other craft ideas you want to use them on.
5. TAG SETS
Tags are one of the most useful things you can make! All the sturdy and beautiful papers in the March paper kit coordinate easily for creating embellished tags. Lisa chose her favorite bright spring papers and adhered the pieces to the tags. Then, she chose papers and die cut flowers from the paper in the kit and added buttons to the flower centers. She used the word stickers that can be found in the sticker sheet in the paper pack.
Next, she cut the words apart to use on the tags. Lisa followed a similar process for the small tags, adhering small tags that she cut from the Echo Park paper and adding contrasting small circles and a small flower cut attached with a foam dot for dimension. Lastly, she used baker's twine for the tag tops and sequins for the finishing touch.
6.SPRING ORNAMENTS
When Lisa saw the gorgeous tissue paper flowers by American Crafts included in the March kit she knew exactly what she wanted to make! Lisa loves making ornaments/wall decor and these flowers deserved to be the focal point! She chose some of the Echo Park papers and trimmed them to fit the wooden tag.
Lastly, she adhered the tissue paper flowers and chose pearls for some extra embellishment. She then added a quote and an enamel dot from the package included in the March kit. She also used red and green raffia to tie up the top of the tags.
Creativity beyond imagination! Her designs are just wonderful and to see more of her works, don't forget to check out her Facebook page.
Next, we have FOUR Spring Cards made by our magnificent Design team member Cindy Devries.
7. SPRINGTIME CARD
This card was made by applying a piece of green paper from the kit to a 4.25x5.5 card base. Cindy cut a banner using a stitched banner die and layered the sentiment sticker with a piece of dark pink card stock. She wrapped a piece of green and white bakers twine around that and used dimensional to adhere it over the floral banner. Lastly, she cut the bird out of one of the stickers and applied it to the top left corner along with the small flower.
8. HAPPY EASTER CARD
For the second card, Cindy cut a frame with her FAVORITE THINGS DIE with white paper. She cut 1x1 inch square of each of the papers included in this months kit! Then, she cut a strip of white card stock and stamped it with a HAPPY EASTER SENTIMENT. After gluing down all the components she applied the floral vase sticker which was also in the kit
9. HELLO SPRING
The third card was made by cutting a solid piece of dark pink paper and applied it to a 4.25x5.5 card base. Cindy then applied the floral patterned paper rounding all corners before gluing them down. She cut the green piece of patterned paper 1.75 x4 inches and layered it with a scalloped edge strip of paper. Then, she stuck down the HELLO SPRING sticker and bee included from the stickers in the kit. Lastly, she finished up the craft by putting 2 enamel dots in the top left corner. This card is a perfect inspiration for your Spring crafting thoughts!
10. HAPPY MOTHER'S DAY
This card was inspired by the beautiful tissue paper flowers included in this months kit! Cindy cut a card base that measures 11x5.5 inches, scored and folded it in half. She applied milled lavender oxide ink at the edges. Also, she cut a piece of the pink and white gingham paper (included in the kit) 5x5 and rounded the corners and centered it over the base layer. Then, she cut a piece of 3.5x3.5 piece of white card stock and used cracked pistachio oxide ink on it then spritzed it with water to give it depth.
Using a hero Arts Mother's Day stamp, she embossed it on the bottom right corner. She then cut some leaves from a piece of scrap paper using a spellbinder die. She arranged the flowers and leaves to the top left corner. After, she tied a bow and adhered it under the flowers.
These cards are full of bright colored designs perfect for all of your Spring crafts. Check out more of Cindy's exceptional creations and follow her on Instagram.
Oh Wait! We have more to share!
The following designs are made by our very own astounding DT member Terra Merriweather. She made 3 cards and 3 note cards out of the March paper pack. They are fabulous, so creative and exquisitely made.
11. SPRING BLOOM SUNSHINE GRASS FLOWER CARD
Terra cut two 1" x 4.25" strips from the yellow polka-dot paper and adhered to the top and bottom of a 4.25x5.5 card base. She made a 4.25" x 4.5" block out of the flower paper and placed in the middle of the card with .5" showing of the yellow paper on the top and bottom. Then centered the 3"x4" journal card on top.
12. APRIL SHOWERS CARD
For this card, Terra cut two 1" x 4.25" strips from the flower patterned paper and adhered to the top and the bottom of a 4.25x5.5 card base. Terra made a 4.25" x 4.5" block out of the polka-dot paper and placed in the middle of the card with .5" showing of the flower pattern showing on the top and bottom. Then, she centered the 3"x4" journal card on top.
13. FRESH FLOWER STICKER NOTE CARD
This is a lovely note card full of bright colors. Terra cut a 5.5" x 4.25" block from the flower pattern paper. Then took the grass sticker and placed it on the bottom. She added the "fresh flowers sunshine happy spring" sticker, along with the wheel barrow, shovel, and seed packets. It is meant to look as if flowers are falling from the sky.
14. SPRING BANNER NOTE CARD
For this note card, Terra used the 6"x4" Spring banner card and added several of the element stickers.
15. HELLO SPRING NOTE CARD
This Hello Spring note card is a 6"x4" flower card. Terra added an element sticker and enamel hearts to create a Spring feel on this. So simple to make yet super cute!
16. FRESH FLOWERS CARD
This Fresh Flowers card is an elegant and lovely craft. She cut a 1" strip of gingham paper to represent a table cloth along the bottom. Then she added element stickers to represent a display.
17. BLOOM CARD
For this Bloom card, Terra played with the extra patterned papers. That hand-made flower was cut using a die cut, and we think this turned out beautifully!
We adore these creative crafts by Terra. Check out her Instagram to see more!
18. HAPPY BIRTHDAY CARD
Lastly, we are adding Marci Bensing's card made from our March kit collection. We are loving this precious card and couldn't resist sharing!
Marci's choice of patterned paper is bright and cheerful. She layered them perfectly behind the circle to highlight the "Happy Birthday" message. Then, she added some green leaves behind the green and yellow tissue flowers. Lastly, she added cut flowers behind small colorful circles, alternating the colors.
To check more of Marci's designs and how she made them, check out her blog.
If you love what you see, share this post by clicking one of the social media buttons below. And don't forget to check out more of our scrapbooking ideas on our blog. If you haven't joined in, it's not too late to sign up for our monthly subscription and get in on this AWESOME March 2019 Monthly Kit!
Click on the button below to get yours today!