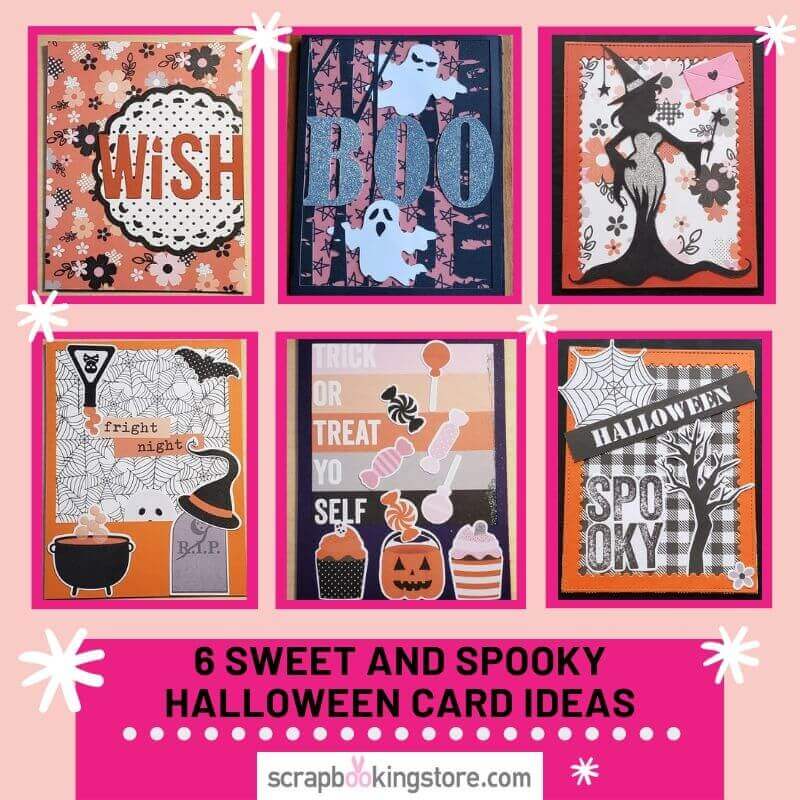 Cards
6 Sweet and Spooky Halloween Card Ideas
Don't be afraid to send spooktacular handmade greetings to family and friends this Halloween! ScrapbookingStore comes to your aid with some scary cute card ideas. We have Terra Merriweather to thank for the beautiful Halloween Cards below. Give them a go, the instructions are easy to follow and the cards are so much fun!
1. Hey, BOO-tiful!
​To make this card, Terra cut a 4.25″ x 5.5″ rectangle from the Fright Night paper to use as background. She then turned to her Silhouette cut files for the trees and ghosts. To make the background paper stand out, she put a blue frame on the borders and added the "BOO" title. We love the blue scheme on this card, it's perfect with the Fright Night paper from our October kit collection!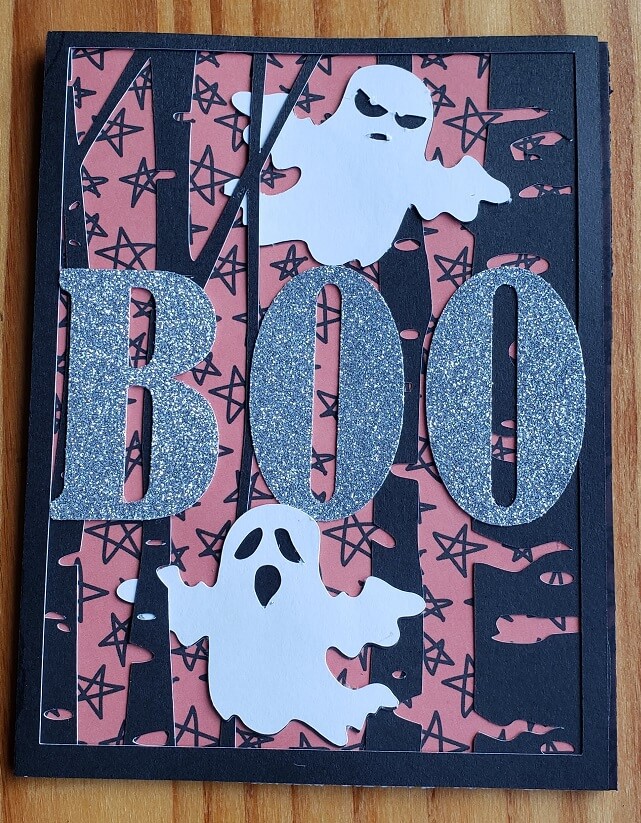 2. ​Make a Wish
Our October kit may feature a lot of Halloween elements but the collection is so versatile that it can cover more than just Fall events. So Tara came up with the perfect card to wish someone good luck!
She cut a 4.25″ x 5.5″ rectangle from the double-sided flower print / Jeepers Creepers papers from the October kit. Then, she attached it to an A2 card base and used her Silhouette Cameo to cut the scalloped circle. Next, she cut the original circle out of the black and white polka dot paper and the offsets a circle out of black card stock.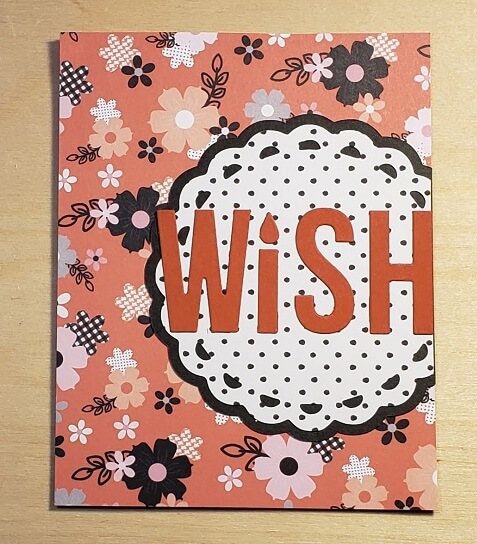 3. Trick or treat yo' self.
Halloween candy is yummy and all, but don't forget to save room for batty cupcakes! To make this sweet card Terra cut a  4.25″ x 5.5″ of the Hocus Pocus paper ​and used it as background. She used blue cardstock as border to highlight all the goodies in the center. Then, she added the Happy Haunting Icon Bits & Pieces elements and some delicious  embellishments from ​our Upgrades. ​To finish it off, she put on some silver glitter on the right side ​in order to add a little glow.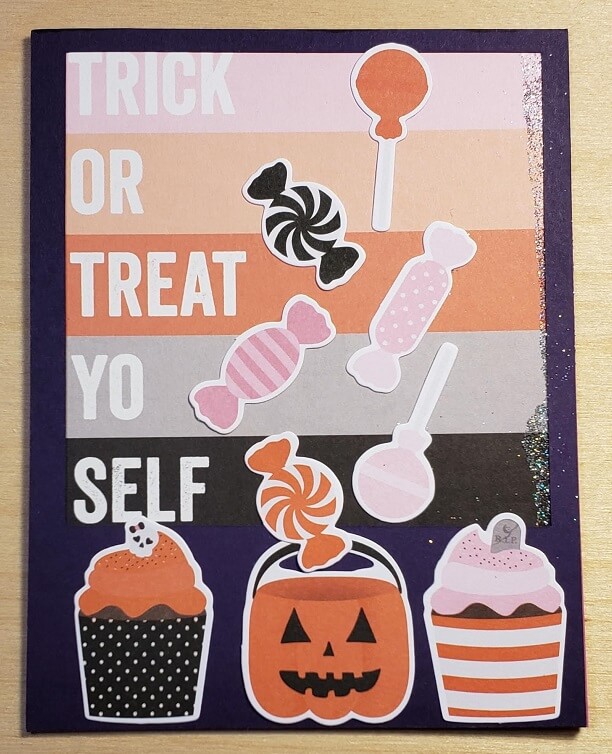 4. Spooky Halloween
For this Spooktastic card, Terra cut a 4.25″ x 5.5″ background from the black and white gingham paper and attached it to a card base. The frame was made using the die set 'Snail Mail' from Mama Elephant and bright orange card stock. The word Halloween is a Silhouette cut file. She placed a white piece of card stock on the back to fill in the letters. To finish it off, she added some ephemeras from the Upgrade kit.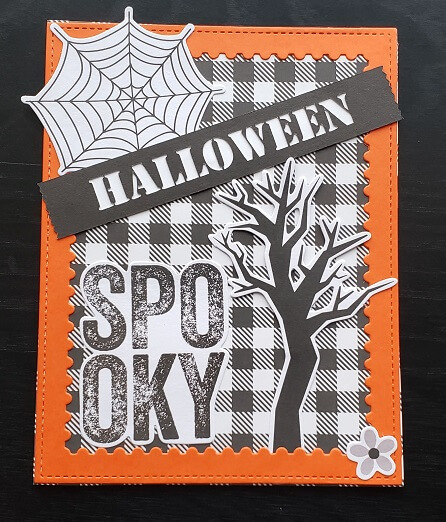 5. ​Let's get this party startled!
Cheers, witches! This card ​just screams Halloween. Terra began by cutting a 4.25″ x 5.5″ rectangle from the floral print to create ​the background and attached it to a card base. To ​design the frame, she used the die set 'Snail Mail' from Mama Elephant and burnt orange card stock. ​She also used this die set to make the tiny pink envelope and colored the inlet heart with a black marker. She finished it by adding a Curvy Witch and added silver glitter paper to the body and hat to highlight it more. Wicked awesome!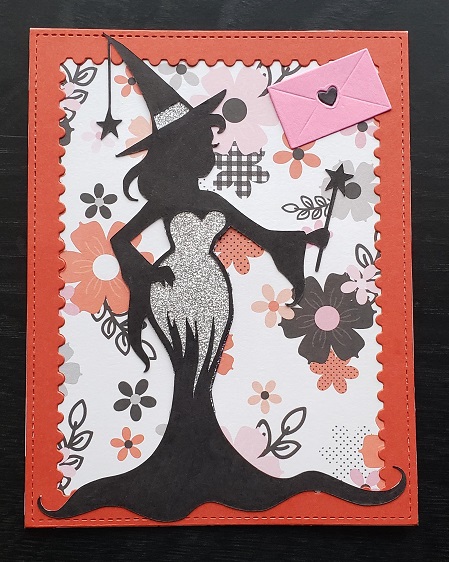 6. Fright Night
This spider web paper ​has been a hit with our  Design Team​! Terra began by cutting a 4.25″ x 5.5″ rectangle from the spider-patterned paper ​to use it as background. She then used orange cardstock as the border to highlight the center and add more color​. ​Next, she ​turned to some of the Happy Haunting Icon Bits & Pieces included in ​our October kit. We don't know about you, but her card definitely caught us in her web!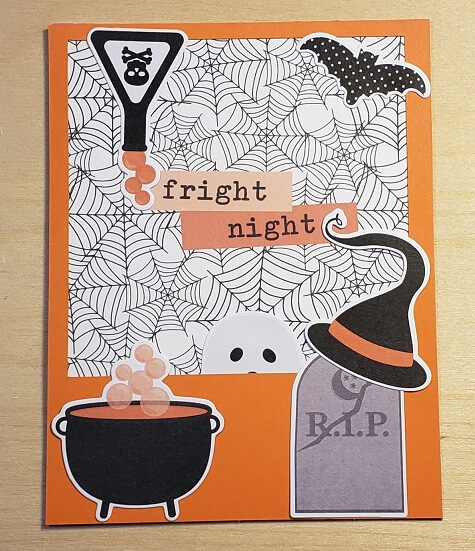 ​And how can we not love that white ghost peeking out on this card. So adorable!
These are just a few of Terra'sfangtastic crafts. To check more of her crafts and our Design teams awesome layouts, visit our blog here! Enjoy, get inspired and have a gourd time on Halloween everyone!
Don't forget to visit our online store for amazing new items. Make sure to subscribe to us now because our Club Members get 10% off.
Join our exclusive Facebook Community reserved solely for Club Members. It will grant you access to amazing layouts and content made by our design team, fun monthly contests, FREE Facebook Live tutorials (Oct 23rd) and you'll get to meet other crafters!
Haven't subscribed yet?  Now's your chance, be sure to sign up today!
GET OUR MONTHLY KITS DELIVERED TO YOUR DOOR!