Crafting
Six Fall And Thanksgiving Scrapbook Creations
As we head into the Thanksgiving Holiday, we wanted to do a wrap up post showing some of the most creative and inspiring designs from our members using our November Scrapbook Kit.
THIS BABY!  With the Starbucks onesie and color-matching bow! It almost doesn't matter what the layout looks like but @life.with.evi always delivers the goods.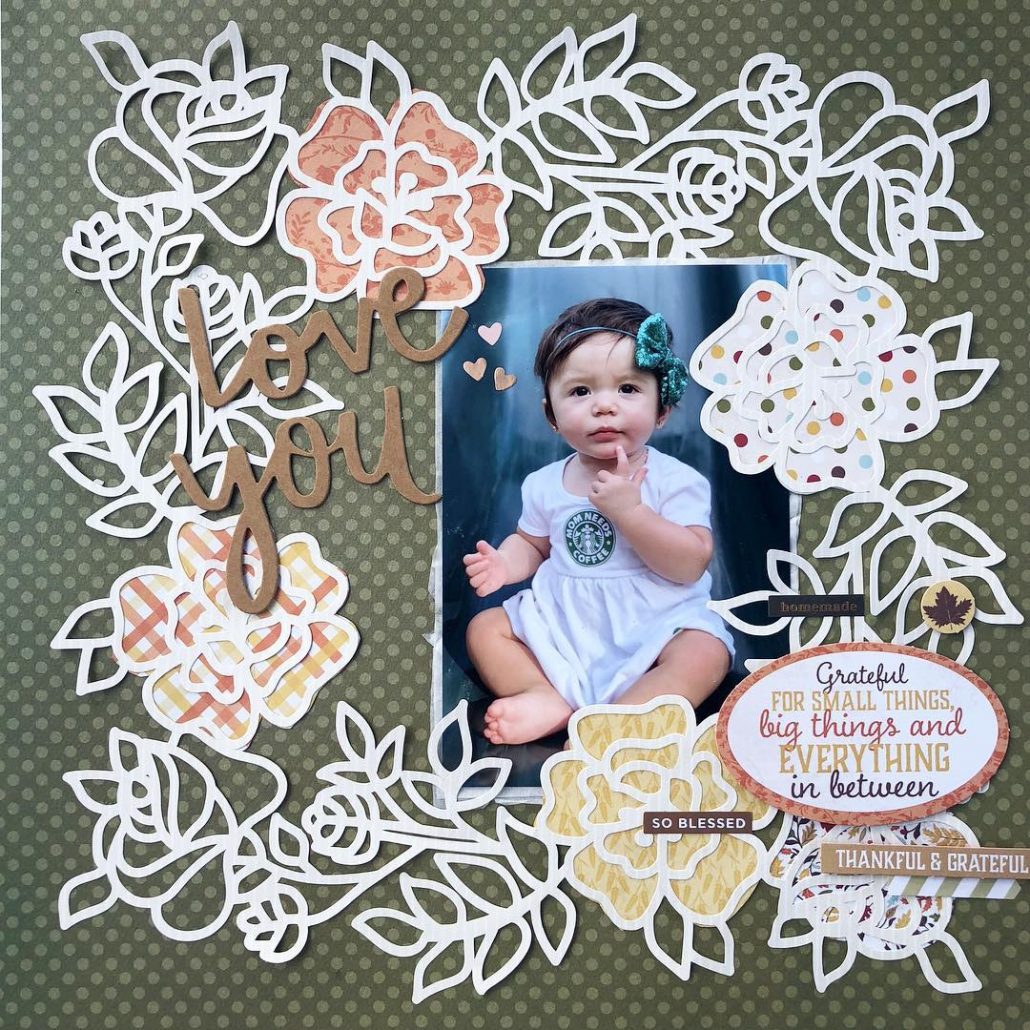 And while the whole layout centers around Evi's daughter, she created a beautiful surround with some flower stencil cut-outs that also leveraged several of the paper options from the November kit. On the bottom right she included some quote stickers to remind us of this time to be grateful and thankful.
Today, Thankful and Grateful by Natalie DeSousa 
Natalie (@tachita55) used our November kit to document some of her favorite fall memories.
She used a cut file from Handipaper via her own digital library to create the the pumpkins in the background. She then used the papers and cardstock from our kit to back the pumpkins and leaves. She included a bit of foam adhesive in some of them so that there is also some dimension.  To break up some of the orange in the cut out, she incorporated some of the stickers from the kit as background for the rose cut out.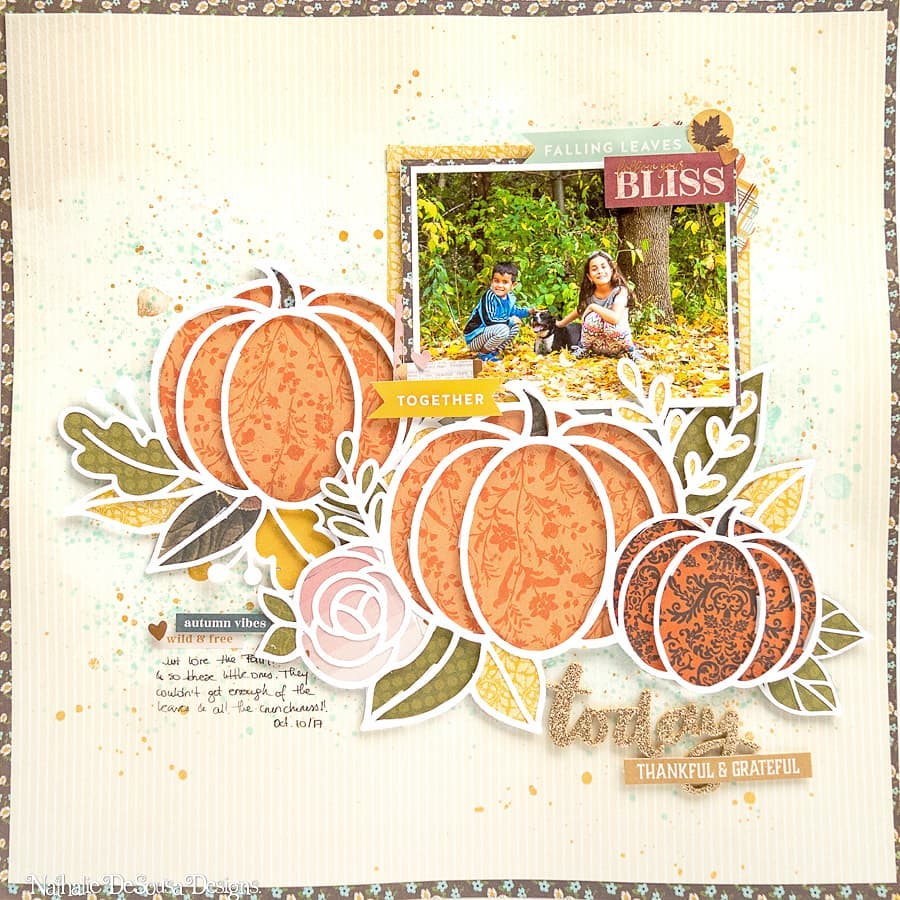 To soften the background of this page, she put a bit of gesso on the cream card stock included in the kit, and then used Vicki Boutin acrylic paint (that matched the blue tone in the stickers) to add a soft color to the background.  She then completed the look with paint and gold ink splatters.
In Natalie's own words: "All the stickers and die cuts in the kit were perfect to layer around and create some clusters around the page. I brought the gold thicker word from my stash, and then accent it with some of the kit stickers to complete my title. I love how this turned out!"
Did you know our scrapbooking kits are good for so much more than just scrapbooks?  Leave it to Sonia @ Junk Monkey Paint to come up with creative ways to leverage our beautiful papers and then make said beautiful creations in just a few minutes!
This month, Sonia came up with these "Shabby Chic" Rustic Angels leveraging our kit, some of her paint products, and wooden angels she bought for just $2 each at her local craft store.
Sonia did a Facebook Live as she made these, which we highly recommend you go back and watch here!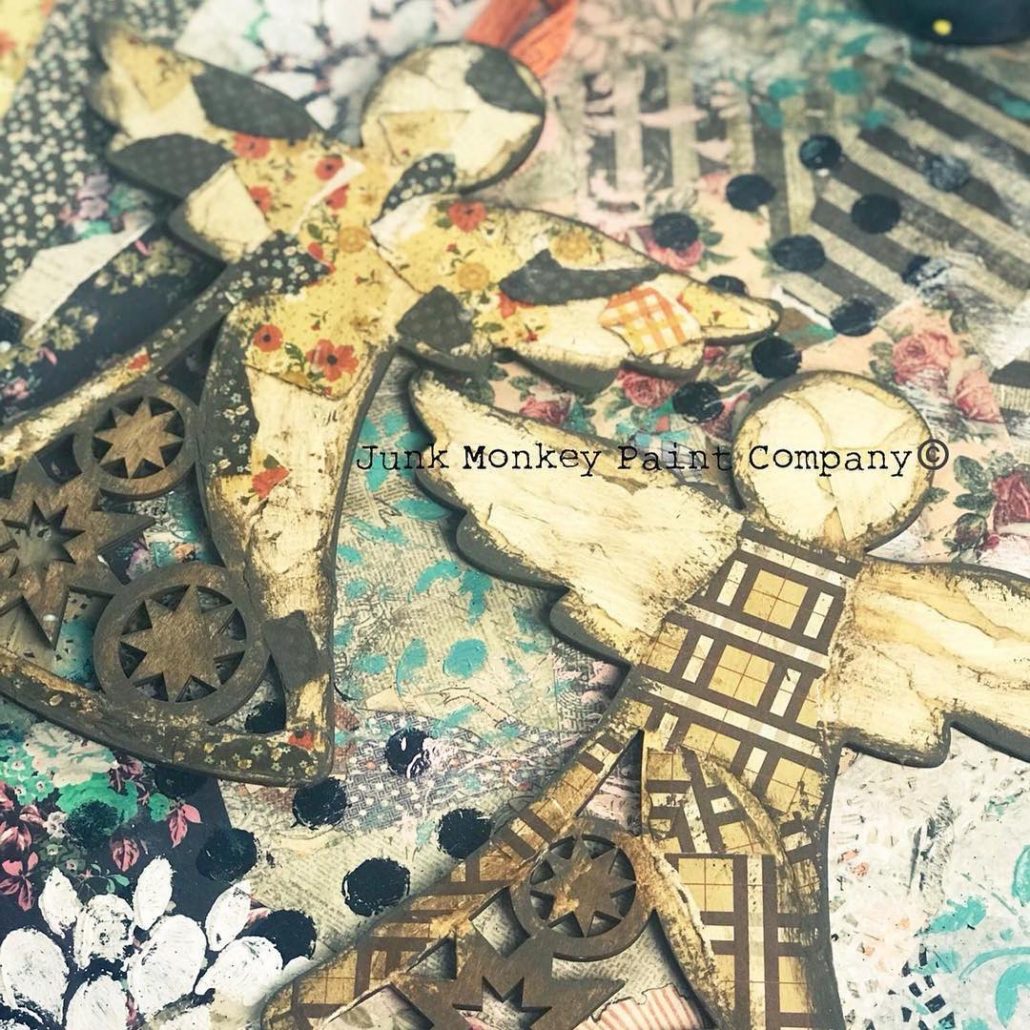 Laura (aka @takingascenicroute) put this beautiful layout together using our November, pictures from her Fall photo shoot with her children, and a Paige Evans' cut file. We love how she incorporated several of the papers and the Bo Bunny Harvest Orange Lace from our upgraded package into her design!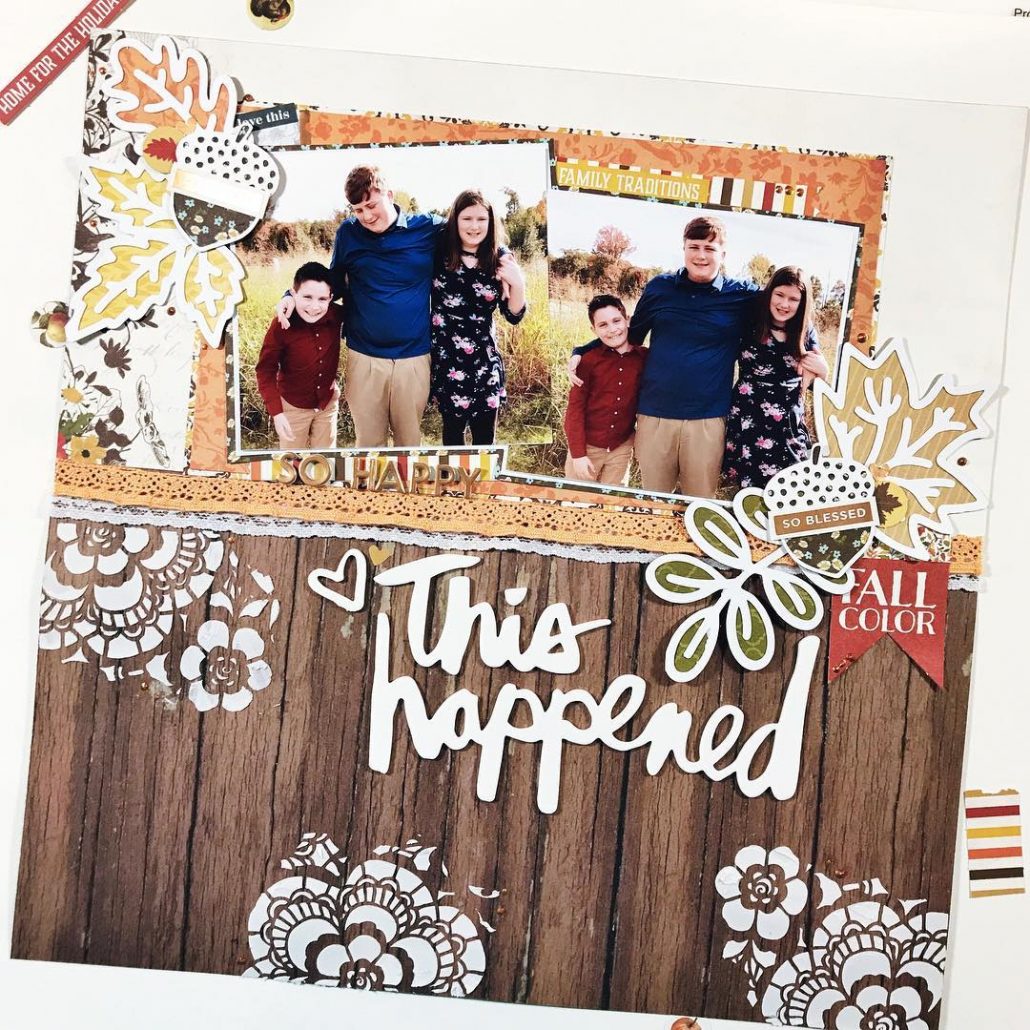 Samantha Taylor put together this clean and adorable layout from her family's annual Corn Maze trip. She used several of our paper sheets from the November kit in additional to some quotable card stock, and the Bo Bunny Harvest Orange Lace. We especially love that she labeled the layout with a date and location so they can look back through their family albums and clearly remember this day!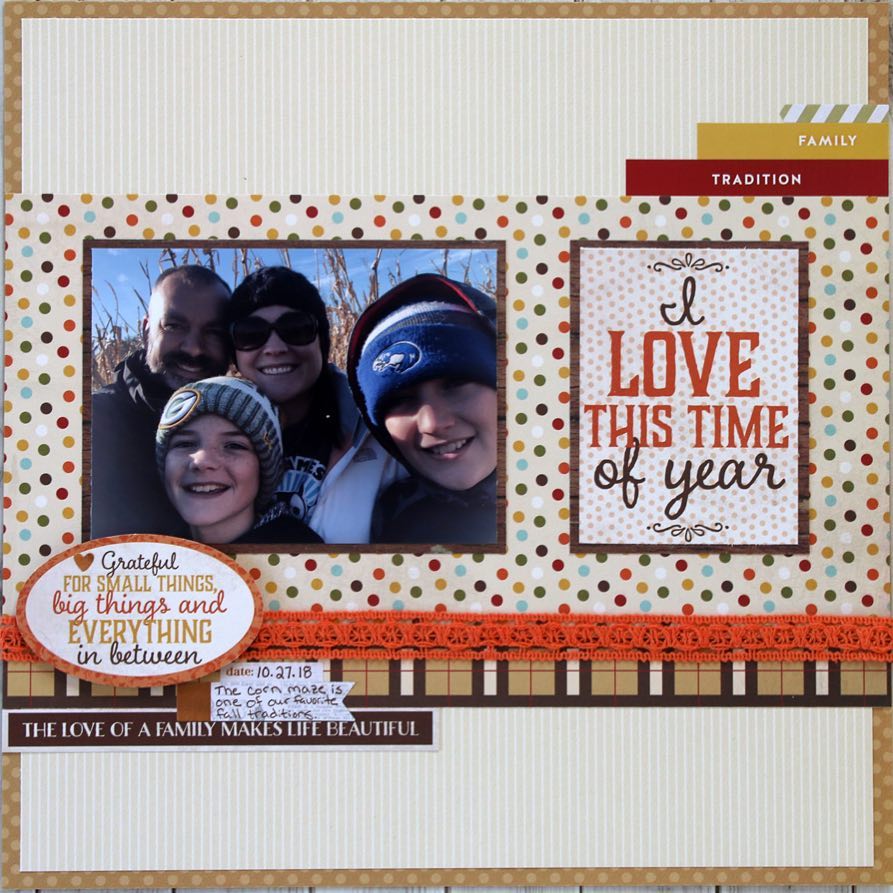 Thankful & Grateful Planner Divider by Brandy @GoodStuffMama
Brandy came up with this super quick & simple idea for using leftover double-sides card stock.
Having a full coordinating kit of paper and embellishments like our scrapbooking kits makes it super easy to assemble a planner divider to really personalize your planner. Brandy chose to use her Fuse tool to turn this month's divider into a fun shaker divider using the November Scrapbookingstore.com kit and sequins.
To make matters super simple, she just traced around an existing planner folder on the double sided card stock and used a scrapbook sheet protector  – a 15 minute project, tops!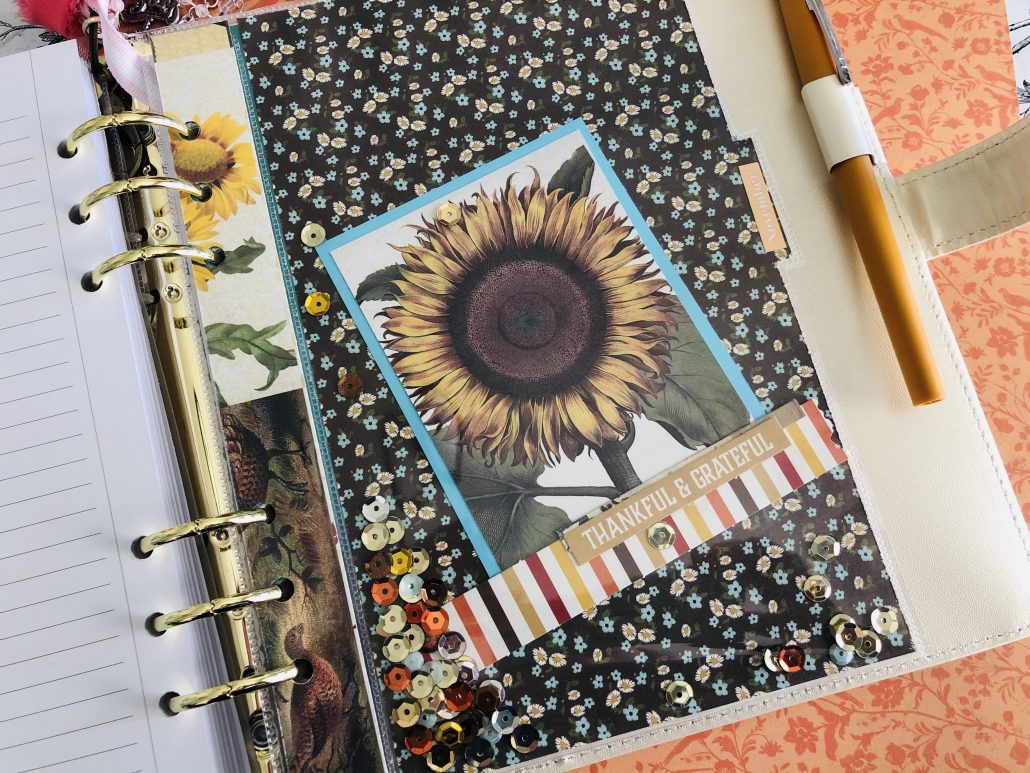 Want to learn more about this scrapbooking kit?
So are you totally inspired to get out there and start crafting?
Well, have you seen our unboxing video for November's kit yet? If you'd like to get a better idea of what's included, click below and see what wonderful pages are included in this month's kit.
Share your crafts with us at www.facebook.com/scrapbookingstorecom, on Instagram @ScrapbookingStore, and on Pinterest https://www.pinterest.com/scrapbookingst/.
Share with others using #scrapbookingstore on both Instagram and Facebook. We'd love to see what you're up to!
GET OUR MONTHLY KITS DELIVERED TO YOUR DOOR!