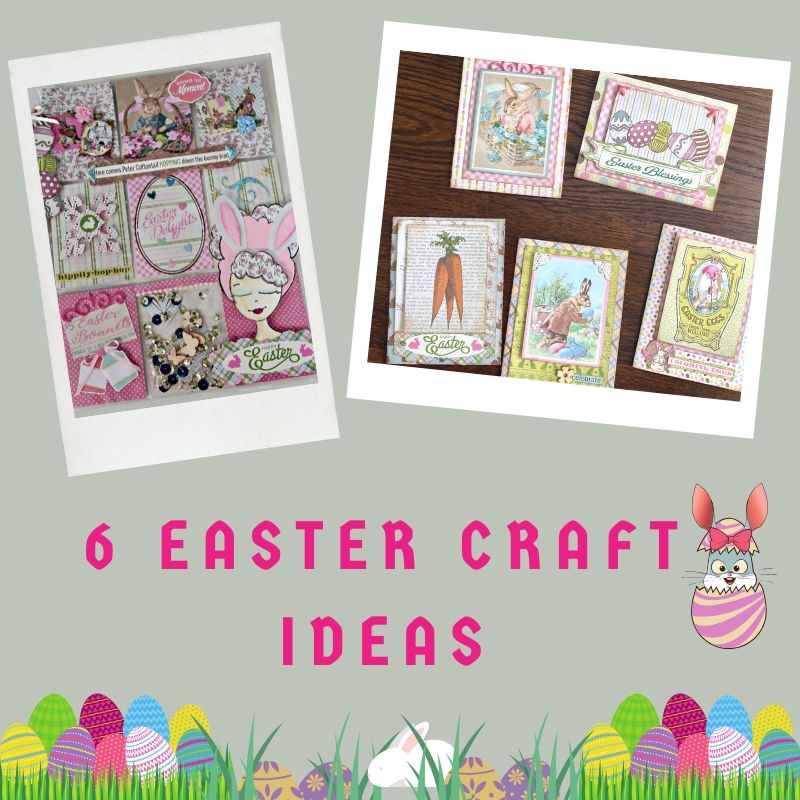 Cards
6 Easter Craft Ideas
Spring has sprung and Easter is hopping up on us quickly! The world is a bit crazy at the moment and many of us are trying to stay home as much as possible. Hopefully, if you're stuck inside you're seeing the upside of all this extra time to spend crafting! To help you get inspired with ideas, we are sharing some awesome Easter craft ideas from our two design team members: Marci and Shannon.
1. Pocket Letter by Marci Bensing
Marci made a Pocket Letter using our March kit. It is a type of modern-day "PenPal". A 9 pocket sports cardholder is used and each inserts measure approximately 2 1/2 x 3 1/2. Like any other crafting project, there are infinite ways to proceed and finish this type of project. Behind the cards, you can place small "goodies" for your recipient along with a letter all about you!
Everything Marci used is from our March collection, except for the Julie Nutting stamp and the 2 flowers seen in the pockets coming from her stash. She started with the background to lay her groundwork and included a shaker on every pocket letter she creates. Then, she moves along to each card.
She embellished each card and the outside by adding and tweaking it. The Julie Nutting Stamp is "popped" and it overlaps another pocket. Lastly, she decorates the side strip leaving out two wholes so she can put it in an album.
We hope this piques your interest in learning more and get started with your pocket letter! Check out Marci's awesome layouts and see more Easter craft ideas in her blog.
The next set of cards is from our designer Shannon Allor! Shannon adores the vintage feel of our March kit and the upgrades added the perfect amount of texture and color. She started all of the cards by choosing a 3 x 4-inch images and then inking all of the edges in a medium brown tone.
2. Coloring Easter Eggs Card

Shannon's first card features an adorable bunny painting a giant egg. She punched out a bunny cameo. Next, she used a little enamel heart and some patterned paper for layering. The pink and green color combination is perfect!

3. Easter Blessings
The next card has a bunch of Easter eggs nestled all together. She popped the main image and the sentiment on a bit of fun foam. Then, she finished it off with some pink textural photo corners.

4. Easter Bunny Card
This card has a handsome Easter bunny kneeling in the grass. Shannon popped up the main image, added a couple of punched out photo corners and a floral piece of wood veneer. Pretty simple!
5. Celebrate Easter Card
The tiny carrot patterned papers were one of Shannon's favorite in this kit! This card is quite simple because she wanted the image to be the star of the show. The addition of a puffy pink embellishment at the top finished it off ever so nicely.
6. Happy Easter Card

And finally, the last card has a beautifully illustrated carrots on a book print background. Shannon added a punched out sentiment with a couple of the gold sequins from the Upgrades for the perfect finishing touch.
To watch how these cards were made and to see more Easter craft ideas from Shannon, visit her YouTube channel now!
Don't forget to visit our online store! We're running a 50% discount and adding new items all the time. Visit our blog for more craft and layout inspirations using our scrapbooking kit.
Join our exclusive Facebook Community for Club Members. It will grant you access to amazing layouts and content made by our design team, fun monthly contests, FREE Facebook Live tutorials and you'll get to meet other crafters!
Haven't subscribed yet? Now's your chance, be sure to sign up today!
GET OUR MONTHLY KITS DELIVERED TO YOUR DOOR!