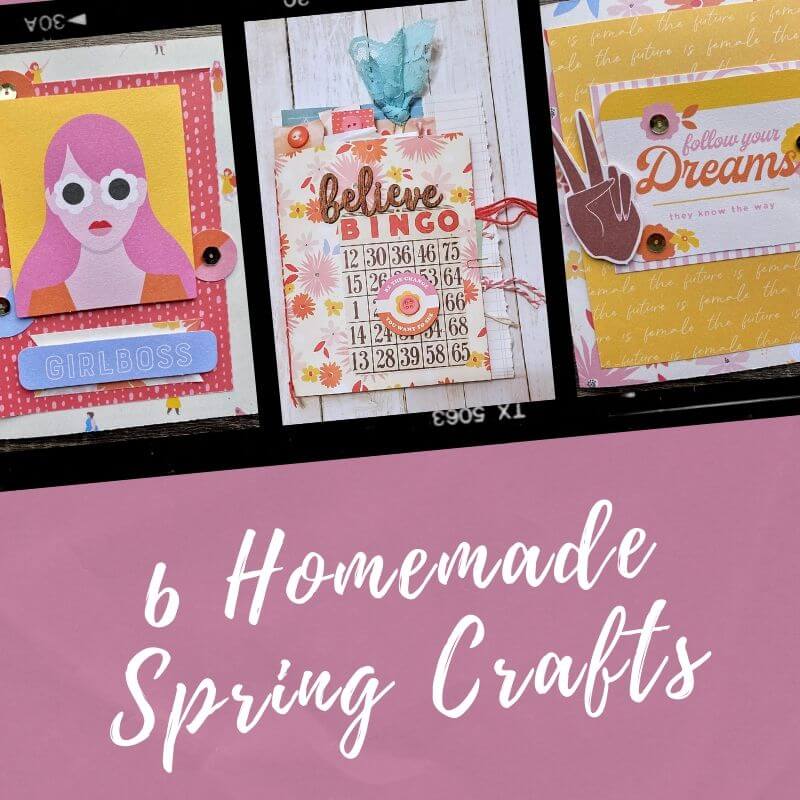 Cards
6 Homemade Spring Crafts
Staying safe at home? Now is the best time to share all the love and inspiration by creating a homemade spring crafts for a loved one. Our awesome Design Team members Lisa and Shannon shared with us some brilliant crafts that will inspire and brighten our day!

Let's start with Lisa's adorable Small Junk Journal!


1. Small Junk Journal
Lisa Riley
Lisa chose her favorite paper from the April kit for the cover. She cuts it to 6×9 and folded it in half. You may cut it any size you like.
She choose some papers from our April collection that she liked and bound them together (same size as the cover paper). Then, she folded them and laid them all out and layered them.
Lisa prefers a staggered arrangement of the pretty papers. It's more interesting for her. She hand-stitched her binding, but you could also use a simple 3-hole pamphlet stitch. Once she was done with stitching she started on embellishing!
There were plenty of tags, words and die cuts included in the April kit. Lisa also used some of the April papers to cut pockets too! This was super easy to make. Check out more of Lisa's adorable homemade spring crafts on her Facebook page!
The next set of girl power cards are from designer Shannon Allor! Shannon had the best time making these groovy girl power cards!

2. Bonjour Card by Shannon

The first card features a turquoise chipboard sentiment on a diagonal layered strip of scraps. She used the "bonjour" Heidi Swapp Puffy Stickers from the upgrades. Super easy!
3. What I Love About You Card
The second card is another easy one. Shannon added a large die cut at the upper center of the card as well as a puffy sentiment. She cut some pretty papers from the kit and put them at the back to highlight the sentiment. Finally, she added a flower at the bottom right of the card.
4. Hey Girl Card

For the third card, it has an exaggerated fishtail banner piece. She also adds a large vibrant tag and a sweet sentiment on foam tape. This one is super cute and easy to follow!
5. Girl Boss Card

Card number five has a large hilarious die-cut girl. Shannon loved the paper from the collection with girls on them so she decided to put it in a card. She added a few circular die cuts and a fun periwinkle sentiment. This card shows girl power and will surely inspire others to make one on their own. Super fun!
6. Follow Your Dreams Card
Finally, the last card. Shannon added a large peace sign die-cut and a deep orange shiny puffy heart. She adores the "female is future" paper so much so she used it to compliment the peace sign.
All of her cards were accented with sequins leftover from a previous Upgraded kit. Shannon can't wait to send these little cards out to add a little cheer to the family! Get to see how these gorgeous cards were made and more homemade spring crafts at Shannon's Youtube channel!
This month's kit is full of girl power and female inspirations but it has a great variety to work with no matter what type of project you are working on. It's the perfect remedy while staying at home!
Don't forget to visit our online store! We're adding new items all the time and Club Members get 10% off. Visit our blog for more craft and scrapbook layout ideas using our scrapbooking kit.
Join our exclusive Facebook Community for Club Members. It will grant you access to amazing layouts and content made by our design team, fun monthly contests, FREE Facebook Live tutorials (Apr. 22nd) and you'll get to meet other crafters!
Haven't subscribed yet? Now's your chance, be sure to sign up today!
GET OUR MONTHLY KITS DELIVERED TO YOUR DOOR!