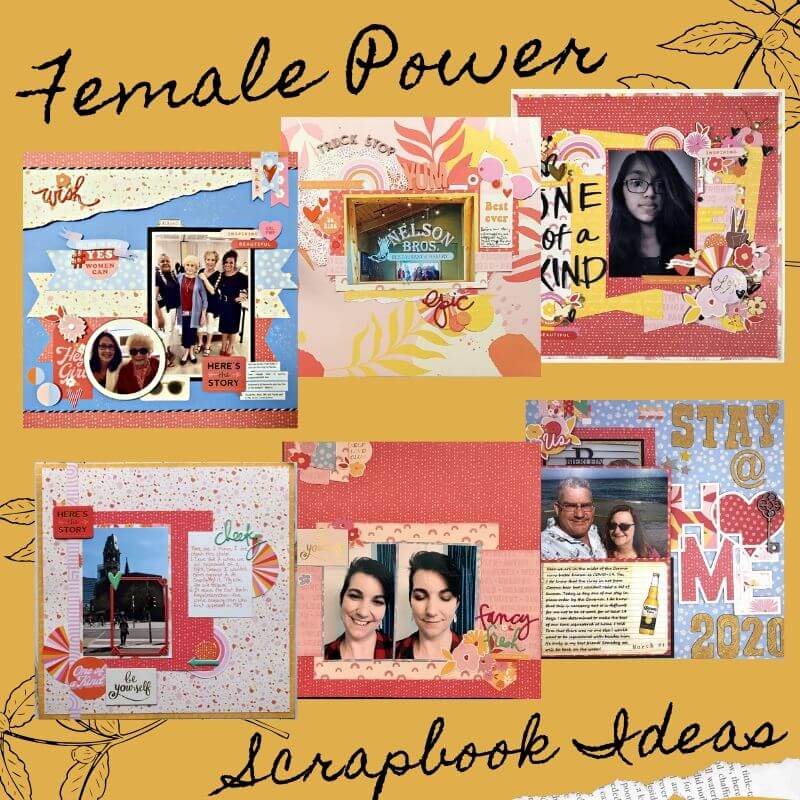 Monthly Kit Layout
7 Female Power Scrapbook Ideas
In this time of crisis, may we all find some light in these trying times! Since most of us are staying home safely, now is the best time to get in some great crafting time! And our design team members shared with us some female power scrapbook ideas to provide some inspiration.
​

1. One Of A Kind by
Becky Bacchus
Becky loves all the beautiful colors and elements in the April kit. So, she decided to do a 12x12 layout using a photo of her daughter. She used a black and white photo. Then, she stuck it to the red, yellow and pink colors from the kit. She added in some black and gold for contrast. Next, she added 2 mats behind her main background paper using a little peek of the beautiful floral paper and the cream cardstock that was included this month's collection.
Becky added a few layers behind her photo using more patterned papers and was happy she got two of some of the papers so she could use both sides. Next, she added in the title using some black puffy stickers from her stash which added a little contrast and is perfect for her photo. She went ahead and embellished using the die cuts and stickers from the Upgrades. Finally, she added some wood veneer pieces and sequins from our March 2020 collection .
If you would like to see how this layout came together, be sure to check out Becky's YouTube channel.
2. Girl Power Layout by
Marci Bensing
Here is a layout from Marci's recent trip to Florida. Marci used the sketch from our March 2020 Facebook Live to create her "base" or background of her layout. Sketches are a great way to get started or to use as a whole to create your pages.
After completing the base of the sketch, Marci then went around and around (and around again if necessary!) embellishing the page. She used almost everything from the April kit collection. Also, she creates a lot of layering and dimension by using pop dots. The only thing that isn't from the kit is her twine. It's her crafting signature and she loves it so much!

Here is the sketch Marci used.
Get to see more of Marci's adorable layouts and crafts on her blog!
3. Be Yourself by
Meggy Blethen
Meggy was so excited to get this month's kit, she loves the colors and it is what she needs. She's been a little sad lately about how her kids aren't letting her take photos of them to scrapbook. She thinks this is the perfect collection and is just the medicine the Scrap Doctor ordered for her!
Meggy had so much fun creating this layout of some photos she took on a day she dressed up and put on make-up. She felt so awesome and decided to make it a layout about being herself and enjoying who she is.


She made sure to use the patterned pink paper that had the words of all the things that women are "Mother, wife, sister, partner, artist, teacher, etc". She liked having the list as part of the layer behind her photos.
Finally, she added some of the flowers from the mixed bag ephemera that came in the upgrade kit and also from the sticker sheet in the main kit. She hopes you enjoy this kit as much as she does!

Watch more female power scrapbook ideas on Meggy's Youtube channel!
4. Stay At Home Layout by
Melissa Bierlein
Since we are currently living in an unprecedented time here in the United States and around the world, Melissa wanted to document this historic country-wide Stay at Home Order! First, she started her layout by using a BIG title. As she gathered her elements for it she positioned it on the right side of the page.


She used a Tim Holtz grunge board for the "STAY @" and "2020" from her stash. Next, she painted the grunge board with gold metallic paint and cut the layered HOME from Paige Taylor Evans cut file with the cardstock included in the kit. Then, she backed the letters with patterned papers from the kit and added a metal key on top of the cut file to signify a key to their home.
The photo was layered with a patterned paper. The gold and black papers are from her stash. At the top left, Melissa layered circles and flowers from the One of a Kind embellishment pack and added the word 'us' at the top from the project life stickers from the kit's upgrades.
Also, she added some banner stickers at the top left from the 'One of a Kind' sticker sheet in the main kit. Then, she layered an epoxy heart on top of the banner stickers. She added some arrows and stars to various parts of the layout.

This is what you will see in the journaling at the left lower of the layout. Another photo of Melissa and her husband.
As for the journaling, she wrote about their experience about the current events and how they are staying safe at home. She backed her journaling with a patterned paper and a black cardstock. Lastly, she added a piece of twine between the photo and the journaling.

To add a little humor, Melissa added a photo of a Corona bottle. We hope everyone is staying safe and healthy during this crazy time in the world. Get to see more of Melissa's awesome layouts on her blog!
5. Truck Stop Layout by
Rachel Reynolds
Rachel was so excited about the bright and fun colors of the April kit! She thought the colors and theme of female strength are perfect for a layout about the breakfast she had with her friends while attending a crop last fall.
She started by using the "Empowered" paper as a background and before adding anything to the layout. Then, she decided to spatter mist from Shimmerz Paints (Sweet Heart, Caribbean) in three areas of the background paper. She used both the other side of "Empowered" as well as "The Future is Female" to mat the photo and tearing both bottom edges for some added interest. Also, she cut a strip of the "Her Story" paper and tucked it under the bottom of the photo.
To start her embellishments, Rachel pulled a white doily from her stash, then layered around the central part of the layout with the die cuts, puffy stickers, and chipboard stickers from the Embellishment Upgrade, as well as the sticker sheet from the main kit.
To finish off her layout she pulled two different dimensional alpha stickers (Pink Paislee, Simple Stories) for her title and some glitter enamel dots as a finishing touch!

Check out more female power scrapbook ideas and crafts on Rachel's Youtube channel!

6. Cheeky Layout by
Samantha Taylor
Sam is a big fan of the combo of pink and orange in this collection. While there are other colors in this collection, for this layout she happened to gravitate towards papers that highlighted the pink, orange, and yellow.
After layering her papers up, she felt like the layout needed a pop of another color. Sam loved the look of the aqua-colored embellishments from the upgrade enamel words. She especially loves the word "cheeky" as it went so well with the story behind the photo. To make the aqua-colored feel cohesive, even though there isn't any aqua in the papers. Sam added multiple embellishments that contained aqua and placed them strategically so you see the color over the entire layout.
7. Mall of Berlin Layout
Sam is a fan of this month's collection and she loves the upgrades too. All of the extra embellishments made putting a layout together super easy. She chose a few photos that she thought would work well with the colors in this month's kit.
Also, she had a few memorabilia that went with her photos. After building a base with some of the patterned paper, she used embellishments from the included sticker sheet and the upgrade kit to pull everything together.
Clustering embellishments around the layout helped make the memorabilia feel like part of the layout instead of an afterthought. Check out Sam's blog to see more gorgeous layouts!
Visit our blog here to see more inspirational female power scrapbook ideas that our Design Team compiled to spark new ideas and get you started on your projects. There's quite a scrapbook collection waiting for you!
Don't forget to join our Members Facebook Group so you can gain access to all our layout ideas, contests, and events coming up, including our Facebook Live Crop on the 3rd Wednesday of the month (Apr. 22nd).
Join us now and get monthly kits delivered right at your doorstep. Click below

GET OUR MONTHLY KITS DELIVERED TO YOUR DOOR!