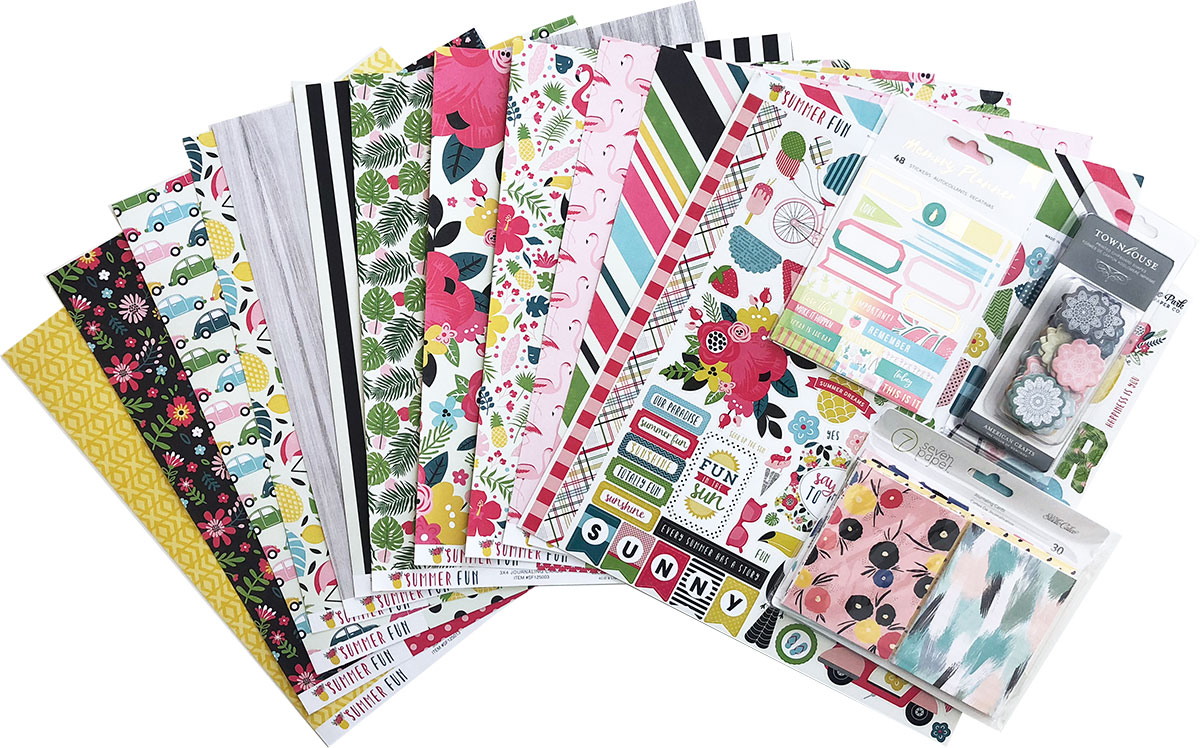 Kit of the Month
July 2018 Scrapbook Kit Reveal
What's Inside this Month's Kit?
July is here, bringing warm weather, sunny days and unforgettable summer memories!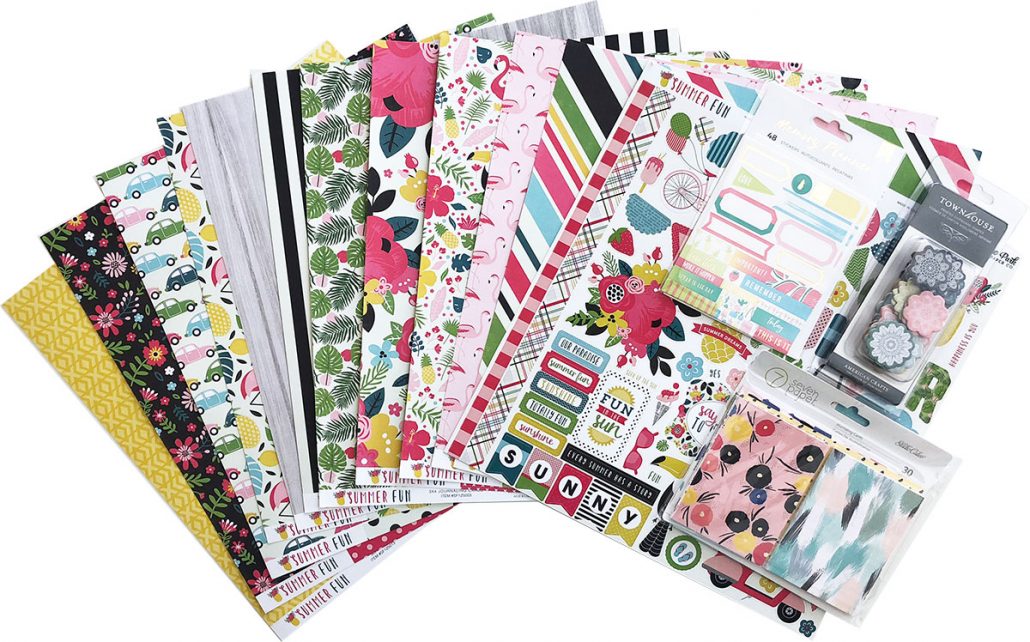 Inside you will find a bright and fabulous 12″ x 12″ Echo Park "Summer Fun" scrapbooking kit, along with beautiful inspiration on the other side. This collection is all about sunny summer days, tropical vibes, and summertime fun. The papers in this collection include bright and bold pinks, teals, greens, blacks, and whites. It also includes beautiful papers printed with flamingos, floral, tropical leaves, pineapples, watermelon and more!
Along with premium papers this month, you will receive a beautiful 12×12 sticker sheet!
Check out our July 2018 Complete Scrapbook Kit Reveal on YouTube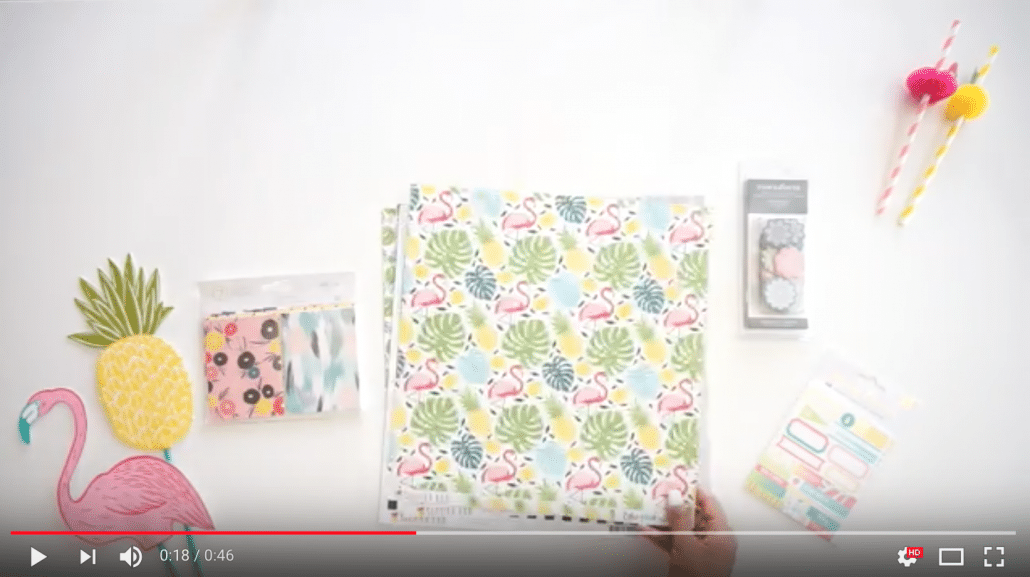 Upgraded Customers
For those customers who opted to double your stickers and embellishments, we've got some fantastic embellishments inside this month's package!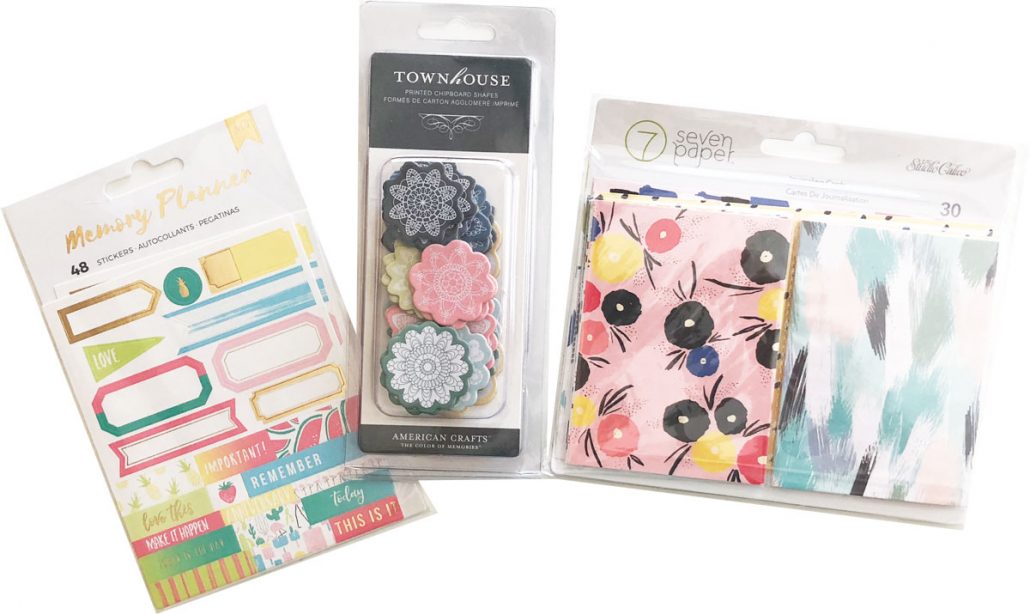 Studio Calico, Goldie Journaling Cards, 30 pcs
American Crafts, Memory Planner Stickers, 48 pcs
American Crafts, Townhouse Printed Chipboard Shapes, 20 pcs
Some substitutions may occur
Included in your package are the perfect upgrades to enhance your scrapbooking kit.
The Goldie Journaling cards are so perfect for writing down everything you want to highlight your memories. They come printed with beautiful patterns and detailed designs. We have also included the most beautiful planner stickers you have ever seen! They are accented in gold foil and also include fun words and designs that go perfectly with the Summer Fun collection.
Lastly, are the printed chipboard shapes. You just can't go wrong with fun colors and patterned shapes to embellish your projects.
If you have not upgraded yet but would like to do so, please email us at info@scrapbookingstore.com.
GET OUR MONTHLY KITS DELIVERED TO YOUR DOOR!