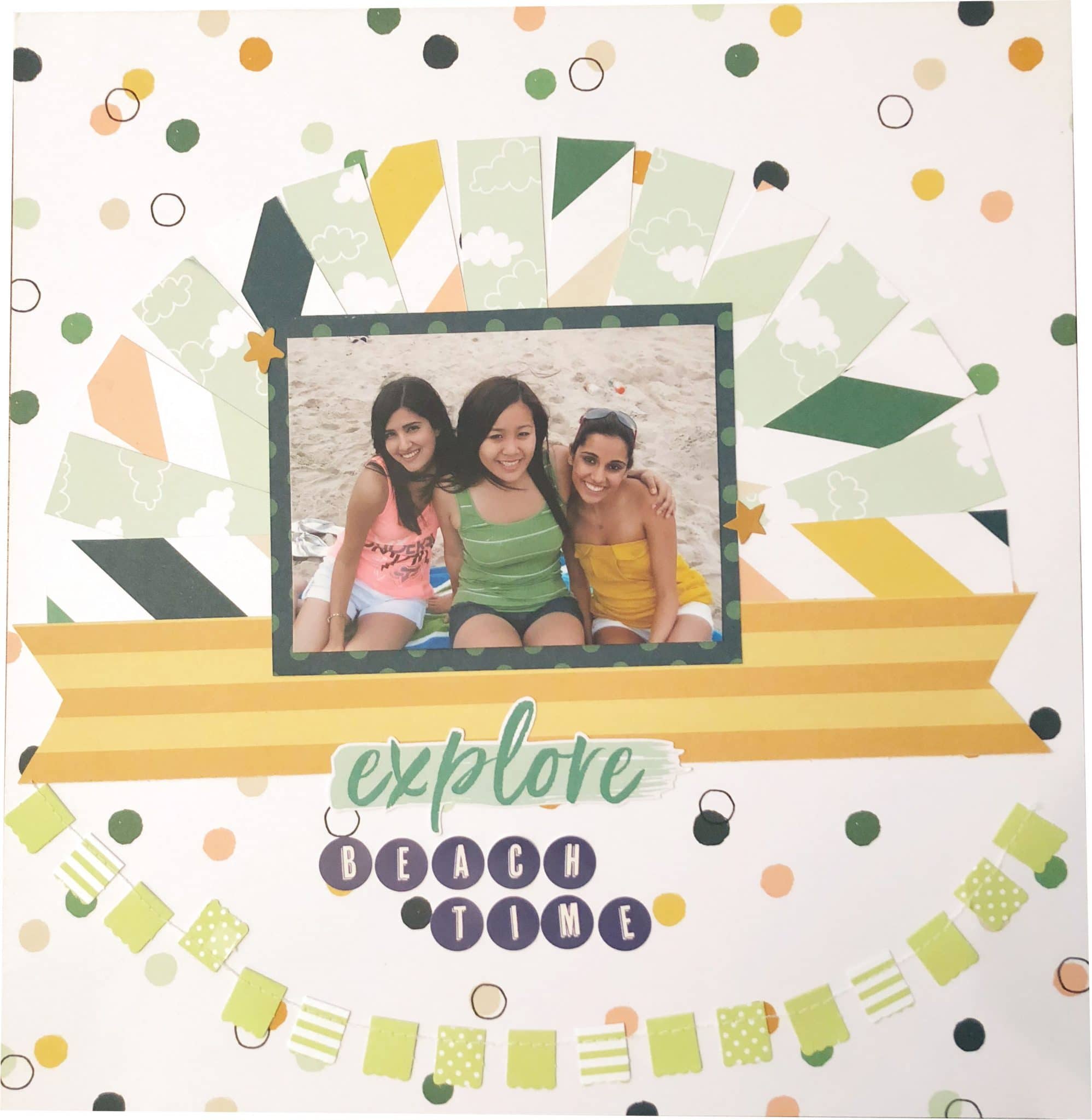 Scrapbook Layout
June 2018 Scrapbook Layout Inspiration
School is out which means June is a great time for summer adventures. This travel layout is the perfect inspiration for portraying your latest travel escape!
This month's Wander collection is perfect combination of traveling and lots of crafting, so let's get right to it.
This is a scrapbookinstore.com exclusive layout created just for our subscribers by our designer.
To begin, use the sand striped side of Wander Dots paper is the background. Choose your photograph and mat it on Wander Vista.
Next, cut small strips of paper from both Wander Scooters and Wander Bags to create the fanned sun element behind the image. These strips of paper were cut to the same size and arranged on the sheet of paper behind the main photograph. Lift the matted photograph and carefully stick each strip on the page in the pattern you laid down using an adhesive.
Once the sun element is completed, grab another sheet of the Wander Dots page and turn it to the side with the yellow stripes. Cut a whole strip about 1.75" wide using your paper trimmer. Cut the edges of the strip to a point to make the banner effect.
Lay the matted image on top of the entire element and paste it down using an adhesive.
The designer chose to use the Party Trim upgrade at the bottom of the page to create the semi-circle border, which adds a fun flair. Finally, she used the "Explore" lettering from the 6×12 sticker sheet included in the Wander kit and used the Alpha Stickers upgrade to spell out "Beach Time." At the very end she placed stars from the 6×12 sticker sheet. You can add whatever embellishments you like to give the page a more finished look!
Check out our blog for more inspiration from this month's kit at blog.scrapbookingstore.com.
Share your crafts with us at www.facebook.com/scrapbookingstorecom, on Instagram @ScrapbookingStore, and on Pinterest https://www.pinterest.com/scrapbookingst/.Share with others using #scrapbookingstore on both Instagram and Facebook. We'd love to see what you're up to!