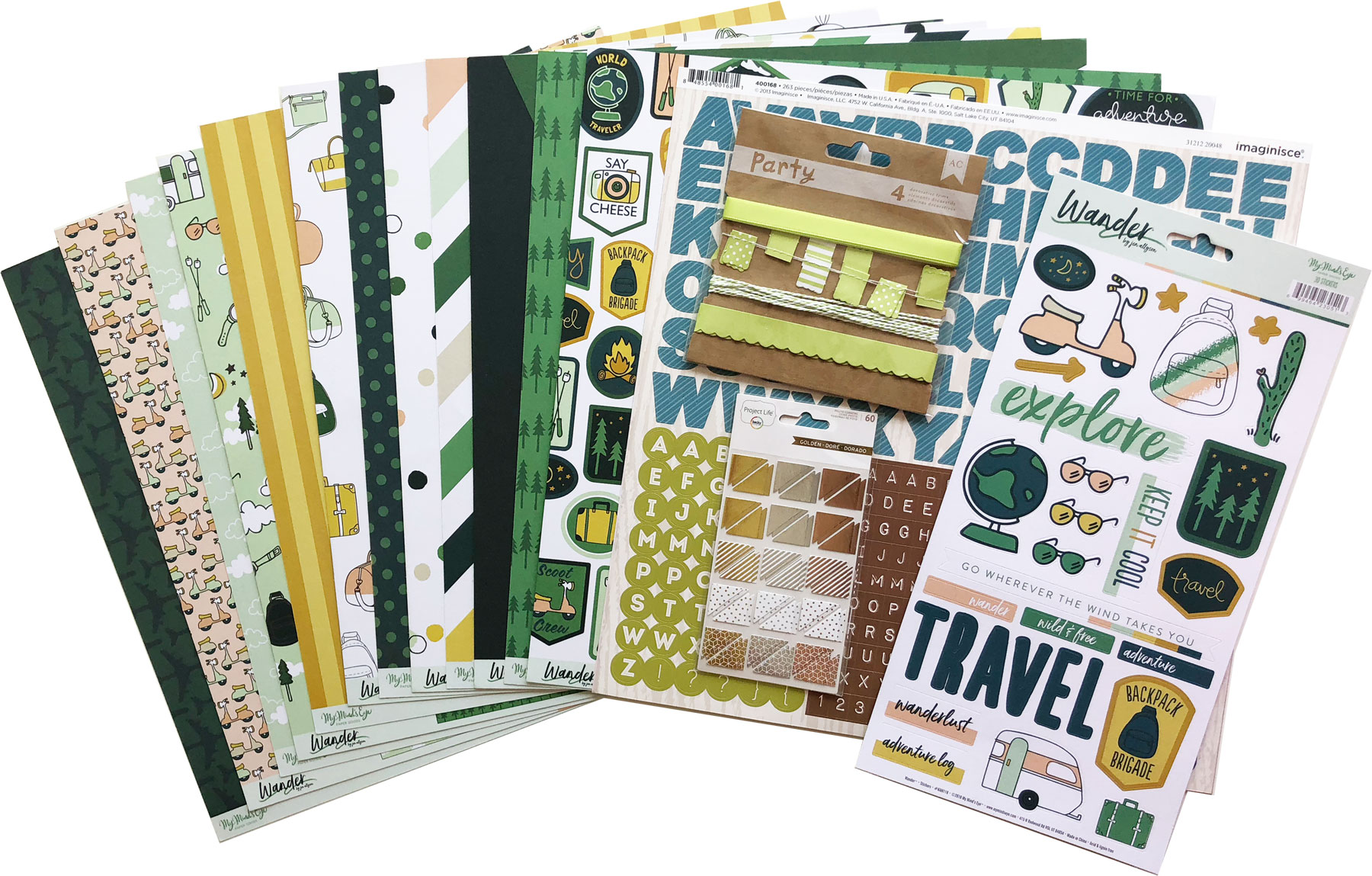 Kit of the Month
June 2018 Scrapbook Kit of the Month
What's inside this month's kit?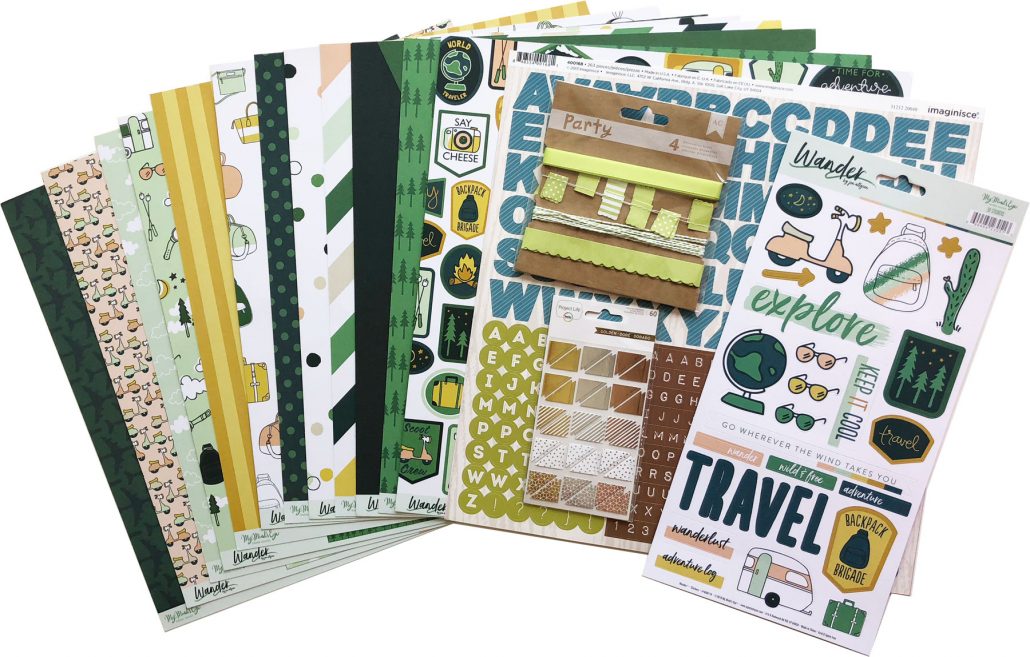 June is here and we've got a fun travel adventure collection just for you!
Inside you will find a creative and bold 12″ x 12″ My Mind's Eye Wander scrapbooking kit, along with custom inspiration on the other side. This collection is all about hitting the road for an adventure, exploring new places, and any kind of travel! The papers in this collection include polka dots, stripes, and colors of white, forest green, yellow, and more! It also includes beautiful unique papers printed with globes, fun vehicles, forest trees, packed travel bags, and the night sky. In this month's kit you get two of each of the beautiful pages, for a total of twelve 12×12 premium papers.
Along with premium papers this month, you will receive a coordinating 6×12 sticker sheet!
Check out the complete scrapbook kit reveal on our YouTube channel!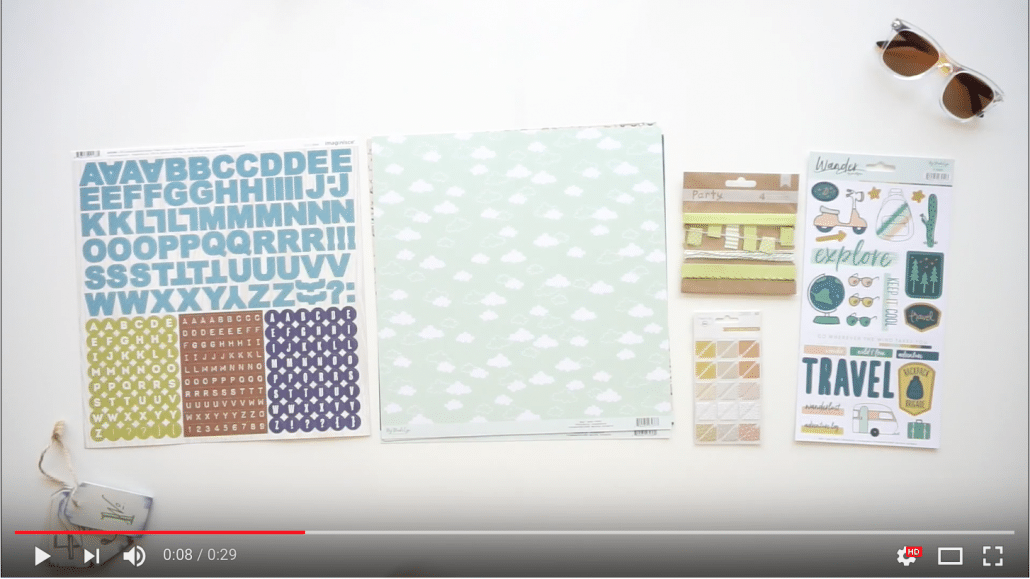 Upgraded Customers
For those customers who opted to double your stickers and embellishments, we've got some fantastic embellishments inside this month's package!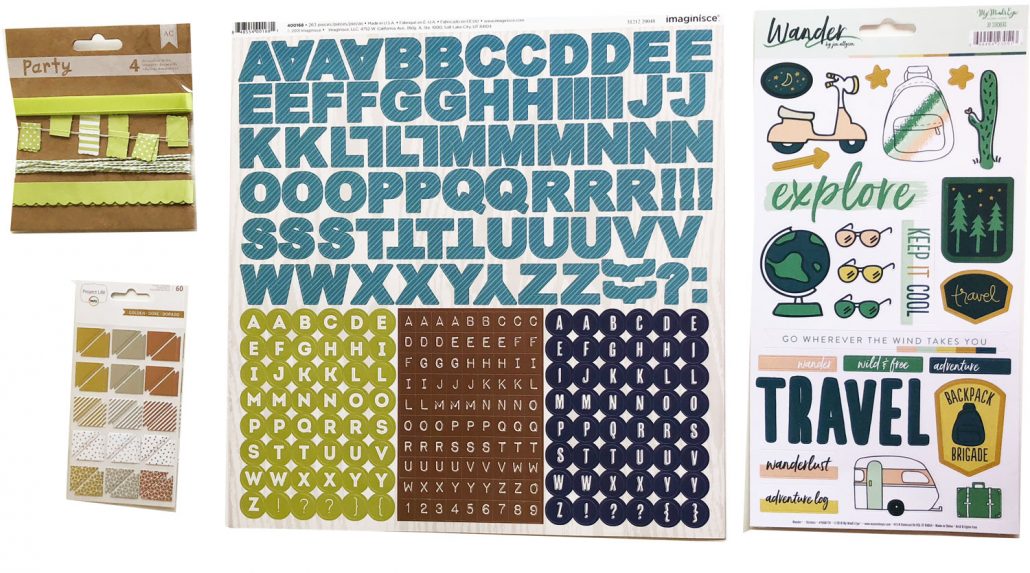 Imaginisce Alpha Letters, 263 pieces
Party Decorative Trims, 4pcs
Project Life Golden Photo Corners, 60 pcs
Some substitutions may occur.
Included in your package are the perfect upgrades to enhance your scrapbook kit. The Alpha Letters sticker page provides a wonderful way to create headlines that capture the eye and convey what the page is all about. We just love the 3 sets of alpha stickers that are included on the sheet so you can create multiple pages with a single Alpha Letters sticker page!
The adorable and colorful party decorative trims can add so much to a scrapbook layout! For example, you can place a small amount of the trim in the corner of the page, you can use the entire trim across the whole page, or you can use them as borders! There are so many fun things you can do with these trims!
Lastly, we've included beautiful shiny photo corners. An easy way to add detail to your page is to place photo corners on images that may need a little something extra. The metallic silver, gold, and rose gold photo corners are so beautiful, we'll sure you'll find a great way to use them!
If you have not upgraded yet but would like to do so, please email us at info@scrapbookingstore.com.
[inbound_button font_size="20″ color="#e15ec4″ text_color="#ffffff" icon="" url="https://goo.gl/yeHZm7″ width="" target="_blank"]GET JUNE'S KIT DELIVERED TO YOUR DOOR[/inbound_button]