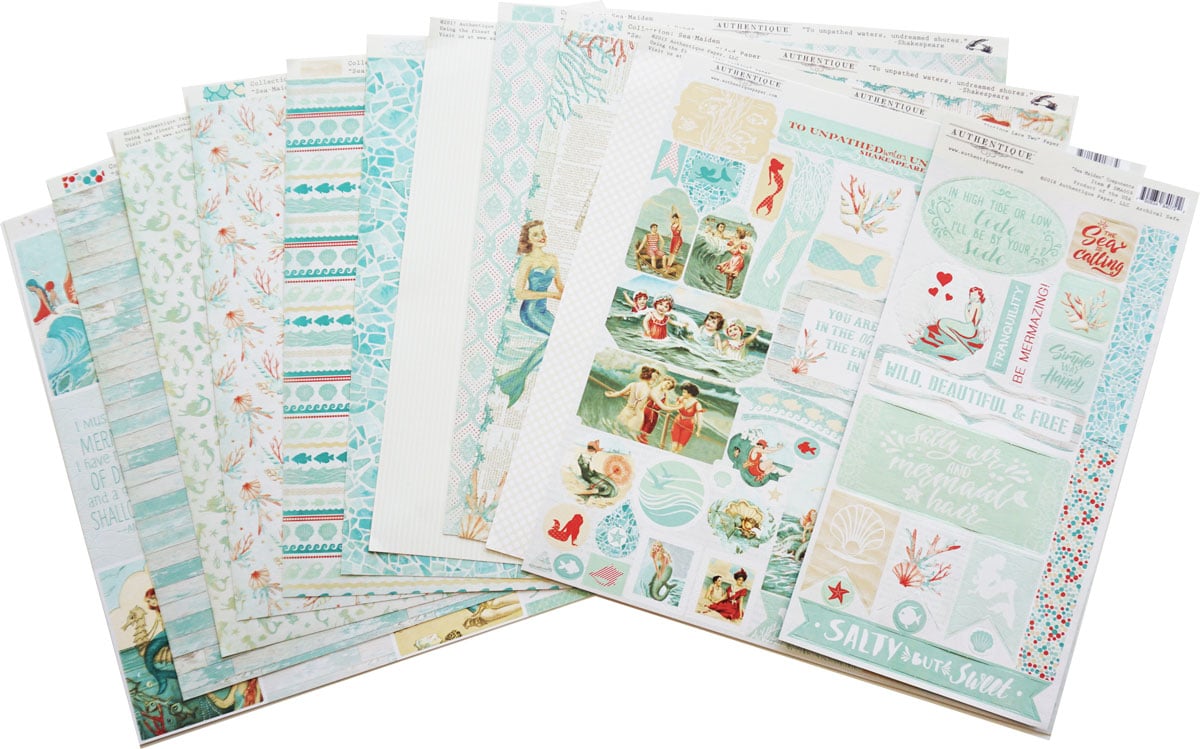 Kit of the Month
May 2018 Scrapbook Kit
May is here and we've got a brand new, vintage and on trend collection just for you!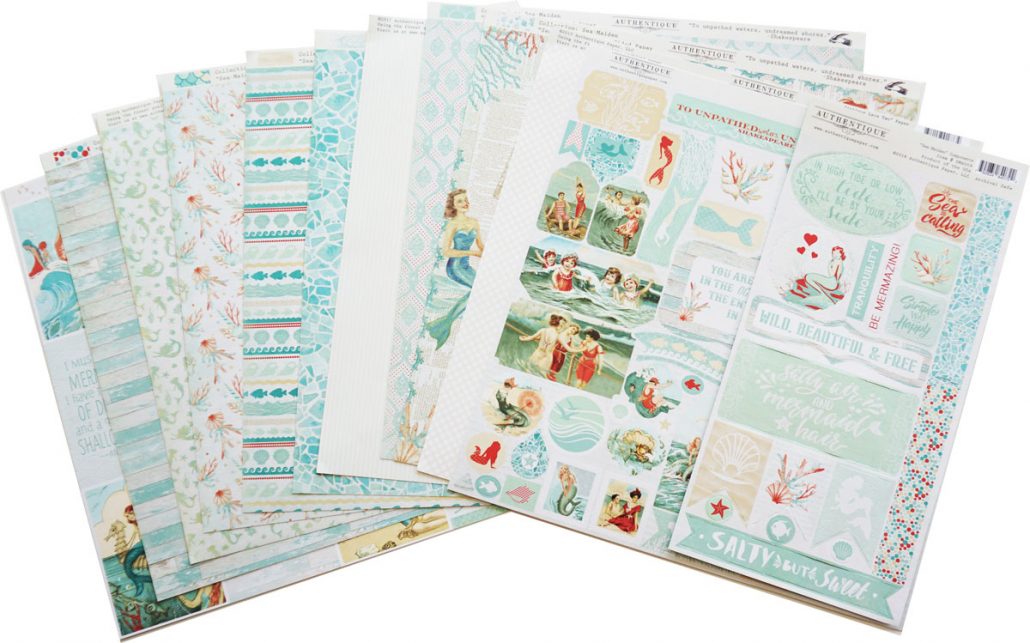 Inside you will find a creative and bold 12″ x 12″ Authentique "Sea-Maiden" scrapbooking kit, along with custom inspiration on the other side. This collection is all about the tales of beautiful mermaids and the sea life surrounding. The papers in this collection include mosaic and printed papers in colors of teals, blues, greens and coral. It also includes beautiful papers printed with sand, sea creatures, aqua inspiration and more.
Along with premium papers this month, you will receive an awesome 6 x12 sticker sheet.
Check out our May 2018 Video Reveal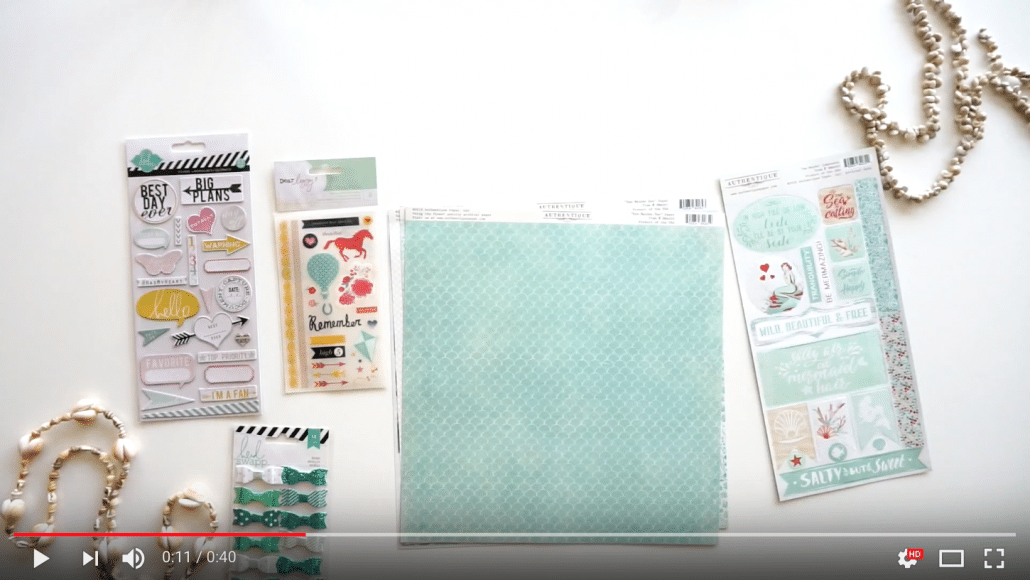 Upgraded Customers
For those customers who opted to upgrade your stickers and embellishments, we've got some fantastic embellishments inside this month's package!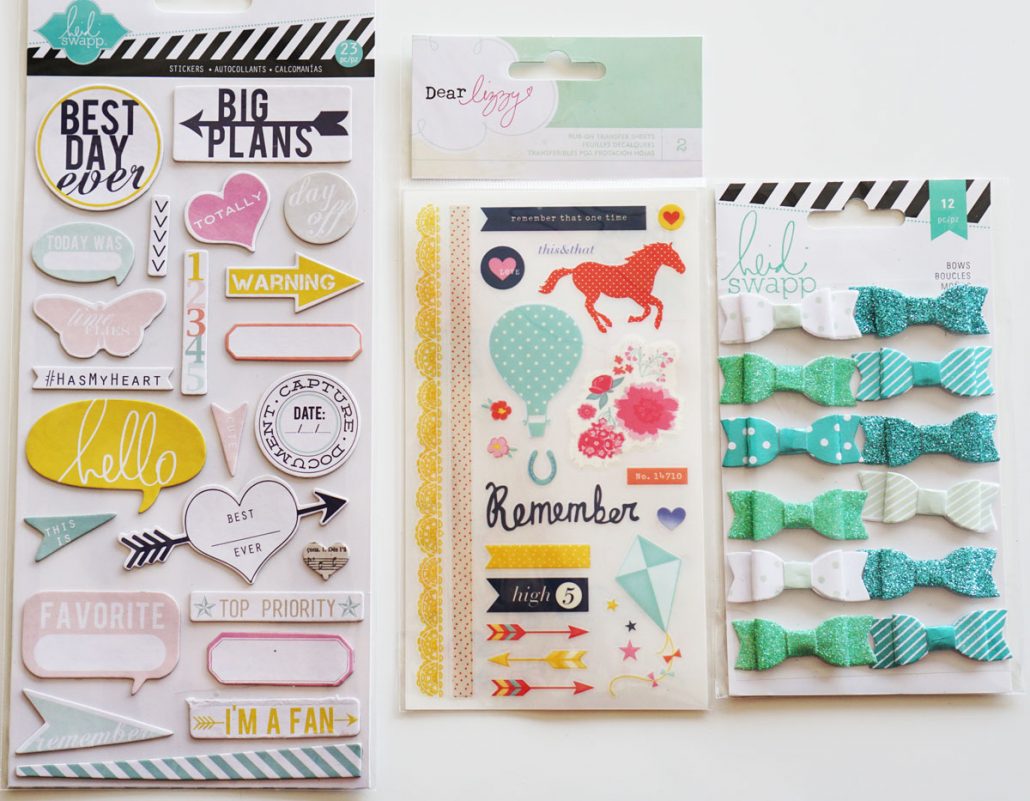 Heidi Swapp, Hello Chipboard Stickers, 23 pcs
Heidi Swapp, Teal & White Fabric Bows, 12 Pcs
Dear Lizzy, Lucky Charm Rub Ons,
Some substitution may occur.
Included in your package are the perfect upgrades to enhance your Scrapbooking kit.
The Hello Chipboard stickers are the perfect embellishments to add some dialogue on your layouts! We just love that the chipboards add a pop of dimension and the fun words help tell a story about your special memory. We've also included the most adorable fabric bows ever. The teal and white colors of these fun bows match perfectly with our Seamaiden papers.
Lastly, we've included rub-on transfers! Rub on transfer are so fun to use because you can place them almost anywhere. The navy, teal and coral colors are sure to add the perfect patterns and designs to your projects.
If you have not upgraded yet but would like to do so, please email us at info@scrapbookingstore.com.
[inbound_button font_size="20″ color="#e15ec4″ text_color="#ffffff" icon="" url="https://goo.gl/4k11JY" width="" target="_blank"]GET MAY'S KIT DELIVERED TO YOUR DOOR[/inbound_button]